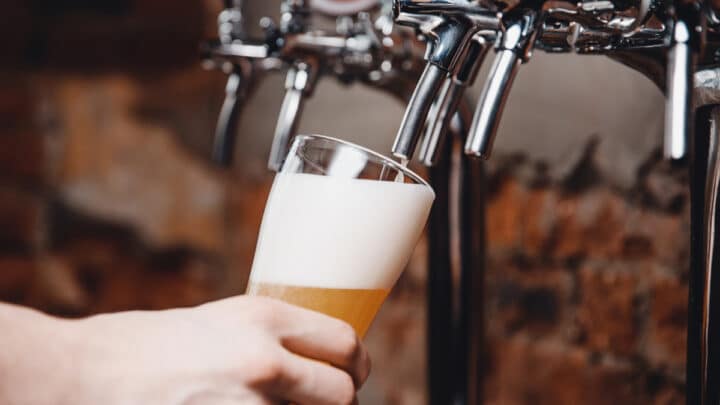 Boozers are two for a penny in North London. Here are some of the best pubs in Highbury.
Highbury is one of Islington's best-loved districts, Arsenal's stomping ground, and home to the Emirates, which has a huge influence over the area.
A welcoming, friendly area that seems to get trendier by the year, Highbury is home to loads of pubs spread from near the stadium in the north to Highbury and Islington Station just south.
Fancy a pint? Here are some of the very best pubs in Highbury for drinking, eating, quizzing, gigging and chilling.
The Best Pubs in Highbury
Brewhouse & Kitchen
Brewhouse & Kitchen does what it says on the tin. This small "brewpub" combines a pub with delicious modern food with a microbrewery.
It's exceptionally large, with a tap room bar, two large dining areas, and a downstairs area in the brewery itself.
The menu is superb, boasting stacks of pub faves like mac n' cheese, fish and chips, chicken, burgers, and a much larger-than-average selection of veggie and vegan dishes.
A comfortable interior provides everything you need to kick back and enjoy a brew, and there's a decent-sized walled garden with a terrace for outdoor sessions.
The Compton Arms
The Compton Arms is a famous haunt of George Orwell and part inspiration for his essay, The Moon Under Water, which described his ideal public house.
This charming pub sits on a gorgeous Islington backstreet. Head Chef Reece Moore is well-known for his exploits at Satsu and The Gun and now brings his modern menu of European small and large plates to The Compton Arms.
The pub's kitchen, Belly, has a daily changing menu with an emphasis on fresh produce and rare breed meats. Some of the dishes you might find include beef ragu, chicken escalope and fresh salads, but there are plenty of fresh and funky options to keep you on your toes.
The cocktail and wine list are extensive, with specialist biodynamic wines and their house Compton Lager. Sports are provided by big screens and there's a large covered garden, perfect for spring and summer evenings.
The Highbury Barn Tavern
This historic boozer dates back to 1770 and has turned into one of the area's most iconic pubs, with a spacious interior, awesome menus with pub classics well-represented and tons of beers, cider, wine and cocktails.
No wonder then that The Highbury Barn Tavern is a firm favourite among Highbury Islington pubs.
Prices are reasonable, and portions are massive, with pub faves like beef and ale pie, burgers, fish and chips and some slightly more leftfield small plates and starters like deep-fried squid, chicken teriyaki and roasted pumpkin.
Veggie and vegan dishes are plentiful, too, and the Sunday lunches are tasty and reasonably priced.
The Hen & Chickens Theatre Bar
It's a theatre, it's a bar, it's The Hen & Chickens Theatre Bar. Affectionately known as "The Chicks", this pub contains a 54-seat theatre that has a long reputation for hosting fringe comedy, theatre acts and rising stars like Jimmy Carr back in the day.
A really quirky pub with a London-wide reputation, the Highbury pub scene wouldn't be the same with the Hen & Chicks. Be sure to check out what's on at Unrestricted View, but be aware that in-demand shows sell out well in advance.
There aren't many pubs which can boast their own theatre, so it's worth a visit for that alone, but that's not to say the drinks are lacking, with an exquisite selection of cocktails waiting to quench your thirst before the show.
The Pig and Butcher
A little south of Islington and you'll find The Pig and Butcher, a meat-centric pub with an on-site butcher.
Meat lovers can tuck into dishes like Fallow deer, rare breed steak and seasonally sourced fish, with a Sunday menu that features hogget, lamb shoulder, nut roast and several other highly-rated dishes. This pub prides itself on its tight ties to suppliers, and the menu changes regularly.
The ambience is casual and laid back, with untreated wooden tables and a straightforward presentation. The drinks list matches the pub's ethos with plenty of locally and sustainably sourced choices.
Famous Cock Tavern
Just minutes (or seconds) from Highbury and Islington station is the Famous Cock Tavern. This is a friendly pub that gets absolutely packed when Arsenal are playing at home (like most pubs in Highbury, to be fair).
It's a proper modern, spacious pub with a late licence for weekend DJ nights and events and a massive menu with share plates and bowl food, an extensive selection for veggies and vegans, pub classics, pizza, pizza cones, loaded subs…the list is pretty much endless.
It's no surprise that this is rated as one of the best pubs in Highbury with its stellar selection of booze, food, screens, seats, you get it…it has everything.
The Gunners
If you're an Arsenal fan looking for the best pubs, Highbury hits the back of the net.
Spurs fans, turn away now. The Gunners is unapologetically Arsenal-mad and undoubtedly one of the best pubs around for watching football.
While it's predominantly a boozy pub, there is a menu with British pub food classics. There are stacks of big screens, a nice beer garden, and affordable brews. An excellent sports pub, The Gunners is one-nil to the Arsenal.
Tollington Arms
A British pub with a lovely Thai menu combined with pub classics and Sunday dinner. One of the neighbourhood's most well-known and loved pubs, the Tollington Arms, is just 5 minutes away from the Emirates and gets packed on match days.
The food is very well-reviewed, with loads of delicious Thai dishes, including noodles, stir-fries, curries and some awesome specials. Don't stereotype this as a football pub, as it has a warm atmosphere with an excellent reputation for stellar service.
The Alwyne Castle
The Alwyne Castle is a castle of a pub with tons of indoor space and a huge front and back seating area. Recently renovated, the interior and exterior are fresh, modern and welcoming, and there's little risk of not finding somewhere to sit outside of peak times.
There are outside seating booths and an outside bar, perfect for whiling away spring and summer days. Sports are well-provided by big screens.
Onto the food. It's good and hearty, with nothing too out-of-the-ordinary, which is what many want from a pub anyway. Portions are big, standards high, and prices reasonable. Even a sirloin roast will cost you less than £20.
The bar is fully loaded with booze, there's a lively pub quiz, events, etc – truly something for everyone at this large pub.
Duchess of Kent
A little west of Highbury is the Duchess of Kent, which is a little tucked away off Holloway Road. A modern, homely ale pub, it gets pretty busy most evenings and weekends despite being somewhat hidden from the main thoroughfare.
The menu is upmarket pub food, with pies, steaks, burgers and rich veggie and vegan dishes. A comfortable interior with plush chairs and furnishings tops off this excellent pub in west Highbury.
This pub holds quiz nights on Mondays and screens most major sporting events. If you're looking for dog-friendly pubs, Highbury has a few good choices, like the Duchess of Kent, Highbury Barn Tavern and Alwyne Castle.
Highbury Pubs: Map