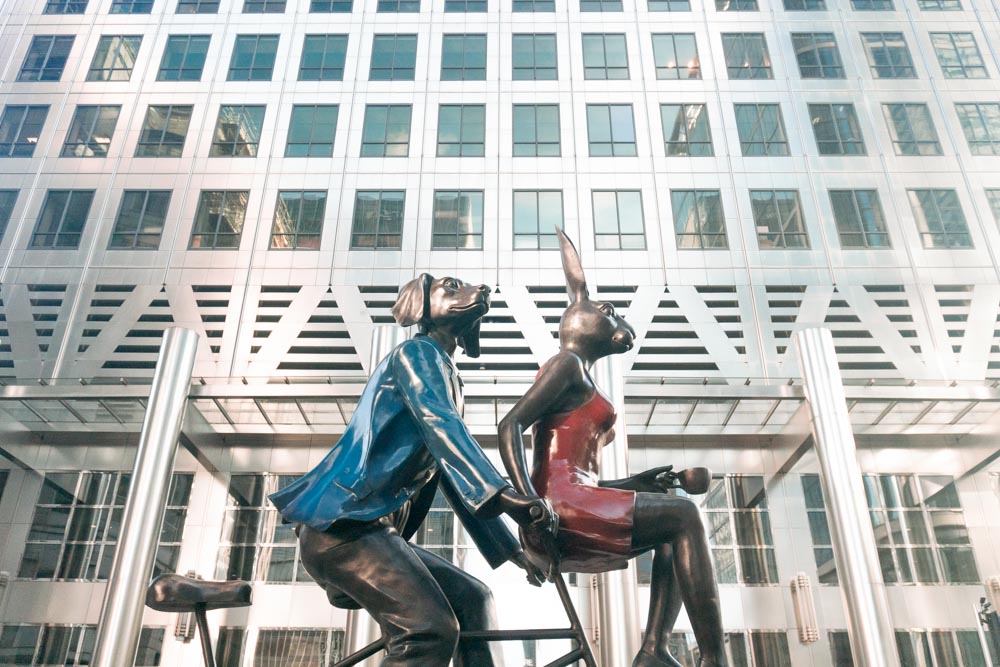 You may not have noticed but Canary Wharf has slowly been transforming itself to a mecca for public art in the city.
Hot on the heels of Camille Walala's much-talked about bridge for London Mural Festival comes Tandem Lovers, a bronze sculpture steps away from Canary Wharf station.
Created by wife-husband duo Gillie and Marc Schattner (known simply as Gillie and Marc), two of New York's most prolific creators of public art, the interactive sculpture Tandem Lovers invites viewers to hop on board and travel everywhere with love. There's even a spare seat on the tandem bike for people to jump onto!
I caught up with the duo to hear what they had to say about their newest piece.
Gillie and Marc's Tandem Lovers Comes to Canary Wharf
"Tandem Lovers is a tandem bike where Dogman (that's me [Marc]) and Rabbitwoman (that's Gillie) are on their way to work, having fun, and there's a spare seat at the back where the public can get on and ride along with us," Marc starts.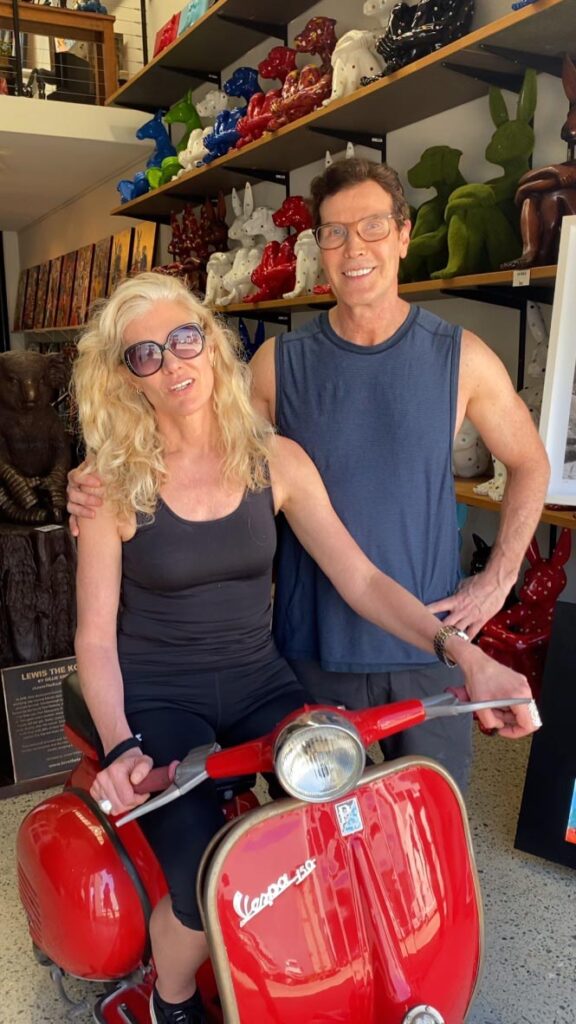 The work displays a carefree humour that, at first glance, doesn't tally with the Canary Wharf we may conjure up in our minds: a place filled with suits, bankers and towers poking ambitiously up to the sky.
Interestingly, that's not the duo's take on it: "Tandem Lovers is perfect for Canary Wharf because it really embraces the idea that people get on their bike, get to work, have fun, exercise on the way home and it really is the way that everyone is going to get around – on two wheels," Marc explains.
Before this year, I'm not sure I'd have been on the same page. However, it does feel like we're seeing a sea-change in the way that people travel in the city in 2020. Tandem Lovers feels particularly prescient in a year when bike lanes have blossomed and increasing numbers are using two wheels to grapple their way across London.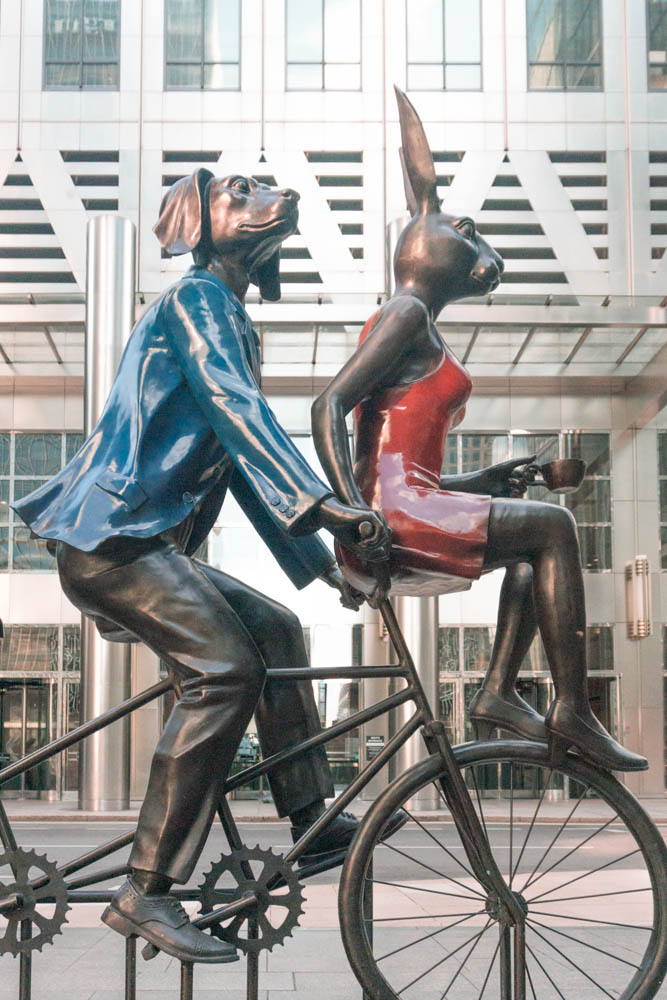 It's not just the specific events of 2020 that caused the duo to feature a bicycle in the sculpture either. As Gillie points out: "Rabbitwoman and Dogman love doing everything the right way, which means they love taking care of the environment. So what better way than jumping on a bike and getting around the world in this way?".
A Playful Take
It sounds serious, and it is – but to focus solely on the message would be to miss the sense of fun the sculpture creates.
As I filmed the piece one quiet Friday morning, I watched as people noticed it – doing a smiling double-take as they stopped to take a picture, some posing next to, or perched cheekily atop the spare saddle.
That interactivity is exactly what the duo intended when they created the work, "The most important thing we'd love viewers to take away from our pieces is that they're interactive," Gillie says.
"We encourage people to get up close to our artworks and interact with them, we want you to sit on the back and enjoy the ride with Rabbitwoman and Dogman around the world on all their amazing adventures.
We also want you to use the hashtag #traveleverywherewithlove, which promotes uniqueness, diversity and love and hopefully that's what we'll achieve," she finishes.
Tandem Lovers, Canary Wharf – Practical Information + Map
You can catch Tandem Lovers in Canary Wharf on the South Colonnade. Map with specific location below.
Looking for More London Art Tips?
Check these out…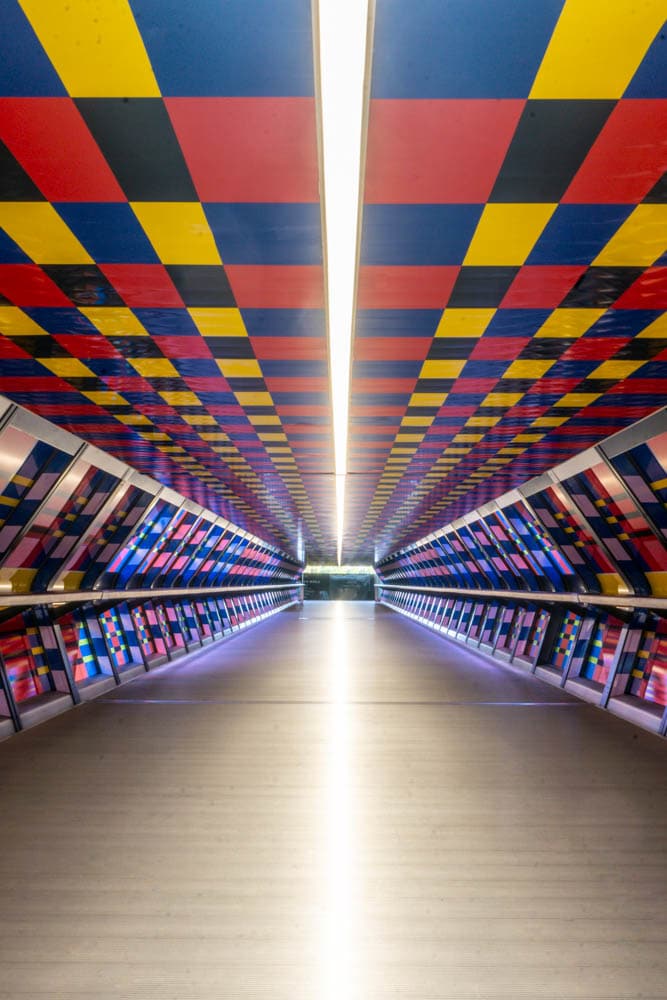 London Mural Festival Map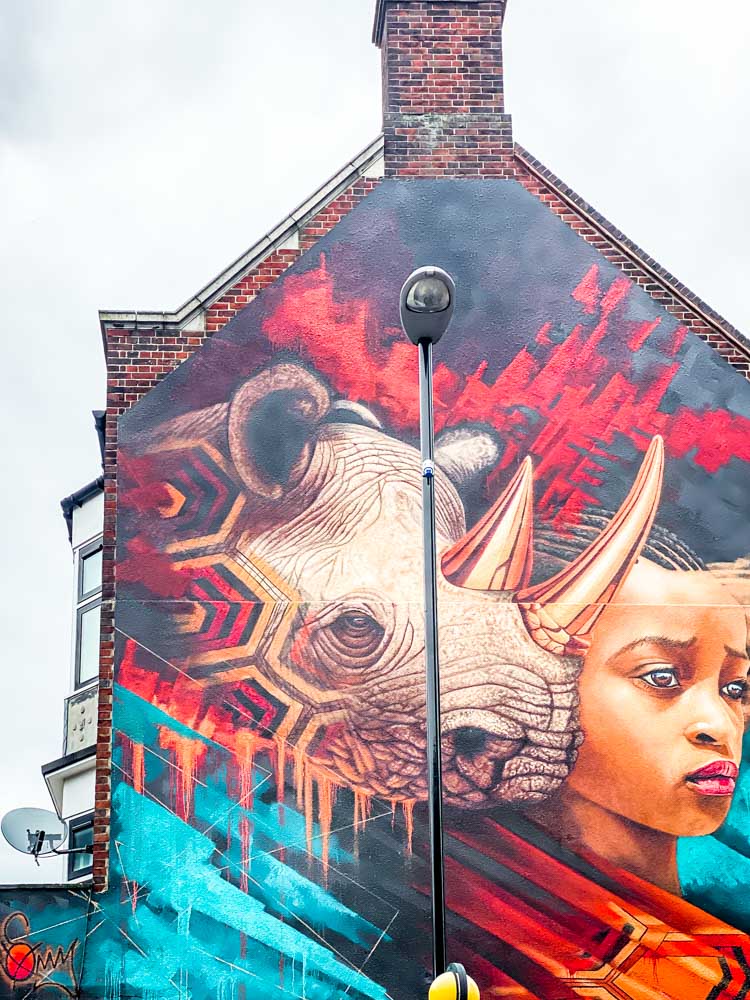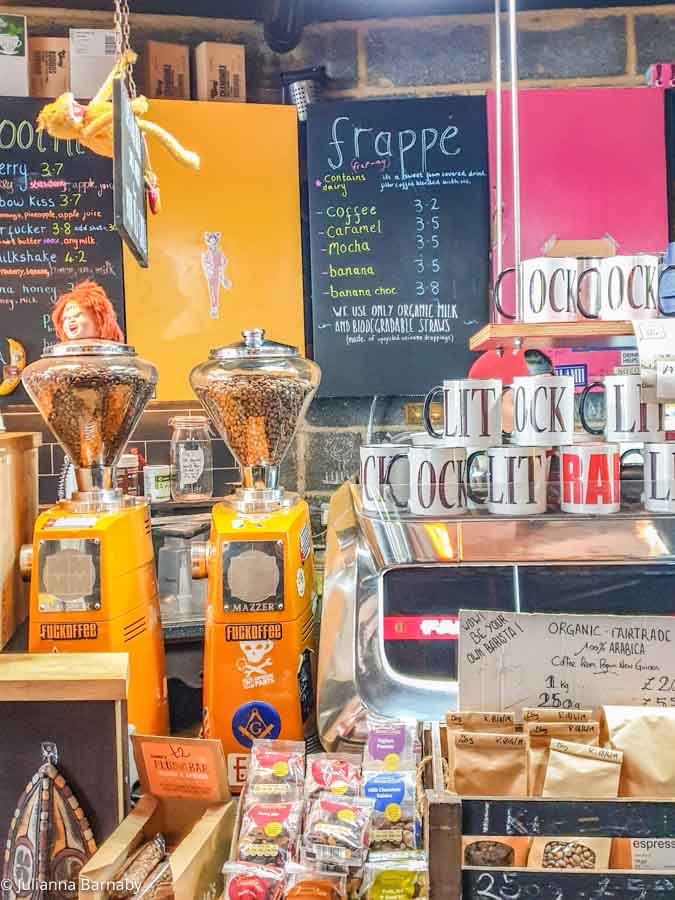 The Best Street Art in Shoreditch