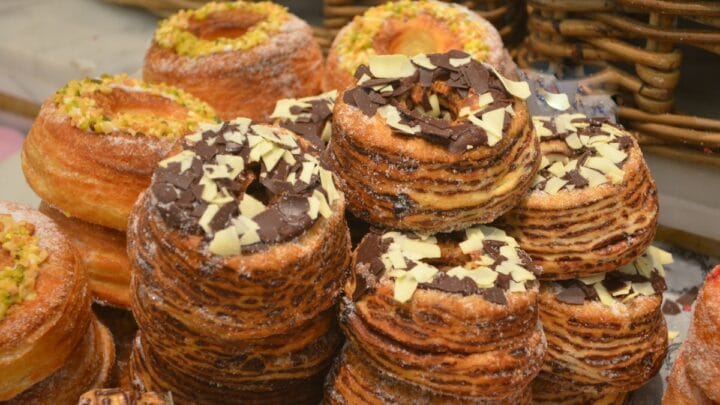 Craving something special but not sure where to buy cronuts in London? Sink your teeth into these seriously tasty delights.
If like us, you're still crying over Dominique Ansel's Bakery closure– fear not, it would seem that he left his mark and there are still some mouthwateringly good cronuts in London to try.
What are cronuts you ask? A cronut is a hybrid between a croissant and a doughnut. In other words, the closest thing to perfection gracing the city's dining scene right now.
Where to Find The Best Cronuts in London
Dum Dum Donutterie
Euston, Shoreditch
£
There's nothing dum about these doughnuts. Dum Dum Donutterie's baked, never fried cronuts are sure to satisfy your sweet tooth and, for all our vegan friends you should try its Vegan CroNOTella range.
With creative flavours like Strawberry Cheesecake and Salted Caramel and Lotus Biscuit, what's not to like?
Chocolate lovers assemble, you must try its bestseller, The Zebra, filled with dreamy chocolate buttercream, decorated in chocolate ganache and chocolate shavings.
Dum Dum Donutterie upped the cronut game with their special creation The Crone. What's that you ask? It's a cronut wrapped in an ice cream cone shape, sealed with oozing chocolate inside, rolled in cinnamon sugar and topped with oh-so-creamy gelato – drool.
What's more, Dum Dum Donutterie's cronuts come in the regular doughnut shapes and heart shapes.
Top tip, we've heard the heart shapes are slightly bigger, so you know what to do. You can also order boxes of 6 or 12's for gifting, and Dum Dum Donutterie is now available in all AmazonFresh stores in London.
Rinkoff's Bakery
Spitalfields, Whitechapel
£
Family run business Rinkoff's Bakery has been serving tasty sweet treats in London since 1911– impressive. The bakery's cronuts are a big hit with customers and here's why.
Rinkoff's bakery has mastered the craftsmanship of the cronuts delectable pastry, and there's a whopping 13 different flavours to choose from, and if you can't choose you should sample them all, go on we won't judge you.
If you're going all out, order the S'more Nutella and Marshmallow or Lotus Biscuit, or if you fancy something a little simpler try the Lemon Drizzle or Raspberry Crodough.
You can order Rinkoffs crodoughs in singles or, they offer a selection of boxes of 5's or 9's for you and friends– or just for you if, like us, you've developed a totally healthy addiction with sweet sweet cronuts.
Make sure you try its bestseller, Salted Caramel with Pistachio. It's perfectly crunchy on the outside and soft on the inside, just the way we like our cronuts.
Rinkoff's Bakery also offers a delivery service, for pickup and home delivery.
Happy Donuts Portobello
£
Happy Donuts are best enjoyed streetside on London's famous Portobello Road. All of its doughnuts are made by hand using only organic flour, butter, milk and swiss chocolate.
This takeaway only doughnut eatery offers deliciously crunchy cronuts with just glazed toppings for a simple sweet bite or pistachio and chocolate flavours for a more flavourful quick bite.
Wash your sumptuous cronut down with one of Happy Donuts coffees or milkshakes. If you're looking for something extra sweet you should try the Creme brulee milkshake.
Camden Doughnuts
£
For the ultimate sugar rush, head to Camden Doughnuts in Camden Middle Yard. Camden doughnut's stall is stacked high with all the cronuts your sugary heart desires.
We suggest trying them all, but if you've only got time for a quick pit stop you must try the Oreo Cheesecake, it's the perfect marriage where busincuit meets doughnut. You should also sink your teeth into the White Chocolate Top Caramel Filled Cronut, it's seriously gooey.
Oh, and for your chocolate fix you may want to try the Galaxy milk chocolate filled cronut– and just everything they have on the shelves, you have been warned.
London's Best Cronuts: Map
London Cronuts: More Places to Find Sweet Treats