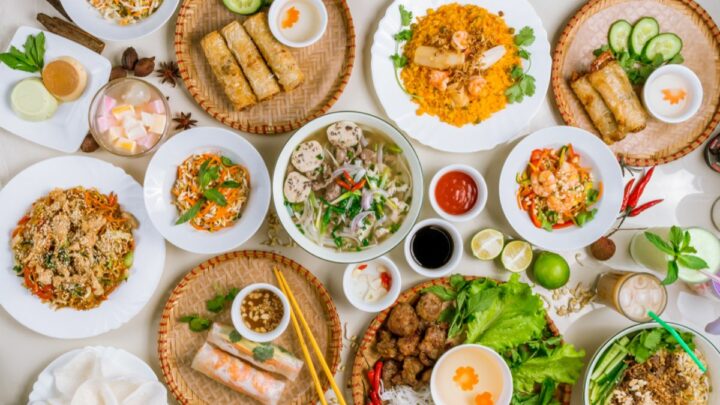 Looking for the best restaurants in Deptford? Not short of cool spots to dine, this little corner in Lewisham is blessed with an abundance of brilliant places to eat out.
What Deptford lacks in fine dining spots, it more than makes up for with quirky eateries and beautiful bars serving up tantalising small plates.
In fact, this cosy area of London is among our favourite areas to dine in the capital for affordable eats (ssh – don't tell everyone though).
From hugely-popular local joints to restaurants serving up some rather rare cuisine (at least in Deptford, anyway), these are the Deptford restaurants you need to check out.
Best Restaurants in Deptford
The Watergate
££
Intimate wine bar and restaurant The Watergate is the perfect place to head with friends or family for tapas-inspired dishes and fantastic drinks.
While you could come during the evening to gobble up lobster croquettes, The Watergate's take on a classic fry up for brunch is absolutely divine: eggs however you like them, roasted field mushrooms, slow roasted tomatoes, thick cut bacon, and sourdough for dipping.
This is a truly beautiful restaurant and bar that you should definitely make a point of checking out.
Marcella
£
It's safe to say that London boasts its fair share of Italian restaurants, but few compare to the glory and splendour of Marcella. This incredible restaurant serves up authentic Italian cuisine – the menu is small but the flavours certainly pack a punch.
We recommend trying out the casarecce, beetroot, and chicory pesto pasta – a wonderful combination of flavours that glide over your palate beautifully. And if you want something truly unique, try out the ox cheek, polenta, and savoy cabbage, it features incredibly tender meat oozing with flavourful juices.
Tomi's Kitchen
£
If you're yet to delve into the toothsome world of African cuisine, this African restaurant is a great place to start – it's easily one of the best restaurants Deptford has. African cuisine is often overlooked, but trust us when we say that it is truly delicious and full of interesting tastes and textures to delight your mouth.
When you visit, you need to try the jollof rice and beans with plantain – it's a hearty meal that is sure to fill you up. The restaurant itself is also rather beautiful, and though it may appear slightly humble, it is full of character and personality.
Eat Vietnam Bar B Grill
£
The popularity of Vietnamese food has exploded in London in recent years and Eat Vietnam Bar B Grill is no exception. This restaurant offers an extensive menu that is filled with traditional Vietnamese dishes, from noodles to plenty of deliciously cooked meats.
We recommend trying out the Bun Bo Sa Ot (fried beef and veggies in a broth). This is a big bowl piled up with fantastically fresh ingredients that tastes as wonderful as it is hearty.
Chaconia
£
We like to think of ourselves as the connoisseurs of budget-friendly eats that taste as good as fine-dining. Chaconia's humble restaurant manages to do just that.
Chaconia serves amazing food right from Trinidad and Tobago which could well make this a culinary experience that you have never tried before.
The highlight is definitely their series of roti which are similar to a savoury pancake that has an effortless balance between crispiness and softness. This roti can then easily be dipped right into various curries and other dishes – roll your sleeves up and get stuck in.
It's one of the few places in London where you can eat truly great Trinidadian food, and it is absolutely worth treating your tastebuds to a meal here.
Cafe Mama Pho
£
Cafe Mama Pho is easily one of the quirkiest restaurants Deptford boasts. Its menus and its interior decor have an eclectic and funky design, which translates to the innovative Vietnamese dishes on offer.
Try out the delicious Pho Ga, which is a chicken soup filled with herbs and noodles – it's refreshing, fulfilling, and delicious. Order the veggie spring rolls on the side and your belly will thank you.
Stockton
££
Fancy dining somewhere hip and modern? Head on over to Stockton.
The huge menu of drinks and food is truly vibrant and exciting, and there is always something new to try out every time you visit. We definitely recommend trying out as much as you can, which is made easier thanks to the tapas-style menu.
If you don't fancy sharing (we don't blame you), opt for the beef shin ragu, egg pasta, pangrattato, and pecorino cheese – washed down with an Old Fashioned, of course.
To make the deal even sweeter, this place is run by the same team behind The Watergate, so you're guaranteed a wonderful culinary experience. No guide to the best Deptford restaurants is complete without this dreamy addition.
Jinjiang Chinese Restaurant
£
Wondering where to eat in Deptford? Jinjiang is easily Deptford's best Chinese restaurant. It's extremely popular with locals, so be prepared to elbow your way to a table.
The clay pot dishes are stellar – we adore the slow cooked beef brisket with turnip, though the classic sweet and sour chicken has been perfected.
If you want to experience some of the best Chinese food that the entirety of London has to offer, then this is the place for you. The food tastes amazing and the restaurant itself is beautiful and comfortable.
Other Places to Eat in Deptford
Winemakers Deptford
££
Fancy dining somewhere where the wine is as important as the food? Winemakers is easily one of the best places around to do just that.
The extensive wine list makes this easily one of the most impressive places to come for a glass of fancy wine, and each wine is perfectly paired with the fresh handmade food that populates its menu.
The menu at Winemakers specialises mostly in smaller plates, so you can get a full taste experience for your entire palette. Order the Cornish crab pasta and you won't be disappointed.
SALT Deptford
£
You're not exactly at a loss when it comes to restaurants that serve pizza in London, or even in the Deptford area, but you would be hard-pressed to find a restaurant that makes them quite as well as SALT Deptford.
The pizzas are handcrafted with love and passion, and this comes across in the beautiful balance the restaurant has managed to strike between texture and taste.
The pizzas have slight crispiness to them, but the dough is still incredibly soft. And get ready to experience the cheese pull of your dreams. Wash down with a craft beer or two and experience pure bliss.
The Brookmill Pub & Kitchen
££
This 19th-century pub has a truly rich history which you can feel emanating from its walls and in every inch of its truly vibrant interior.
Want some of Deptford's best steaks? Head here and order one alongside a beautiful pint of beer. The steaks come with a massive helping of roasted potatoes, horseradish, carrots, cabbage, and, of course, plenty of gravy.
This is a great place to come if you want to enjoy a meal outside in the beer garden or within a beautiful historic setting.
Practical Tips and Map for Exploring The Best Deptford Restaurants
Whilst you might need to make reservations for the likes of The Watergate and Marcella on weekends, most of the restaurants in Deptford are fairly lowkey and can accommodate walk-ins easily.
Discover More Deptford Guides