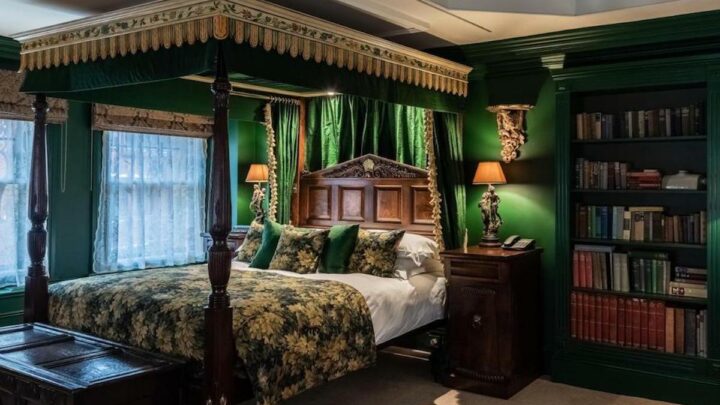 Slightly outside of the craziness found in the centre of town, Farringdon is a great place to base yourself for your London trip. In the past decade, new openings have transformed Farringdon's hotel offering from slightly bland to the preferred spot for those in the know.
With its renowned streets, historic architecture and infamous Smithfield Market – a centre for meat trading since medieval times – this area of town really gives you a sense of old-world London.
Looking for the best hotels in Farringdon? From quirky renovated townhouses to boutique hideaways, these are places you shouldn't miss.
Best Hotels in Farringdon: At A Glance
Best Hotels in Farringdon
The Rookery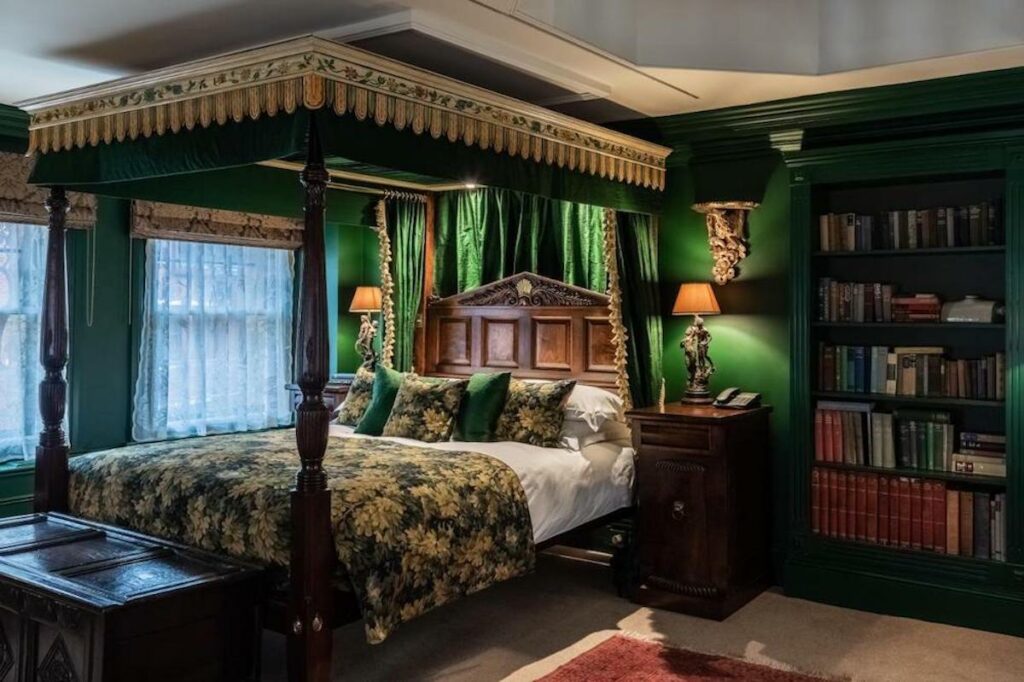 The Rookery – a charming boutique hotel in Farringdon – really paints the picture of what this area of town used to be like in the past.

Celebrated as one of London's best kept secrets, this small hotel is near to Smithfield Market and offers true, period charm. Built into what used to be a set of 18th century houses, the interiors reflect its history and heritage.

With polished wood panelling, stone floors and open fires; the hotel offers a more rustic countryside charm in the heart of London.

Alluring without being OTT, heading up to the bedroom is like heading up to a private warren. The small bedrooms offer dark panelled four poster beds, with draping silk curtains and sumptuous materials.

The bathrooms magically reflect this ornate style, with vintage checked flooring and large roll-top bath tubs, the place to be when you need a good, relaxing soak.

Come in winter, after a day of Christmas shopping. Make a trip here to snuggle up by one of its large open-fires – a special treat in itself.


Price: ££
The Zetter Hotel & Townhouse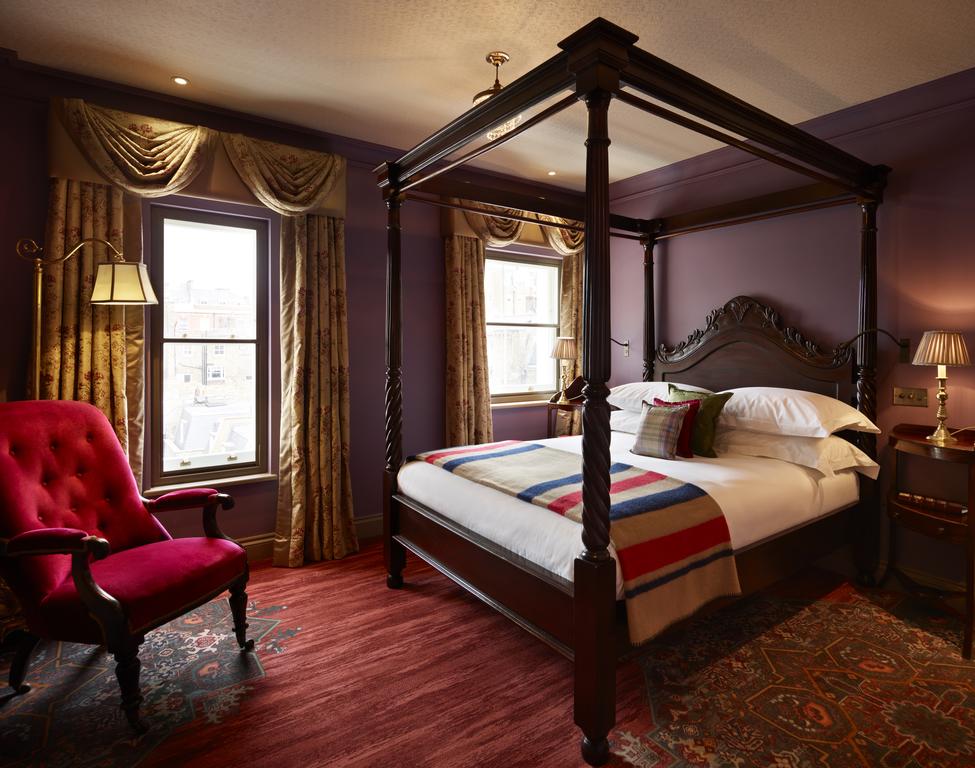 Straddling the cusp of both Clerkenwell and Farringdon, the Zetter Hotel & Townhouse sits in one of the most 'ye olde' parts of London town.

Housed in a Victorian warehouse building, it blends well into its surroundings. But, with its cutting-edge design, this quirky, award-winning Farringdon hotel is undoubtedly cool.

The Zetter picks up on the industrial-style notes of the area, but with more than a few bold, modern touches. Need an example? The bright pink chandelier which greets you on arrival is a case in point.

Curated by eco-conscious hoteliers you can feel the traces of sustainability across the hotel. Our favourite is the water, which is pumped from a 1,500-ft bore hole beneath the building and filled into reusable bottles placed into the rooms – now how cool is that for a central London location?

If you're looking to book this hotel, then pay attention to your bedroom choice – the deluxe category is totally worth the additional price.

These rooftop bedrooms have panoramic views out over the city and come with their own private terrace, so on summer nights, you can sit out and watch the sun go down.


Price: ££
Malmaison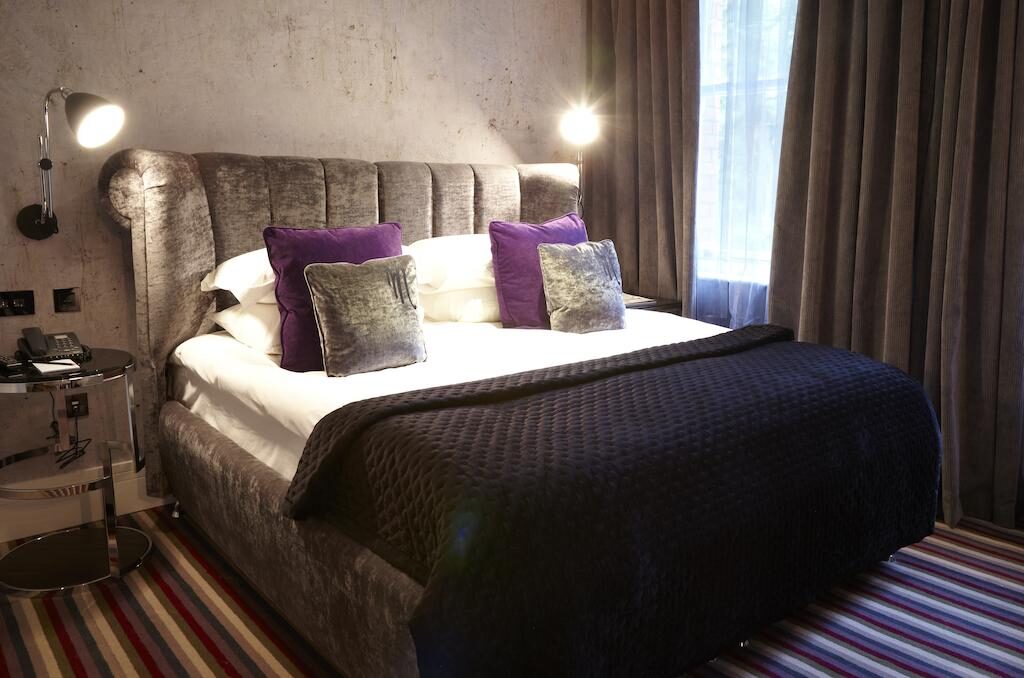 Malmaison is a boutique hotel in the Farringdon area. Located minutes' walk from the tube station, it boasts a prominent city location.

Previously a nursing home, this small hotel sits inside a Victorian building on a cobbled open square; a very picturesque image of old-school London.

Renowned for its love of textures, opulence and fabulous art, the interiors showcase neutral shades with pops of colour and trendy British notes, such as Union Jack rugs – a great style for your weekend in the capital.

Inside the bedrooms there is a love of velvet and leather, offering a strong sense of comfort mixed in with Farringdon's more industrial-past. Think exposed brick-work, lights and oversized clocks.


Price: £
The Montcalm at the Brewery London City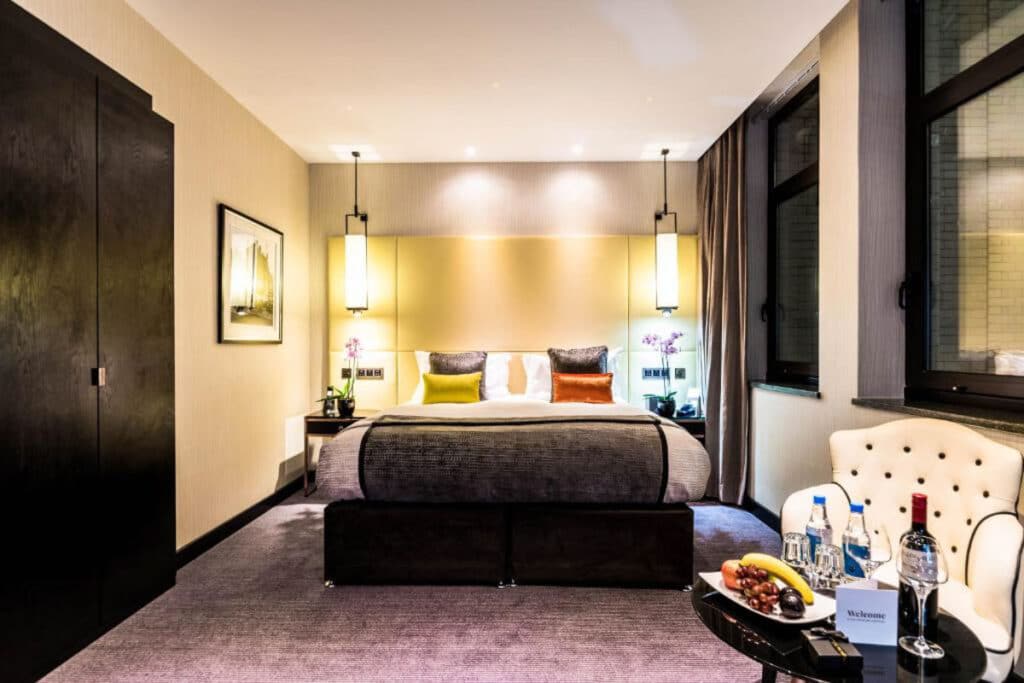 Now this one is for the beer lovers amongst us!

Previously the site of Whitbread & Co, Britain's first purpose-built mass production brewery, The Montcalm at the Brewery has been transformed from a historic brewery into a five-star hotel near Farringdon – and wears its heritage with pride.

Dating back to 1750, the character of the original building shines through via more modern touches. As you walk around you will find images of its brewery history and past plastered on the walls.

Mixing together both elegance and relaxation, its bedrooms provide luxe fabrics, spacious bathrooms and views of the local Georgian streets seen from the sash windows.

Downstairs, tuck into the Jugged Hare gastro pub. Once the brewery's barrelling room, with cask ales, fine wines and a relaxed dining experience, this is the place for seasonal British dishes after a long day out exploring London.


Price: £
L'Oscar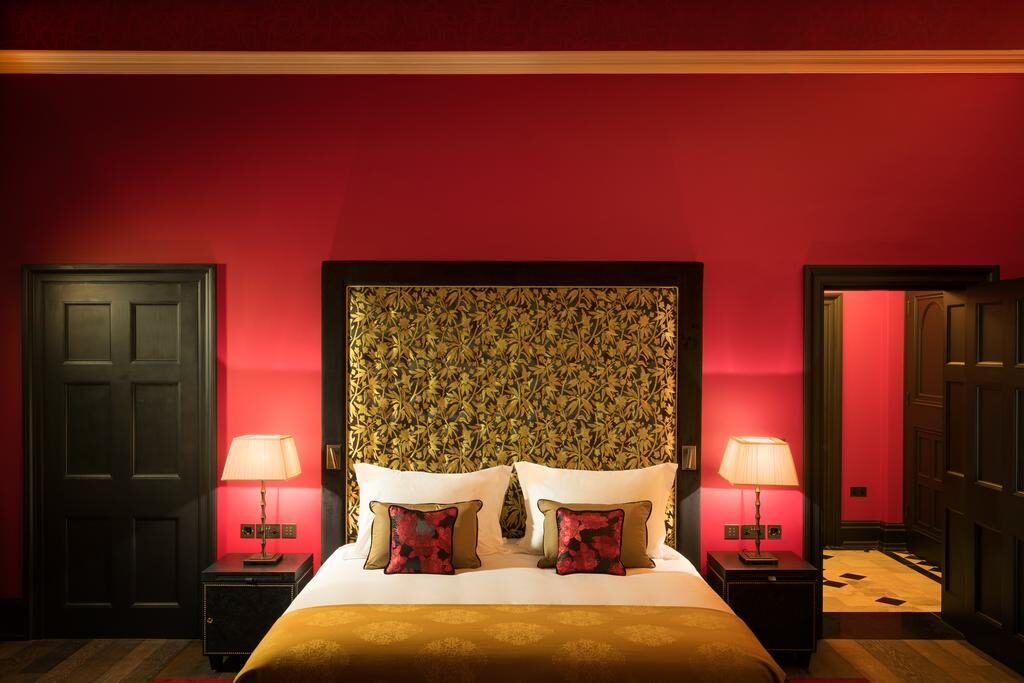 On the edge of historic Holborn, L'Oscar is housed in a restored Baptist Church House and is one of our favourite Farringdon hotels.

Designed by the world-renowned Parisian interior designer, Jacques Garcia, this small hotel is full of character and takes centre stage in the London hotel scene.

L'Oscar is both seductive and a bit risqué – with its original stained glass windows, gold, black and deep purple interiors and hummingbirds swooping around a seven-storey chandelier.

Its 39 bedrooms are also sultry in style. More than a French boudoir, these rooms are like nothing you'll have seen before. With large bedheads, thick carpets, marble bathrooms and elegant lighting, sink into your bed for a dreamy stay.


Price: £££
The Rosewood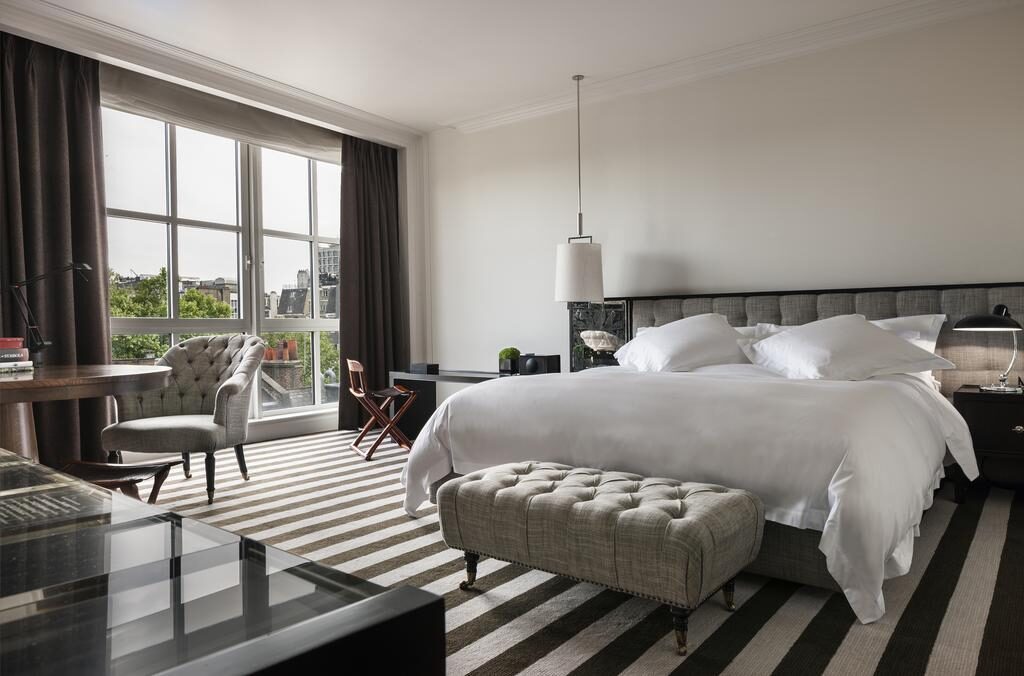 Built into an Edwardian mansion, Rosewood is a stunning hotel near to Farringdon and within the Holborn district brings countryside chic to the heart of London. If there is anything that could put this area of London even more firmly on the map, then it would be this hotel.

Just like a country house, five-star elegance is the key to this property. You arrive in its beautiful courtyard, ensconced behind its grand gates. That opens out onto a cobbled square with prim hedges and – if you're lucky – the hotel's resident dog may be there to greet you.

This sophisticated style extends to all 262 bedrooms and 44 suites (it's one of the largest hotels in London). These rooms are all spacious, with understated decoration; classy white walls and smart stripes, think minimalist but not bland.

The bathrooms bring in an even more luxurious edge. Mirrored marble with sunken bathtubs and large showers, they're the ultimate luxe way to finish up your day in the city.


Price: £££
Fox and Anchor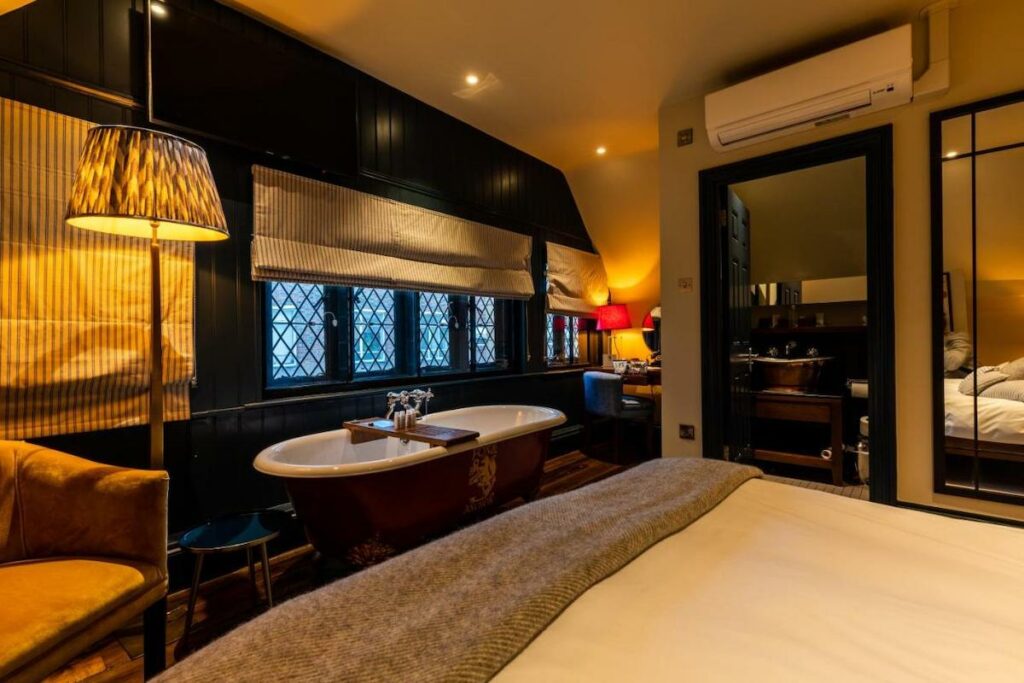 Not only is the elaborate facade of the Fox and Anchor pub completely gorgeous, but the hotel rooms tucked away upstairs are just as attractive.

This pub-come-hotel offers a little bit of luxury for a very reasonable price – many rooms are equipped with freestanding baths and the pretty terrace is the perfect breakfast spot. Rooms tread the perfect balance of traditional and modern, with flat screen TV's and coffee machines offset by warm lighting and dark oak furnishings.

The restaurant is a particular highlight. We are obsessed with how the hotel utilises deep wood panels on the walls, yet it's the furthest thing from dark and dingy. In fact, the intimate booths feel comfortable and spacious, aided by the huge mirrors adorning the walls.

This hotel in Farringdon almost feels like a Victorian film set – and we're not mad about it. We've also raved about the pub here.


Price: ££
Farringdon Hotel Guide: Practical Tips and FAQ for Your Trip
Although this area of the city may not feel like it's in the very heart of it, bear in mind that it is less than 30 minutes of walking to get to the Covent Garden/Soho districts.
Away from the crowds, staying in this part of town is a way of seeing the city as Londoners see it.
While you're in Farringdon, be sure to book in for dinner at St John – it's a London culinary institution.
Best Hotels in Farringdon: Map