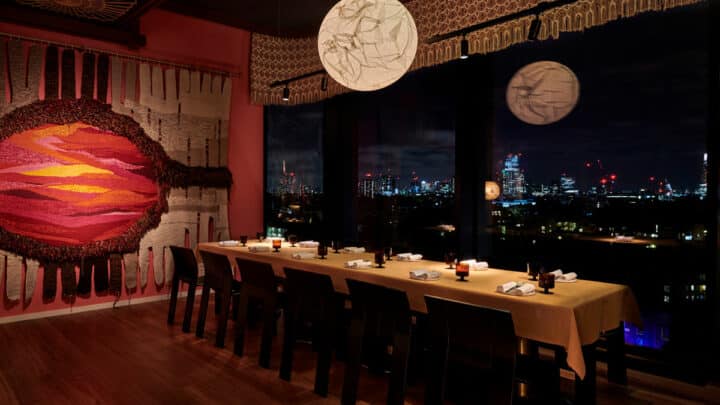 Fancy dining in one of the best hotel restaurants in London? You're in luck, the capital is brimming with hotel restaurants that are more than just decent – they're actually spectacular. Bid farewell to mediocre eats at these stellar London hotel eateries.
Did you know that some of London's hotels are hiding a little secret? They're home to some of the best restaurants in London?
Gone are the days when a hotel restaurant was either a) stuffy and pretentious or b) the home of mediocre misery, London's hotel restaurants are setting the capital's dining scene alight.
Venture wisely and you'll find Michelin-starred chefs and some of the best dining experiences that the capital has to offer.
From Michelin-starred chefs and raw sushi bars to leafy courtyards and terraces, these are all the hotel restaurants in London that you should be grabbing a table at.
Best Hotel Restaurants in London
Nomad Restaurant
£££
Nestled in Covent Garden, The NoMad Hotel's Nomad Restaurant is set inside a lavish atrium with a high glass ceiling.
This airy hotel restaurant is lively and vibrant during the day and by night the restaurant transforms into a more intimate affair with mood lighting and dishes that will blow your socks off (in a good way, mind).
The menu here is headed up by chef Ashley Abodeely with a strong focus on local and regional bounty from farm, field and coast.
Cocktails here showcase traditional tipples, NoMad favourites and new selection of cocktails focused on the seasonality of London.
This is the one of the best hotel restaurants in London to book for pre-theatre dinners with a special prix-fixe to enjoy before your show.
The Montagu Kitchen & Lounge
Marylebone
£££
The Hyatt Regency overlooks the leafy Portland Square in Marylebone and is just a short walk from Marble Arch and Oxford Street.
Inside this fabulous London hotel is the Montagu Kitchen & Lounge, a casual all-day dining restaurant with classic dishes served in an informal setting.
The British driven menu here offers contemporary and seasonal dishes for brunch, lunch, dinner and afternoon tea.
The open planned theatrical kitchen at The Montagu is a place for diners to come together and eat, drink and socialise.
The all-day dining menu pays homage to good honest British food, try The Winston Burger or the sumptuous Pumpkin Sage Ravioli.
The Crown
Chiswick
££
The Crown is an idyllic boutique hotel located in the heart of Chiswick with beautifully luxurious rooms and an elegant dining room to match.
The Crown's dining room features a menu inspired by Mediterranean and British cuisine. The hotel and restaurant has a personal touch and service here is second to none as well as only using ingredients from independent or family-run producers.
The dining room is flooded with natural light with extravagant banquettes ideal for eating, drinking and socialising.
With an all-day menu, this neighbourhood restaurant and bar serves up Sunday Roasts with your choice of Beef Hereford Sirloin, crispy Tamworth Pork Belly or roast free range chicken.
The Crown is big on puddings and the head chef has worked tirelessly to create magical dishes like the Madagascan and Citrus Vanilla Cheesecake and Salted Chocolate delice with Hazelnut Ice Cream and Chocolate Crumble.
The Restaurant at The Capital
Knightsbridge
£££
Fancy dining in a 5-star hotel? The Restaurant at The Capital is located in Knightsbridge, and closeby to lots of shops and bars in the area.
This London hotel restaurant offers internationally-inspired cuisine combined with true English hospitality in a sophisticated dining room near Harrods.
Situated inside The Capital, this boutique 5-star hotel has a history of aspiring Michelin-starred chefs since 1971 and is definitely worth a visit.
On the menu you'll find offerings like the Crispy Prawns with Thai Butter, Wagyu Burger and Triple Cheese Mac n Cheese.
Savoy Grill by Gordon Ramsay
Covent Garden
£££
The iconic Savoy Hotel of course has an elegant hotel restaurant to match. Savoy Grill by Gordon Ramsay is a splurge, but has the food, drinks and interiors to match.
Elegant chandeliers hang from the ceiling with immaculate white tablecloths and ornate mirrors, this hotel restaurant is nothing short of glitzy.
This 1920s themed restaurant features a carefully curated menu by Gordon Ramsey with British and French fare and delightful wine pairings to match.
This fine dining hotel restaurant includes dishes like poached oysters, Sladesdale Farm duck and Lobster Thermidor to name a few.
There's also a two or three course lunch menu available Monday through Friday featuring more fine dining options – confit duck leg and steak tartare all sound delicious.
The Gate at Richmond Harbour Hotel
Richmond
££
Inside the Richmond Harbour Hotel is The Gate, a lively, kitchen bar and terrace. Richmond Harbour Hotel is perched on the edge of Richmond park. The 18th Century Georgian building alone is enough to lure hungry diners into The Gate.
This chic all-day restaurant and bar brings the outside in with a leafy courtyard terrace and a light seasonal menu.
Inside the Moroccan inspired lounge with a huge glass roof and vibrant furnishings, enjoy afternoon tea stacked high with pastries, scones and delicate sandwiches.
This London hotel restaurant can be enjoyed at all times of the day with a breakfast, lunch and dinner menu, as well as live music, DJ sets and innovative cocktails come night time.
Seabird
Southwark
£££
Seabird is a seafood lover's dream. This rooftop seafood restaurant boasts London's longest oyster list as well as an impressive marble raw bar.
The lofty hotel restaurant can be found on the 14th floor of the Hoxton hotel that boasts amazing city views like you've never seen before.
The Seabird is a coastal experience with a menu inspired by Portuguese and Spanish seafood, there's even an oyster happy hour weekdays 3pm to 5pm.
On the all day menu you'll find a selection of fish delicacies like the Dressed Crab, Scallop Ceviche and Whole Tiger Prawns.
Seabird's selection of playful cocktails are a nice touch with comical names like Take Me On Parrotdise, Pelicans and Razorbill.
Straits Kitchen
Liverpool Street
£££
If you're in the mood for Singaporean food, Straits Kitchen has a selection of Southeast Asian pan-fare using the finest Asian ingredients.
Opposite Liverpool Street, Straits Kitchen is housed in the Pan Pacific hotel and it's the flagship restaurant there.
The elegant decor here reflects a South Asian fine dining experience with floor-to-ceiling windows overlooking the Plaza and beautiful murals.
Try the chef's weekly rotating set menu featuring a variety of Straits Kitchen signature dishes, or the a la carte menu has offerings like the native lobster nyonya laksa and crispy tofu with garlic and chilli sauce.
Decimo
King's Cross
££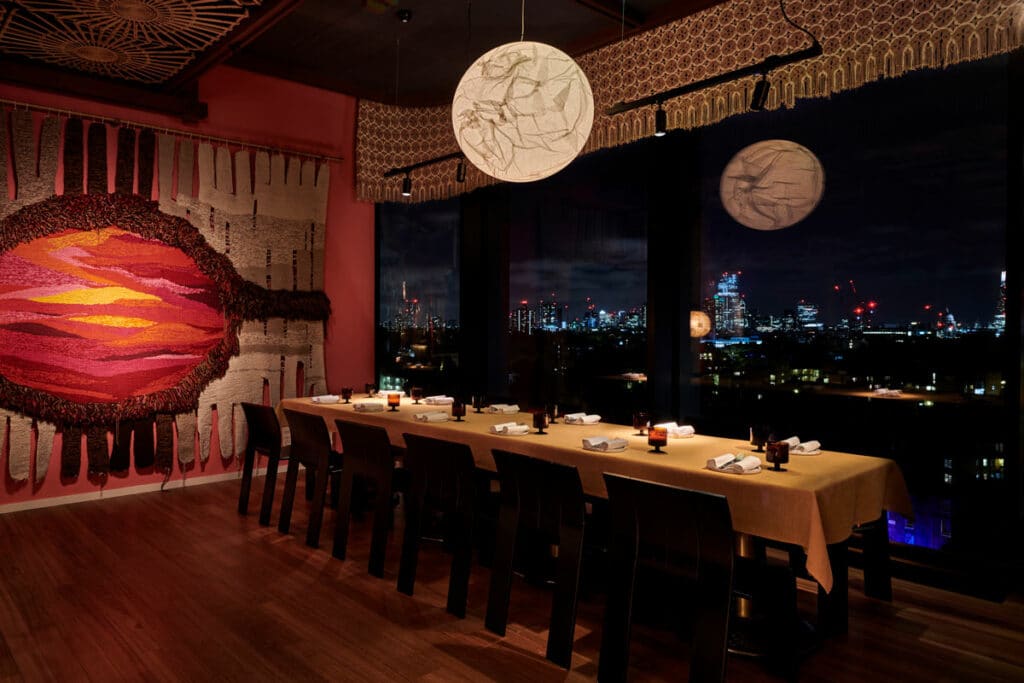 Inside The Standard hotel in King's Cross and located on the 10th floor is Decimo restaurant.
This Standard Hotel London restaurant is headed up by Michelin-starred chef Peter Sanchez Iglesias who combines Spanish and Mexican cuisine.
When dining at Decimo expect gambas rojas, mangalitsa pork, mezcal cocktails and dramatically different tortillas.
This London hotel restaurant boats iconic city views from the 10th floor with floor-to-ceiling windows.
If you're in the mood for brunch (because… when aren't we), head here on Saturdays for Huevos a la Flameca, Squid Skewers, Baja Tacos and a whole load of Bloody Maria's.
Decimo is a hangout spot throughout the week, with a weekly line-up of DJ's and a set menu Wednesday through Friday.
Madera at Treehouse
Fitzrovia
£££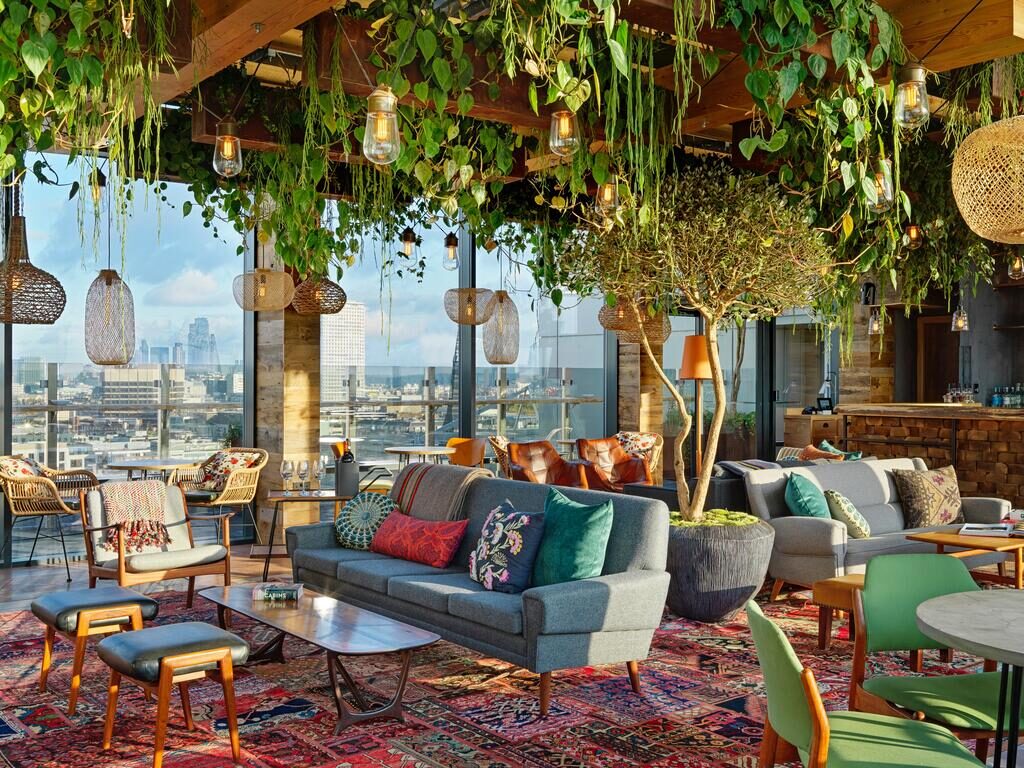 Nestled inside the iconic Treehouse Hotel is Madera at Treehouse London. The Treehouse hotel London restaurant reimagines Mexican food and pairs it with bold flavours and organic ingredients.
You should dine here for breakfast, lunch or dinner and even weekend brunch, there's plenty of Mexican dishes to work your way through.
Madera at Treehouse is atmospheric during the day and hits a different gear at night, you'll sometimes find spectacular theatrical performances including fire breathers.
As the name suggests, it really is like sitting atop a treehouse gazing out of floor-to-ceiling windows across the London skyline and spotting iconic landmarks as you enjoy sumptuous Mexican food and cocktails.
Nobu Restaurant
Shoreditch
£££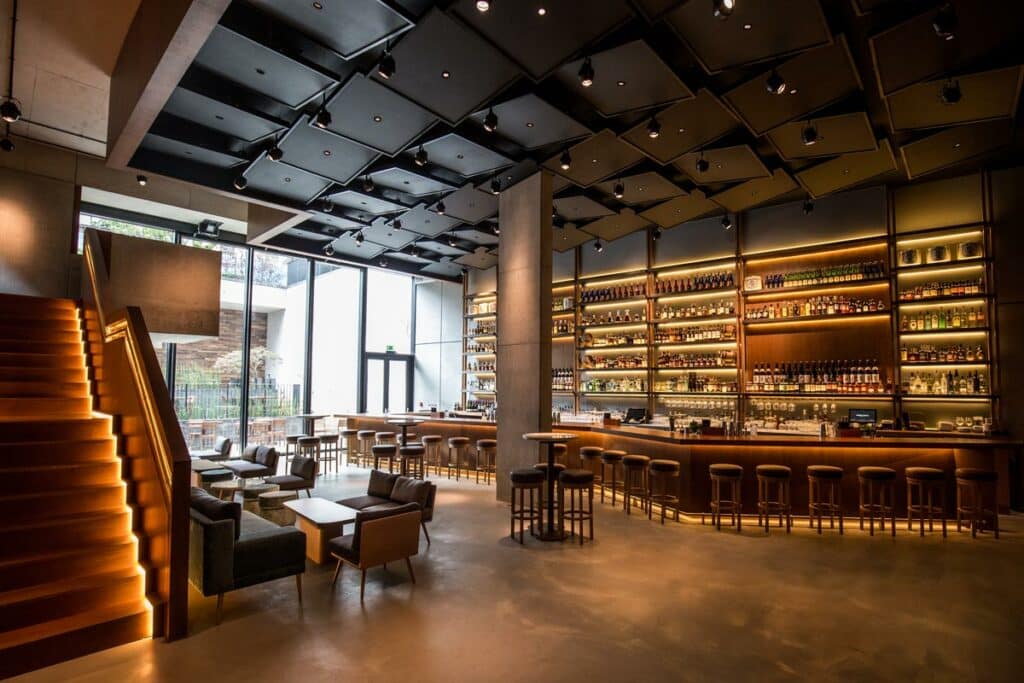 The luxurious Nobu Hotel London Shoreditch is located in East London's creative district and is home to the Nobu Restaurant.
Led by Executive Head Chef Sandi Richmond who specialises in Japanese cuisine. Nobu Shoreditch Restaurant seats 240 guests and incorporates traditional Japanese decor with ambient lighting.
Nobu guests can enjoy an immersive sushi bar with every kind of sushi and sashimi offering you can think of as well as an alfresco terrace for the summer months.
On the menu at Nobu you'll find an array of Nobu classics like Yellowtail with Jalapeno and Balck Cod Miso all pioneered by chef Nobu Matsuhisa which can be found on all Nobu menus worldwide.
Hithe + Seek
City of London
£££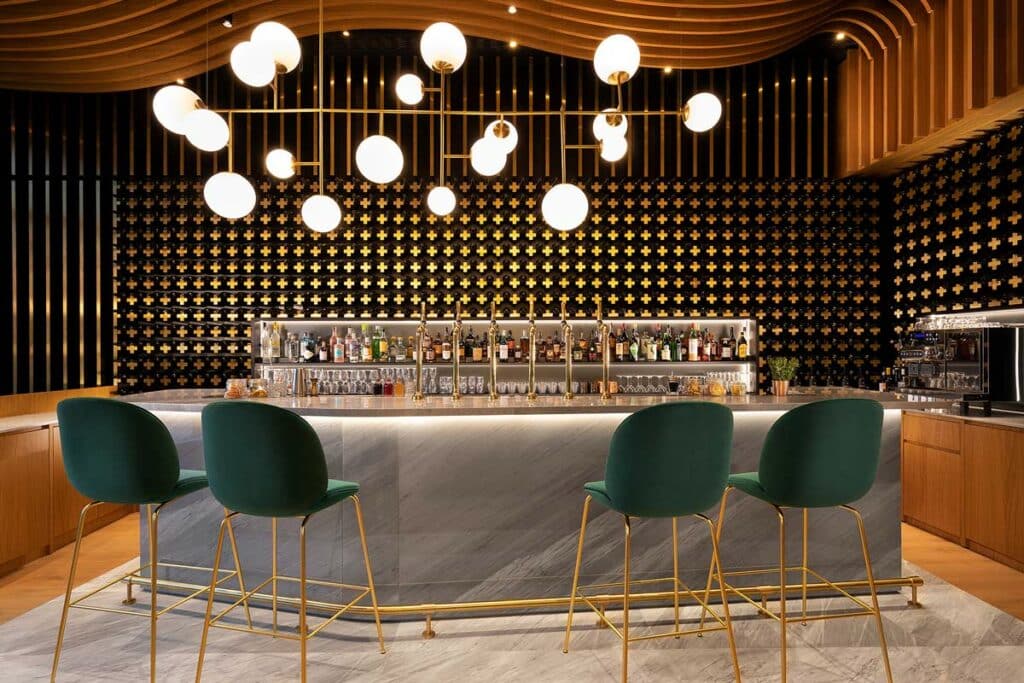 The Westin London City Hotel boasts an impressive riverside location and spectacular views of the river Thames as well as an impressive riverside restaurant, Hithe + Seek.
This wine bar restaurant serves carefully selected wines with a wine pairing menu all whilst enjoying riverside views, sounds great, right?
Everything is fancy about the The Hithe + Seek menu; try the Beef Tarte, Gillardeau Oyster Mayonnaise, Egg Yolk Brioche and Lobster Royale Tarragon, Crisped Noodles.
The menu here is split into two sections Hithe, featuring a selection of familiar favourites and Seek showcases undiscovered dishes handpicked for diners looking to expand their palate.
Ting at Shangri-La
London Bridge
£££
When mentioning the best hotel restaurants in London we couldn't not mention Shangri-La's TING restaurant – whose name was derived from the Chinese word living room.
This sleek and stylish hotel restaurant has an Asian-inspired menu, serving signature and modern dishes that are all thoughtfully sourced.
Sitting atop of level 35 in the Shangri-La hotel, enjoy panoramic London skyline views and sample wines from an award-winning wine list.
TING's Skyline Afternoon Tea features freshly made savoury delights and baked scones. There's also a two, three, and five course set menu with delights like Carlingford Oysters, Spring Lamb and Salmon Wonton Tart.
Kerridge's Bar & Grill
Westminster
£££
For his first London restaurant, renowned Michelin-starred chef Tom Kerridge along with head chef Nick Berdshaw have created a menu that features refined British comfort food.
Kerridge's Bar & Grill can be found inside the fabulous West Country Corinthia London, bringing you heart and soul from Marlow pubs.
Kerridge's has a two or three course lunch with dishes like Caramalised Onion Sausage with Mash and Onion Gravy and Cream of Mushroom Soup with Caper and Walnut Pesto.
If you're in the neighbourhood and need a quick bite to eat before a show, Kerridge's pre and post theatre menu is exactly what you need.
Try the Prawn Scotch Egg with Pickled Mooli and Lobster Satay Sauce or the Buttermilk Fried Chicken in a Bun with Aioli and Pickles.
Practical Tips for Feasting at London's Best Hotel Restaurants
Make sure you plan your visit and book ahead for these London hotel restaurants, they are very popular
Lots of these London hotel restaurants have pre/post theatre menus so make sure you book one for your next theatre trip
If you time your booking right and are visiting one of the restaurant with a skyline view you may get a view of the sunset
Hotel Restaurants in London: Map
Top Hotel Restaurants in London: Read Next