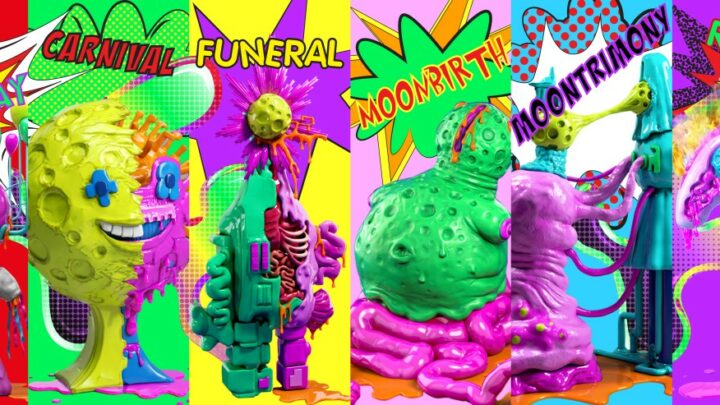 Tour de Moon launches its otherworldly festival in the UK this year and is landing in Hackney's Pedro Youth Club on 16th June– here's why you need to go.
Tour de Moon is a free immersive festival and promises all festival goers an out of world experience.
The festival celebrates the relationship between earth and the moon with a number of exciting and original experiences, focusing on nightlife, creativity and culture.
It's the first of its kind, touring 13 different cities and towns across the UK via a sustainable moon convoy. The festival brings together talks, cinema, music and games all under one cosmic theme.
Here's everything you should know about the festival…
What's The Tour de Moon Festival All About?
Created by internationally renowned "creator of experiences" Dr Nelly Ben Hayoun who has worked on unique projects including the first International Space Opera with scientists from NASA.
Oh and he's also worked on projects with Pussy Riot, Massive Attack and Damon Albarn… impressive.
Tour de Moon is one of 10 major creative projects commissioned as part of UNBOXED: Creativity in the UK, the UK's most ambitious showcase of creative collaboration and includes free large-scale events, installations and globally accessible digital experiences, and an extensive learning programme.
Tour de Moon asks us why can't we imagine a new way of thinking, living, dreaming and doing – and challenges us to do so through a celebration of nightlife and counterculture from the UK and beyond.
The team of 90 individuals have worked hard to provide a festival for plurality, decolonial practices, social and racial justice, solidarity and equity – count us in, because that all sounds dreamy.
Arriving in style, Tour de Moon's Moon Convoy is not to be missed, featuring huge floats and an interactive larger than life moon that disappears and reappears at night with interactive ultra-violet lights.
You can't get closer to the Moon than that… unless you're Neil Armstrong.
Cosmic Experiences at Tour de Moon
Moon Games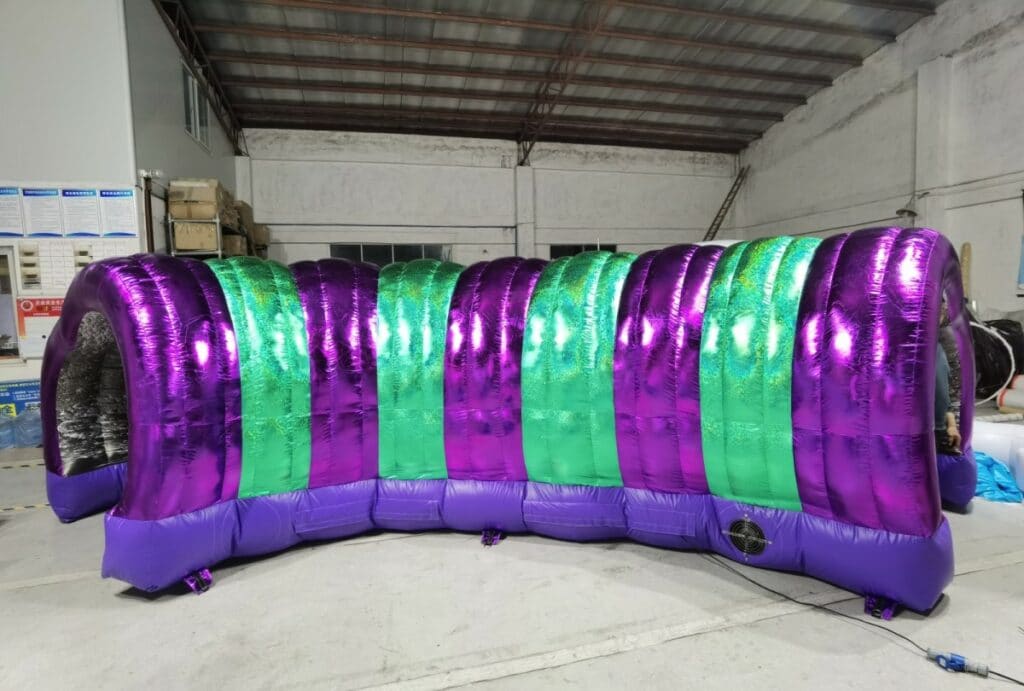 The Moon lands on earth… in the shape of a psychedelic inflatable playground – dreams really do come true.
Tour de Moon collaborates with astrophysicist, sports groups and youth organisations, to bring you an immersive game experience to explore the moon designed by NASA– games for 16+
Moon Experiences
Repurposing disused buildings in city centres and creating unusual theatrical spaces, Tour de Moon brings you Moon Experiences.
Take a trip to the Moon on psychedelic buggy rides in immersive plays developed by new talents.
Moon Experiences includes a SoundBath by Loss><Gain, with an original 2 hour experience featuring music and new compositions from some stellar musicians, experimentalists and composers such as Yelfris Valdès, Riz Ahmed, Oliver Coates, Jatinder Singh Durhailay & Suren Seneviratne; Roella Oloro, Rival Consoles, Gruff Rhys, Cosmo Sheldrake.
Moon Music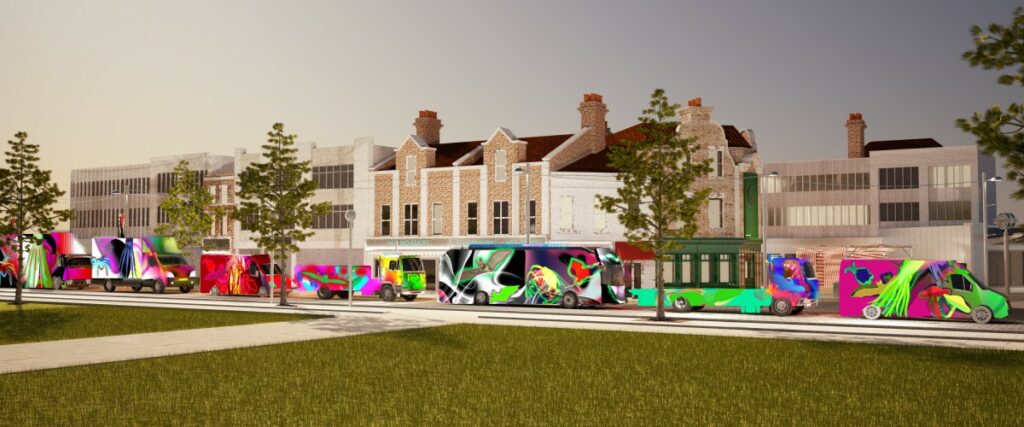 Expect cosmic transformations through live music and DJ sets. Bringing you unique new musical talents, and merging popular music with recordings of the galaxy to create a new musical genre.
Moon Music brings together Arkestra (9 young musicians and truth seekers on board a mobile convoy across England), Moon Recordings (a series of newly commissioned alien musical genres), and Moonbounce (transmission to the moon, an Earth-Moon-Earth (EME) technology) to club nights.
There's also the moon on the dancefloor for 18+ earthlings– it's set to be an afterparty like no other.
Moon Talks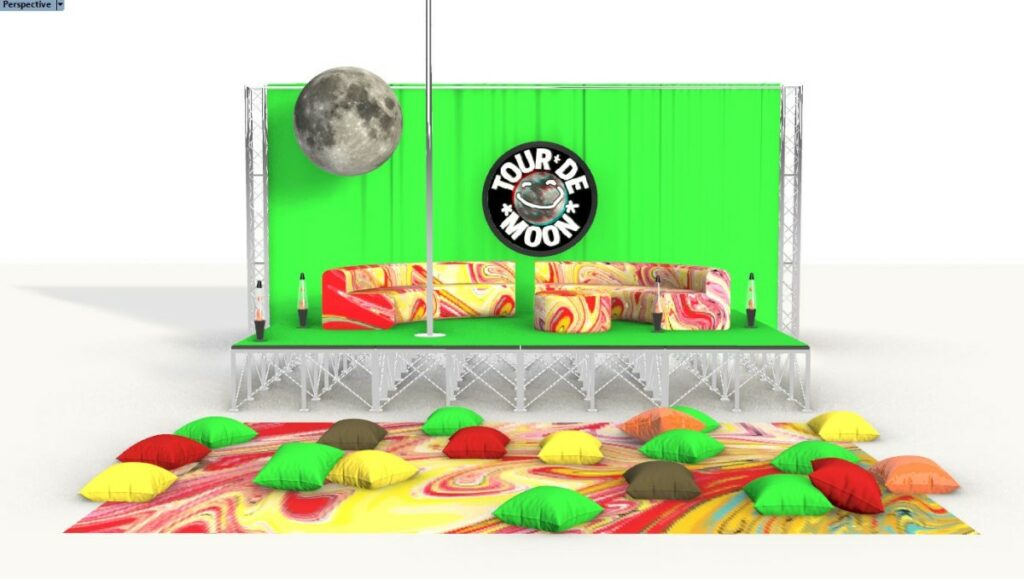 Speakers of the moon and nightlife lovers unite at Tour de Moon, two unlikely star crossed lovers.
Through talks, performed manifestos and sensory delights and featuring a vibrant pluralistic mix of voices sharing their electric experiences of nightlife through their passion for the moon, science, dancing and debates– this discussion is for 18+.
Moon Cinema
New short films created by a new generation of talented filmmakers selected through an international competition will be shown. The films explore untraveled terrain, innovative aesthetics and important messages about youth culture and their experiences with nightlife.
Moon Cinema is for 18+ only and provides unique discourses and non-linear narratives on science subjects.
Tour de Moon: London – Practical Tips & Map
When?
Tour de Moon Festival will be landing in London on 16th June.
Where?
Tour de Moon Festival will be taking place at Pedro Youth Club, Hackney.
Tickets?
The festival is free- sign up for your free ticket here.
Tour de Moon Festival: Read More