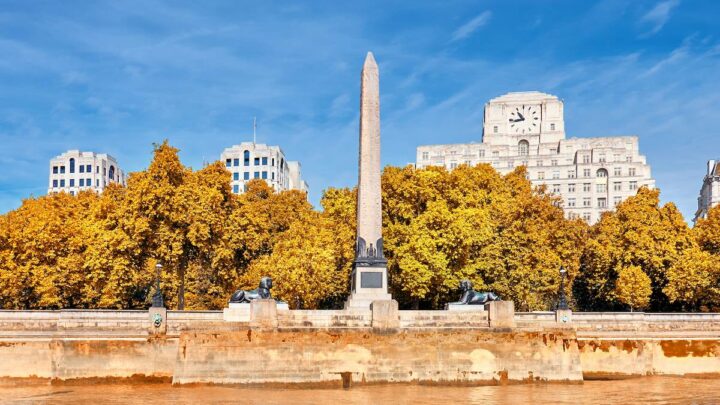 When we first stumbled across Cleopatra's Needle, we had to do a double-take – it might just top the list of random London statues that barely make any sense.
Which is saying a lot really, as the capital is filled with so many weird and wonderful things to see and do.
But what exactly is this Egyptian obelisk for? And why on earth is it in London?
If you've never heard of Cleopatra's Needle, allow us to explain it all. And make sure you stick around for some interesting little facts at the end.
Wait, What is Cleopatra's Needle?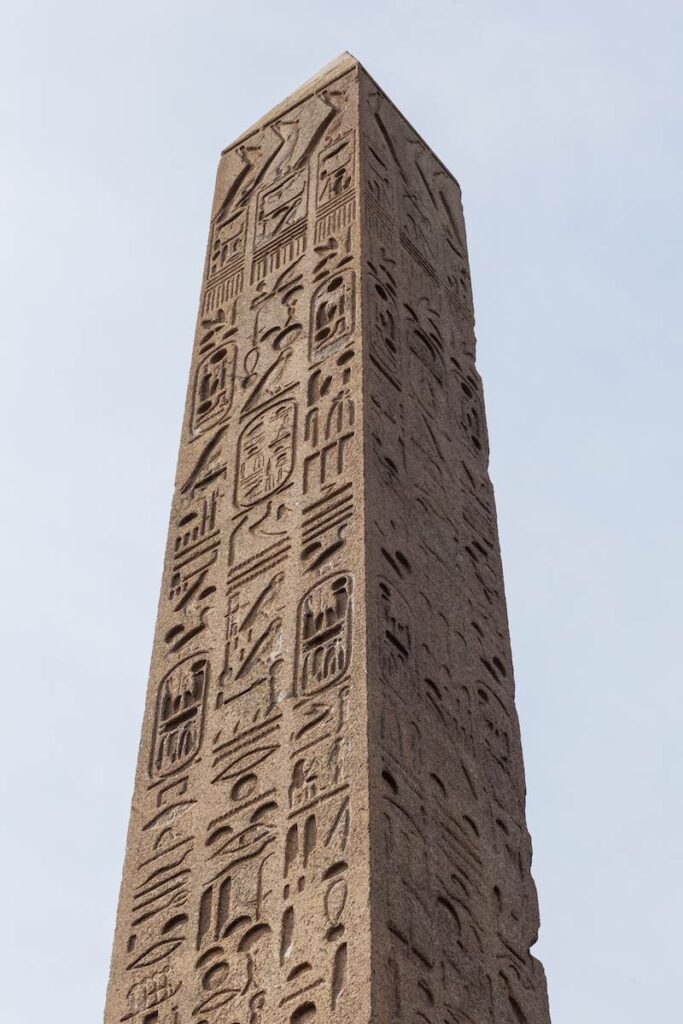 Cleopatra's Needle is situated on the Victoria Embankment, smack bang between Waterloo Bridge and Golden Jubilee Bridges.
Standing at 21 metres tall and weighing a hefty 224 tons, the Egyptian obelisk is covered in ancient hieroglyphs and overlooks the Thames.
It was first gifted to the UK by the ruler of Egypt and Sudan, Muhammed Ali, in 1819 as a nod to the victories of Lord Nelson and Sir Ralph Abercromby at the Battle of the Nile and the Battle of Alexandria respectively.
The History of Cleopatra's Needle
Egyptian Beginnings
The relocation of the obelisk might seem a little random, but Cleopatra's Needle has a long and fascinating history that lead up to it eventually being sent to London from Alexandria (which was known as the royal city of Cleopatra).
It was created out of granite (sourced from near the Nile) for Pharaoh Totmes III in 1460 BC and sat in Heliopolis.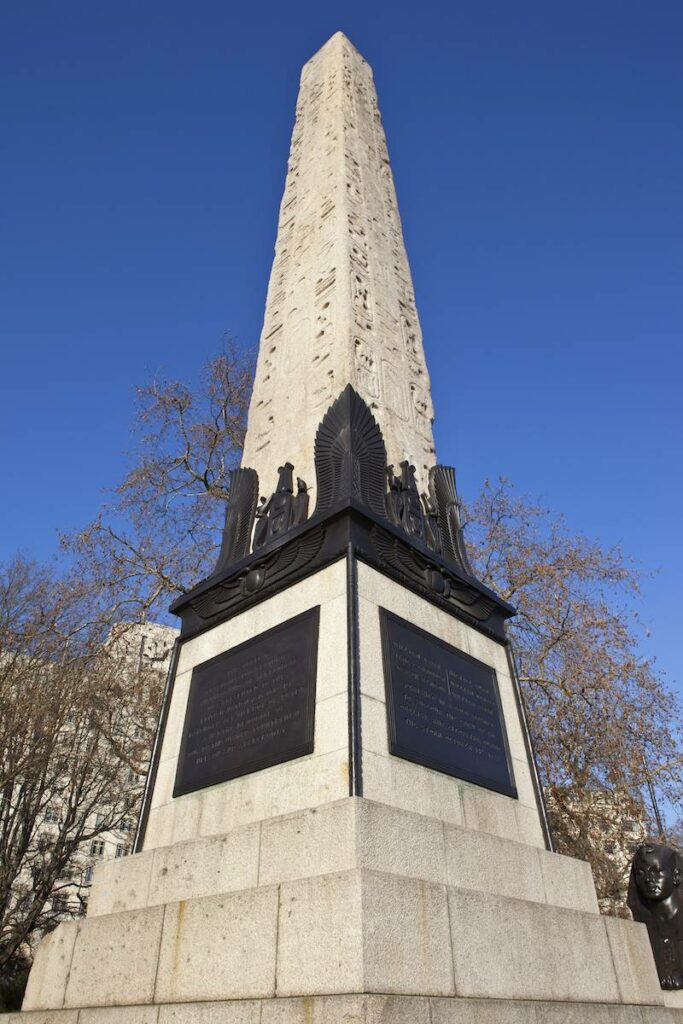 Originally, the obelisk had only one block of text on each side, though other inscriptions on either side of the original ones were added in later years by Ramesses II to highlight his important victories as Pharaoh.
In 12 BC, the Needle was moved to Alexandria inside the Caesareum – a temple built by the Romans at the request of Cleopatra.
They were pulled down in later years, though, this was actually very lucky as it helped to preserve most of the hieroglyphs and prevent them from weathering away.
Cleopatra's Needle Comes to London
Okay… but how on earth did they manage to haul it over to London?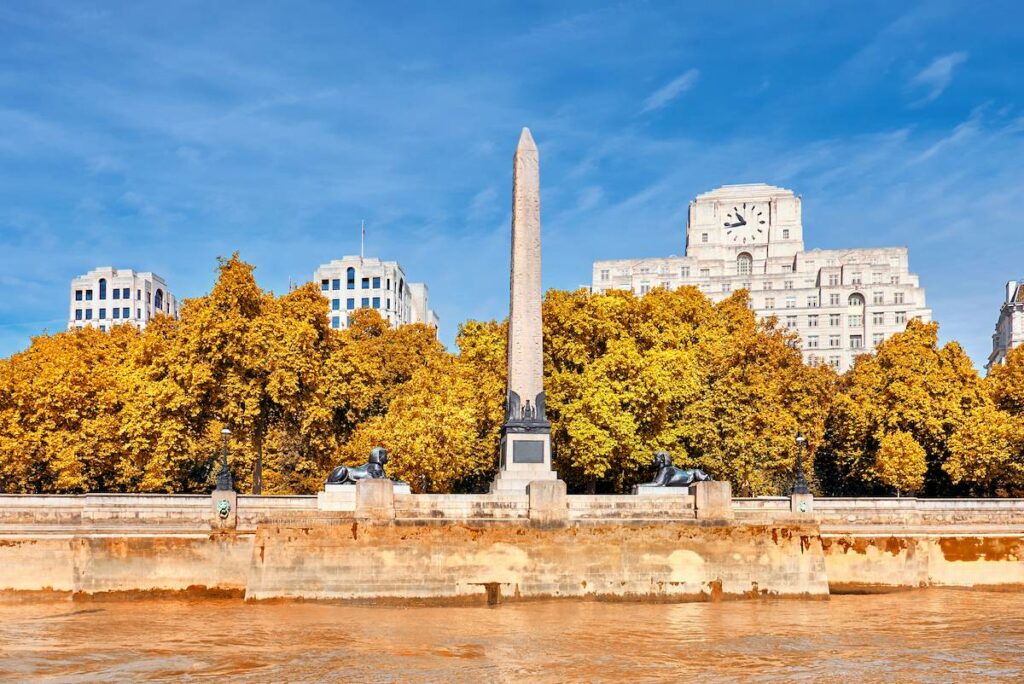 Fast forward a few hundred thousand years and Cleopatra's Needle was to be given to the British.
While the government was flattered by the gift, they decided that they did not want to fund the obelisk's long and arduous transportation to London (charming, really).
It wasn't until 1867, however, when James Edward Alexander was visiting Concord in Paris and casually decided that London could also do with a huge Egyptian obelisk.
He had heard that the owner of the land in Alexandria (where the British Needle was situated) was intending to break Cleopatra's Needle up and use it as building material. It's safe to say that he was fuming at this – so he got his mates on board, who helped him fund the cost of shipping the Needle over.
And so the Needle's horrific journey by sea began.
After becoming stranded somewhere near Spain, Olga's Captain (the steam-ship responsible for towing the Needle) sent staff from his boat to rescue Cleopatra's crew.
Sadly the rescuers died, and today their names are commemorated on plaques at the base of the obelisk in London today – though the workers on Cleopatra's boat were able to be rescued and were taken to safety near the Bay of Biscay.
It took a while for the obelisk to arrive in London, though it eventually turned up on the Thames in 1878 – and the government could finally breathe a sigh of relief as Cleopatra's Needle was winched into position.
Quirky Facts About Cleopatra's Needle
Cleopatra's Needle is Surrounded by Two Sphinxes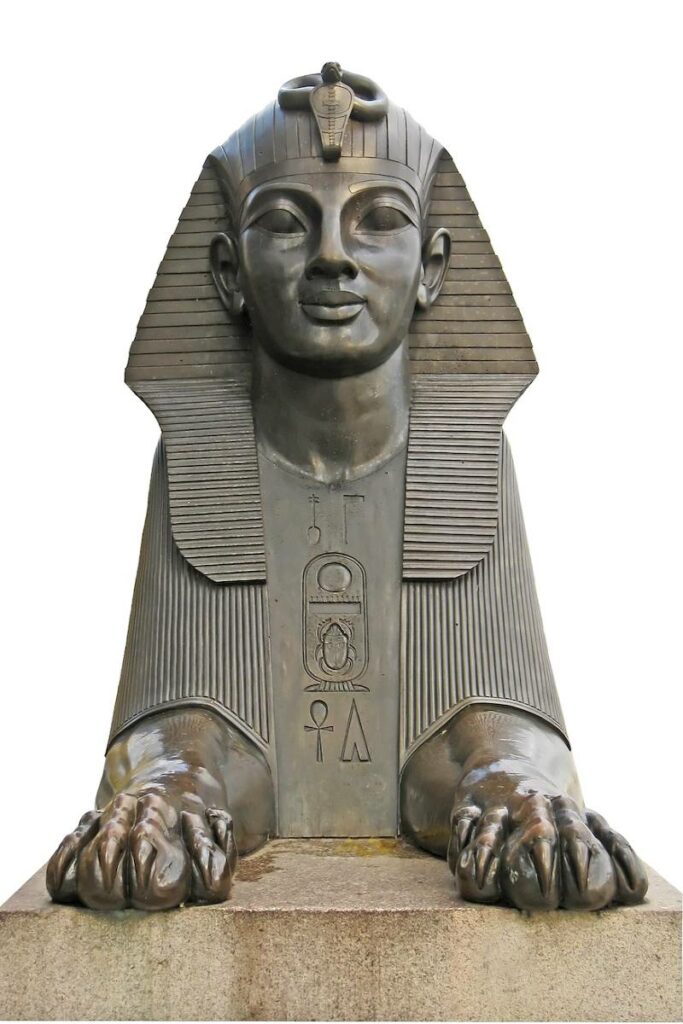 If you look closely at Cleopatra's Needle, you'll find that the obelisk is actually flanked by two bronze Egyptian sphinxes, which were designed by the British architect George John Vulliamy.
Look even closer and you'll notice that the cats are actually facing the wrong way – this is believed to be due to an error during the installation.
Decorating the cool cats is a pair of hieroglyphic inscriptions reading "Netjer nefer men-kheper-re di ankh" which translates to "the good god, Thuthmosis III given life".
There's a Time Capsule Buried Under The Obelisk
Believe it or not, there's actually a treasure trove buried deep underneath the Needle.
When the obelisk finally arrived in the capital, the Victorians decided to mark the occasion by planting a time capsule.
While we don't recommend digging it up (you might just end up being thrown in the Tower of London), it's said there are children's toys, razors, railway books, copies of the bible, a portrait of Queen Victoria, and, most bizarrely, 12 paintings of 'pretty ladies' that were hand-picked by Captain Henry Carter*.
*Captain creepy more like.
The Ship Carrying The Obelisk Was Immediately Destroyed
After what can only be described as a horrendous journey across the globe, the ship that was carrying the Needle was disassembled straight after Cleopatra's Needle was removed from it on the 6th July 1878.
We think it was probably for the best.
Cleopatra's Needle: Practical Information and Map
Where is Cleopatra's Needle?
Cleopatra's Needle is situated next to Victoria Embankment Gardens – the nearest tube stations are Embankment and Charing Cross.
How Many Cleopatra's Needles Are There?
There are three famous Cleopatra's Needles across the globe. The Obelisks in London and New York are a pair, while the one in Paris has a twin in Luxor in Egypt.