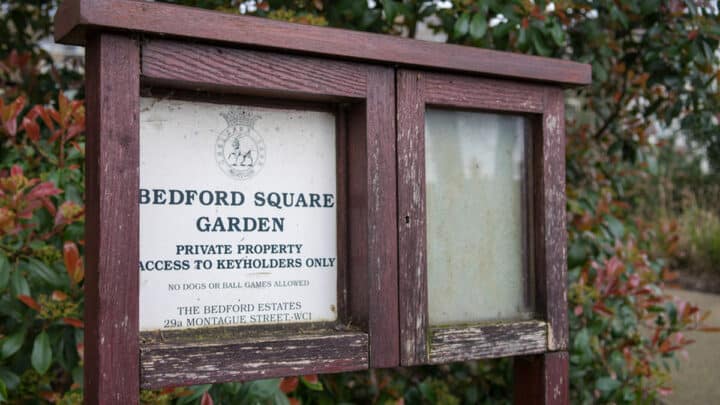 An upcoming festival will make hundreds of London's private gardens open to the public. Here's what we know about London Open Gardens 2023 so far.
Good news for greenthumbs! London Open Gardens is back to put some of the city's gorgeous private gardens into public use for a couple of days. The festival, running on the 10th and 11th of June, will unlock the gates to a bunch of gardens us regular joe-public folk don't usually get to peruse.
The festival is run by London Parks and Gardens, a charity dedicated to protecting and preserving London's (you guessed it) parks and gardens. There's over 100 green spaces, rooftop gardens and squares, community allotments and such throwing open their gates.
London Open Gardens: Highlights
25 Cannon Street
This beauty of a rooftop garden is a recent build but what it lacks in historic London charm it more than makes up for with its view: St. Paul's Cathedral up close and personal.
World Peace Garden
The World Peace Garden in Camden was grown on an old bit of disused land and is a really naturalistic corner of London. Trees and plants are allowed to grow without much human interference save some winding paths and ponds. It's actually won awards for its beauty and has been worked on by some pretty notable gardeners.
Inner Temple Garden
The Inner Temple Garden may be one of the most historic to make the cut for Open Garden fest. It's the garden of one of the historic Inns of Court and one well worth sneaking a look at if you can manage it, if only because it's nearly a thousand years old.
Formosa Gardens
This little garden near Warwick Avenue breaks London's tradition of building around a leafy square by building around a leafy triangle. It was opened in the 1860s and although it's not one of the most impressive gardens in the festival, it is a lovely, quiet place to hang out and boasts some pretty impressive trees.
Of course you should have a click through their website and see if there are some places there you'd enjoy. You can find the full list here.
London Open Gardens: Practical Information
Dates: 10th + 11th June 2023
Tickets: £20