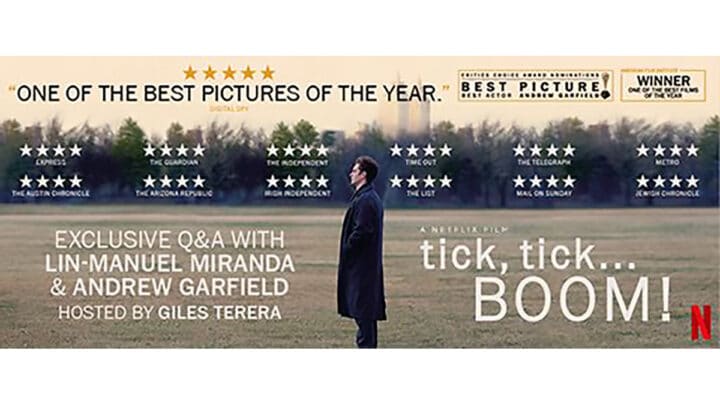 Tick, tick… BOOM! is the latest movie musical everyone's talking about… and for good reason.
Based on the autobiographical musical by Jonathan Larson – a.k.a the genius behind Rent, Lin-Manuel Miranda (Hamilton, In The Heights) makes his directorial debut, whilst Academy Award nominee and Tony Award-winner Andrew Garfield (The Amazing Spider-Man, Hacksaw Ridge) takes centre stage as Jonathan.
He's joined by a phenomenal cast consisting of Alexandra Shipp (Love, Simon, X Men: Apocalypse) and Robin de Jesús (The Boys in the Band, Milkwater), amongst a whole host of other stars of the stage and screen.
Olivier Award-winner Giles Terera (Hamilton) sat down with Lin and Andrew to discuss the creative process behind the film, as well as the importance of telling stories such as this one.
What is tick, tick… BOOM! About?
For those of you who don't know what tick, tick… BOOM! is about, allow us to give you a brief overview…
It's the 1990s and Jon is working in an NYC diner whilst writing his (now highly-adored) musical, Rent. The AIDS epidemic is tearing through the artistic community, and Jon is feeling under pressure from friends and family.
It's a masterpiece that explores the age-old question: what do we do with the time we have left?
Why tick, tick… BOOM!?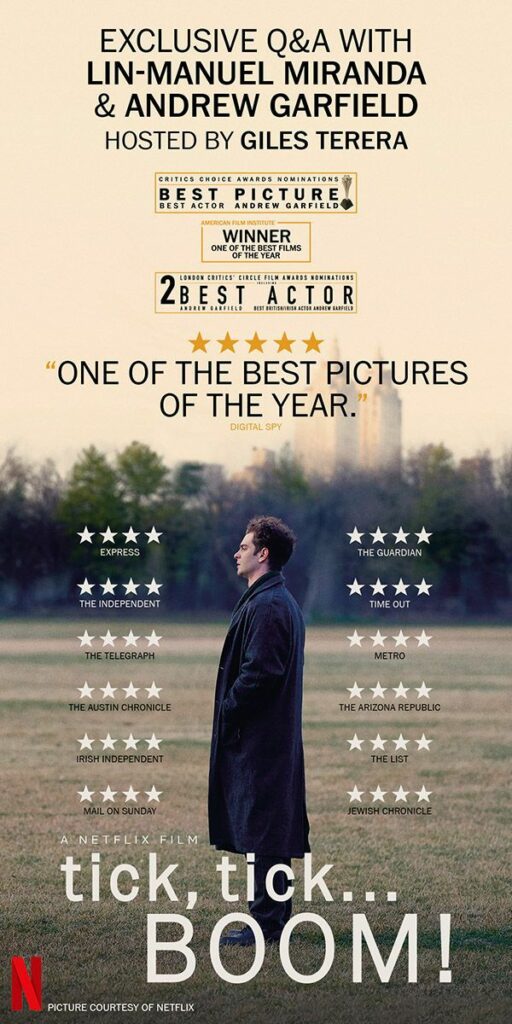 Lin divulges: "I grew up loving musicals… I fell in love with doing the school play and being in the spring musical. But it never felt like I was allowed to write musicals until I saw Rent."
Andrew adds that he was less familiar with tick, tick… BOOM!, but as a huge Rent fan, there was no way he was going to turn the role down.
"The more that I learned about John, the more I felt I was being reintroduced to a long-lost brother I didn't know I had," he adds.
On Exciting Beginnings…
Lin discusses how when he first received the message that the film would be going ahead, he knew that he was the only person who could direct it.
After previously starring in the Broadway production in 2014, he had not only bonded with the characters, but formed a deep, personal connection with the story.
"When Julie O sent me that email in 2016 saying she had the film rights to tick, tick… BOOM!, several things happened at once in my brain. 1. Yes of course this should be a movie and 2. We have the chance to tell a bigger story than what can be told in a rock monologue."
Lin quickly got to work on getting lots of theatre performers involved – something he felt very strongly about amidst the COVID pandemic when theatres went dark.
"I'm doing a musical, right? I want the best – and to me, the best often come out of theatres. It was an exact mix of people I've always wanted to work with and people I've worked with my entire career," he states.
… And Learning to Sing
Getting the most out of our time on earth is a huge theme that runs throughout the film – and Andrew pulls parallels from how he had to seriously work on refining his singing skills for this role.
On being chosen to play Jon, he said, "Lin reached out to me in the middle of my Hamilton obsession… to be around him is a contagious joy and experience."
He also explains how, as a student at Central Drama School in London, he had always dreamed of starring in musicals but lacked a mentor to help locate his singing voice.
Since watching Andrew perform in Angels in America at the National Theatre, Lin knew he was perfect for the role: "He's got this incredible intensity and this incredible full-body commitment and he's a theatre beast."
Grappling with his vocals proved to be slight work…
Lin describes the way Andrew's singing potential was always there, but very much like a valve, his true voice needed to be released. Andrew spent a year with a vocal coach who peeled back his voice until he was left with a gorgeous tone.
"My job was to get to that place without any awareness of how I sounded," Andrew explains, in reference to pouring his heart out during the film.
Excited? You should be – the film is available to watch on Netflix now.