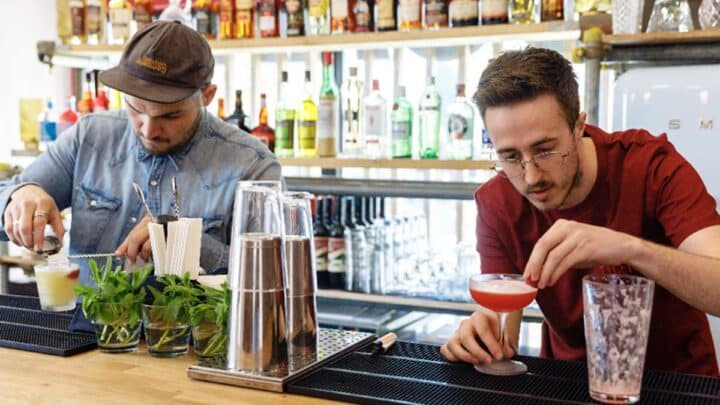 Looking for the best bars in Elephant and Castle? Look no further as we take you through the best boozers, bars and beery spots in this South London location.
Words by John Rogers
Home to such diverse offerings as the Imperial War Museum and Ministry of Sound, Elephant and Castle not only boasts the name containing the most unlikely juxtaposition in London, but some of the quirkiest and best spots for pints, vino and cocktails.
Whether Elephant and Castle is your chosen location for after-work drinks, somewhere to get started before hitting the Ministry of Sound or somewhere to take a date, the selection of bars will not disappoint.
Whatever your tipple, and whether you're looking for the best food to accompany your night, here are the best bars Elephant and Castle boasts. Cheers!
The Best Bars in Elephant and Castle
Four Quarters
££
What could possibly be better than a bar that combines perfect pints, killer cocktails and wonderful wines, all with fabulous food?
Well, how about a place that combines all of the above with some of the best retro arcade games?
If that sounds like your vibe, Four Quarters has you covered.
Offering titles ranging from Streetfighter II to Guitar Hero, Goldeneye 007 to traditional pinball, Four Quarters is the go-to place to combine grub, grog and games while reliving glorious bygone days of your youth.
Diogenes the Dog
£££
Fancy trying the latest wine offerings from the best up-and-coming locations around the world? The bottleshop and terrace at Diogenes the Dog is the place to sample the best-emerging wine markets, including China, Texas, and Poland.
As the tipple begins to tickle and your focus begins to pickle, their exquisite menu of drunken cheeses, cured meats, toasties and burrata will provide your stomach with the lining it needs to enjoy one more glass.
Louie Louie
££
Foodie haven by day and drinking hotspot by night, Louie Louie has become one of Elephant and Castle's best bars.
While you can gorge during the day on the best breakfasts, brunches and lunches, come dinner time this freshly decorated venue becomes a classy wine and cocktail bar, with the odd decent beer to offer as well.
Not only does Louie Louie (great party song, by the way) invite the best local chefs to take residence and dish out the finest food, their selection of drinks includes natural wines, specially created and selected cocktails, and an all-vegan selection of locally brewed beers from Two Tribes and Orbit breweries.
Cherry Tiger Bar
££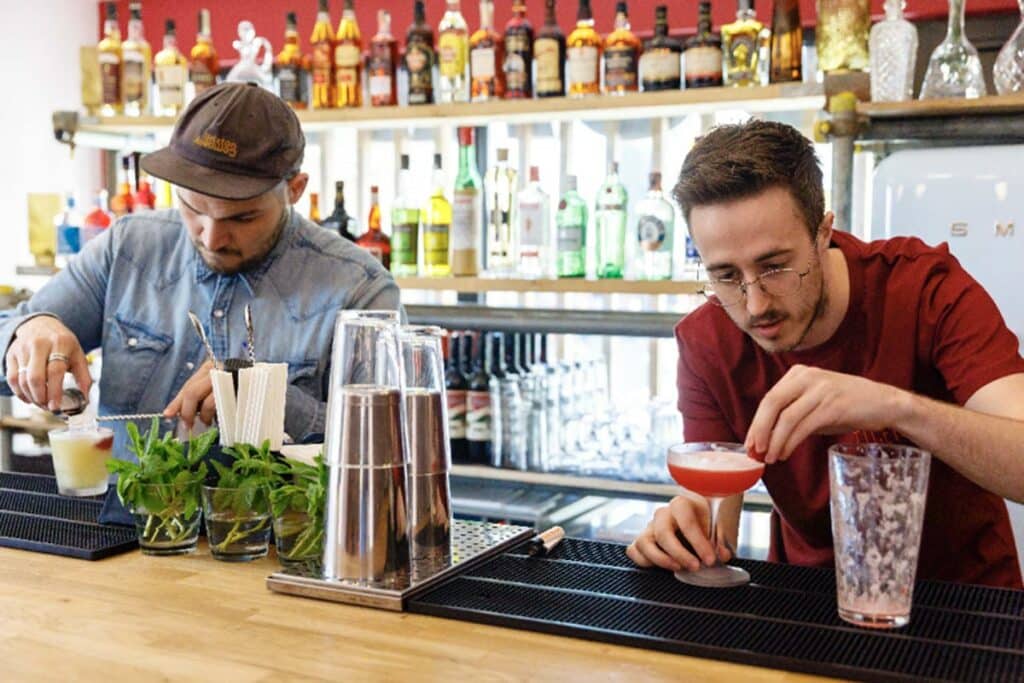 Located on the top floor of Castle Square, Cherry Tiger Bar is the ideal summer evening spot to sup on a freshly crafted cocktail while soaking up the vestiges of sunshine on their roof terrace.
In chiller climes, the cosy, intimate interior creates the ideal setting to explore their seasonal cocktail menu while keeping toasty warm.
The bar caters for private bookings and walk-ins, it's pet friendly and combines all the cocktail classics you'd expect from any self-respecting cocktail bar, with their own creations that change on a weekly basis.
Whatever your cocktail tastes, you won't be disappointed by the serious range on offer here. So sit back, relax and unwind at this incredibly welcoming bar.
Jim and Tonic
££
For those that might find the atmosphere of a German brewery a little oppressive, visitors to Mercato Metropolitano may find themselves going weak at the knees for the offerings provided at Jim and Tonic.
This bar caters to walk-ins only, and serves the finest range of gins with the most delectable mixers, making it the perfect visit for anyone seeking a sleek gin-based drink, whether it's accompanying a beautifully balmy summer's evening or as a winter warmer.
A sustainable urban distillery, the local community is at the heart of this chilled bar's ethos.
They even minimise emissions and their carbon footprint for the good of those around them. We all know alcohol tastes great, it just tastes that little bit better when it comes with a social conscience.
Oberon
££
Oberon is a new cocktail bar on the site of what used to be Pineapple and one of South London's brightest additions to the drinking scene.
With regular late-night LGBTQIA+ dance parties, and special events such as "Sip and Paint", where visitors get to drink and try their hand at producing a bit of art, this bar is quickly becoming one of the hottest party bars in Elephant and Castle.
Open until 1am on Wednesdays and until 2am Thursday, Friday and Saturday, Oberon is the perfect place right on the doorstep of Elephant and Castle station to get your weekend off to the dream – and earliest possible – start.
With a stunning range of cocktails, brilliant beers and wonderful wines, drinkers of all tastes will not go thirsty at this amazing bar.
Toulouse Latrec
£££
For those that like their cocktails and wine with slightly smoother sounds, Toulouse Latrec is a combination of a suave bar and fine French brasserie with a sumptuous and elegant Jazz Club on the top floor.
Situated just five minutes from Elephant and Castle station, this gorgeous location has a quiet restaurant on the ground floor, the 1st floor Piano Room, which is home to a fabulous wine bar and live acoustic performers.
It's the top floor that we adore, though, a place perfect for those looking to swing the night away.
The jazz club on the second floor has dozens of intimate lamplit tables where you can sit quietly, sampling the finest wines and most magnificent cocktails South London has to offer, while letting the jazz just wash over you.
This is downtown Paris in a South London suburb.
Ethika
££
Ethika, located in Mercato Metropolitano, brings the taste and vibes of Club Tropicana to this sustainable haven in South London. The huge array of cocktails are enough to make even the driest of mouth water in anticipation – and that's not all.
Buying into the sustainable ethos of Mercato Metropolitano, Ethika makes their cocktails using only fair trade, ethically or locally-sourced ingredients, reducing the environmental impact of importing the products as far as possible, while ensuring producers are paid a fair price for what they produce.
So, guilt-free eco-conscious cocktails by the dozen? That's the kind of night we can firmly get behind.
Cool Bars in Elephant and Castle Practical Information
Elephant and Castle is probably best known for its station, which lies at the southern end of the Bakerloo Line, and on the Bank branch of the Northern Line. It's also a National Rail station on the Thameslink network as well as served by several bus routes from South and Central London.
The bars listed in this guide are a mix of those that take bookings and walk-ins. Elephant and Castle is an increasingly popular area, so if one of the bars takes your fancy, give them a call or email and get your table secured in advance rather than risk disappointment.
Elephant and Castle Bars: Map