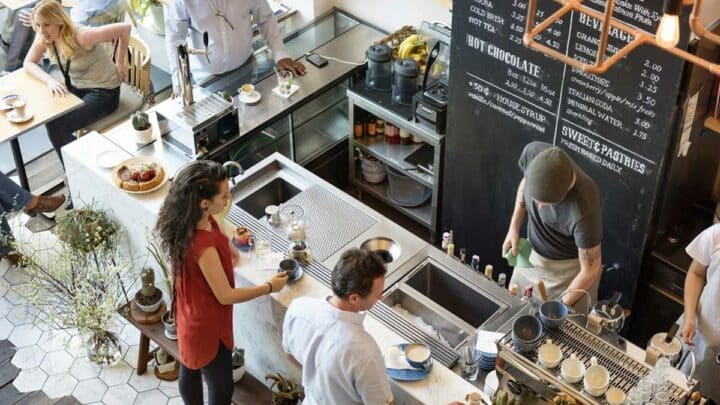 Looking for the best cafes in Stoke Newington? We've got you – these are the top places for excellent coffee and light bites.
Stoke Newington is fast becoming the top spot in London for cafes and coffee shops. Cute streets, funky lattes and cosy interiors – Stoke Newington is the suburbian haven we've all been searching far and wide for.
Bored of working from home and need a change of scenery? Craving a good coffee to wake you up? Or just in the mood for a tasty breaky to start your day?
Well, check out our list of the best coffee shops in Stoke Newington. You will not be disappointed.
Let's go.
Best Cafes & Coffee Shops in Stoke Newington
The Yellow Warbler
Let's start with the best, The Yellow Warbler is by far the best place for coffee in Stoke Newington.
A charming little spot with top-quality coffee and locally sourced pastries, there's nothing to dislike. It's the perfect spot to take a break and refuel with a brilliant brew and a tasty breakfast.
We recommend going for their toastie because they have, quite literally, changed the toastie game – glazed in maple and toasted to perfection. We are drooling.
The staff are also as welcoming as the coffee – you won't want to leave.
The Muddy Puddle
Firstly, why do cafes in Stoke Newington have such excellent names?
The Muddy Puddle is the best place for coffee and breakfast in Stoke Newington. Especially if you're lucky enough to work from home, as they're very laptop friendly. Even better, this spot is peaceful and isn't too noisy, making it the perfect space to concentrate.
The Muddle Puddle has teamed up with roaster Caravan Roastery, one of London's favourites. Along with an excellent veggie and vegan breakfast, there really is no going wrong with this coffee spot.
It's so important to support local independent coffee places and The Muddy Puddle has authenticity written all over it. Breakfast-wise, we recommend going for the empanadas.
The Spence Bakery
The Spence Bakery is the best place in Stoke Newington for cinnamon buns. They really know how to make a proper cinnamon bun with perfect quantities of cinnamon vs sugar.
It's also a really cool bakery serving artisan bread – it's so fresh you could probably get away with pretending you baked it yourself. Follow the delicious smell and you'll find this spot.
We recommend trying the focaccia bread too. Oh, and the sourdough. Realistically, you'll want to try everything so go easy and pace yourself. The staff are absolutely wonderful, like walking into a bubble of absolute joy.
Lizzy's On The Green
There are no bad days at Lizzy's On The Green. The incredible bacon smells, the fresh coffee, there's nothing quite like this coffee shop and that alone makes it Stoke Newington's top cafe.
We love the bacon baps and frankly, one doesn't always feel enough. But if you're feeling a little healthier then Lizzy can also make up some wonderful smashed avo or seasonal dishes as well as some sweet treats like chewy brownies.
We dare you to find a friendlier cafe in the world – you won't. Always with a smile on her face, Lizzy serves incredible coffee and food in the best cafe in Stoke Newington.
Esters
Even if you're not a coffee lover, food is always essential and Esters has both. When entering, you'll feel like you've found the coolest little gem in London (don't get your hopes up, everyone else knows about it too).
It's cosy, it uses amazing coffee beans and it prides itself on serving seriously good food. All the brunch dishes have a little twist – there are no plain-Janes here. Expect bircher muesli strawberry-rhubarb compote or dishes along those lines.
It's cute and the perfect spot rain or shine.
The Coal House Cafe
As you wander through the Woodberry Wetlands through to the Coal House Café, you'll immediately unwind and recoup.
We love taking a seat outside and just watching the world go by, there's something about this coffee shop that is so relaxing and also makes it a great cafe to work in.
You can also sit inside in the 19th Century Grade II listed former coal house, and on top of that a rooftop patio with incredible views over reservoirs. It really is the ultimate coffee shop!
All the food is sourced locally and it's a great healthy cafe in Stoke Newington, you can order poached eggs and salmon or even a tasty pastry if you're on the run.
Andi's
You can get everything from Andi's – and the best part is that it's open from breakfast to dinner. There are no concerns about rushing out with your laptop in the afternoon and finding somewhere else.
You can get comfy and nestle in there all day long.
French toast isn't always on the menu, so when we see it, we love ordering it. We recommend French toast or perhaps even the energy bowls to get your day started in the right way.
The bowls include feta, yoghurt, avocado and you can add lamb if you're feeling spicy. They're really tasty and the perfect addition to your day if your energy is low.
It can get busy but it's always welcoming and just a lovely place to eat and make friends, making it one of the cutest coffee shops in Stoke Newington.
Green Room Cafe and Flower Store
Green Room Cafe and Flower Store is another highly-rated spot in Stoke Newington. We recommend heading to the back garden and taking a seat in the sunshine, the garden is gorgeous and the interiors are equally as cosy.
Our favourite thing on the menu is the chocolate banana cake. You'll want to buy the entire cake, and you probably should – it's irresistible.
You can also buy plants out the front of the cafe which makes for a nice touch. Coffee, cake and plants – what more could you want?
Sapid Coffee
Sapid Coffee serves the ultimate cup of coffee in Stoke Newington. They take coffee very seriously and, as far as Stoke Newington cafes go, Sapid definitely has the most smiles and cutest dogs.
It's a little gem amongst many other adorable hidden cafes, but this one has a particular charm to it. Loved by locals and the best place for a quick coffee on the run, you can't really go wrong.
We recommend going for the sausage roll, as the toasties could do with a little more toasting (they are delish tho).
Stoke Newington Cafes: Map
Stoke Newington Cafes: Read Next