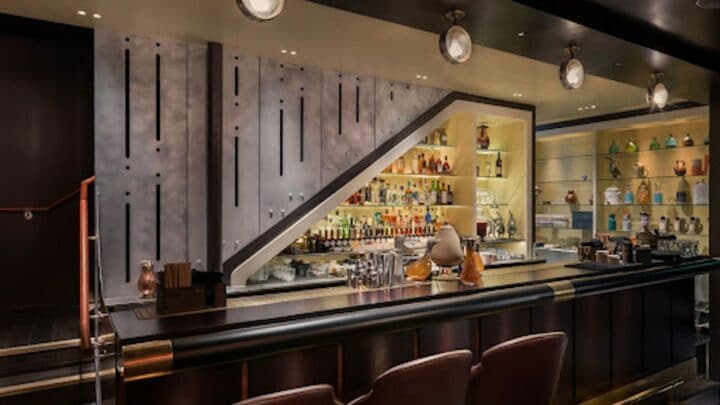 Looking for cool Old Street bars for decadent cocktail-fuelled nights? We've rounded up all the best spots for good vibes and even better drinks.
Old Street might just be one of the most underrated places to booze in the capital, but we're here to spill the beans.
Whether you're looking for bars with live music, ping pong tables or a quiet date night bar, we've rounded up all the best bars Old Street has to offer.
The Best Bars in Old Street
Old Street Records
£££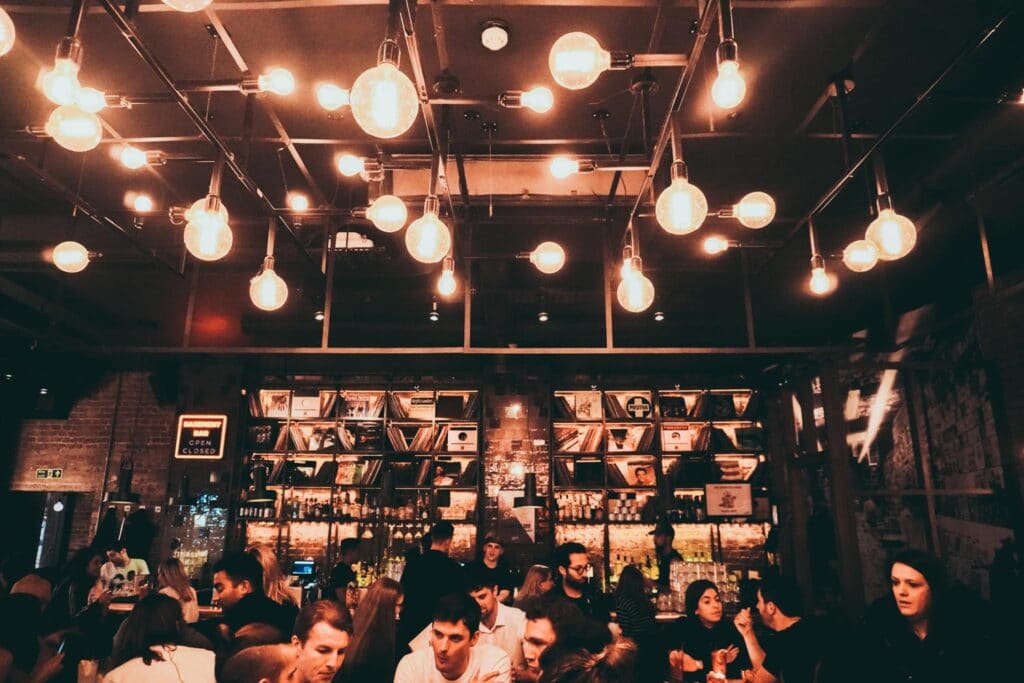 Old Street Records is one of the liveliest places on Old street. Expect live music every freakin' night of the week here. Yes, even on a school night.
This swanky bar features a chilled out upstairs space, as well as a cosy basement bar. Both spaces are filled with ambient red lighting, the perfect accompaniment to a boozy drink.
This place showcases London's music talent and you'll find everything from neo-soul to Hip Hop House and RnB classics blaring from the speakers. But, if you turn your attention to the cocktail menu, you'll find that it's pretty extensive and features creative takes on the classics we know and love.
Simmons Bar
££
In the mood for late-night cocktails? Head to Simmons Bar where you'll find a dreamy selection of them.
You should also know that there's a happy hour Friday through Sunday, with two cocktails for £10 – round up your troops. This is your one-stop spot for cocktails and disco.
Sounds fun right? Simmons Bar gets pretty busy with the post-work crowd during weeknights. But really, this party hot spot is good any time of the week. Stepping inside, you can't help but dance along to disco, funk and 80s and 90s classics.
Jailhouse Bar
£££
Jailhouse Bar is set within an old police station, hence the name. It's part of the Courthouse Hotel which also used to be an Old Magistrates Court. We love the theme.
Ready to sip cocktails in jail? Good, because it would be criminal to miss out on Jailhouse Bar's cocktail menu.
Sip on a Frozen Mango Daiquiri in this quirky cocktail bar on Old Street. You can't help but find the wall art comical. Where else would you see Daft Vadar and Mona Lisa appearing from behind bars?
Nightjar
£££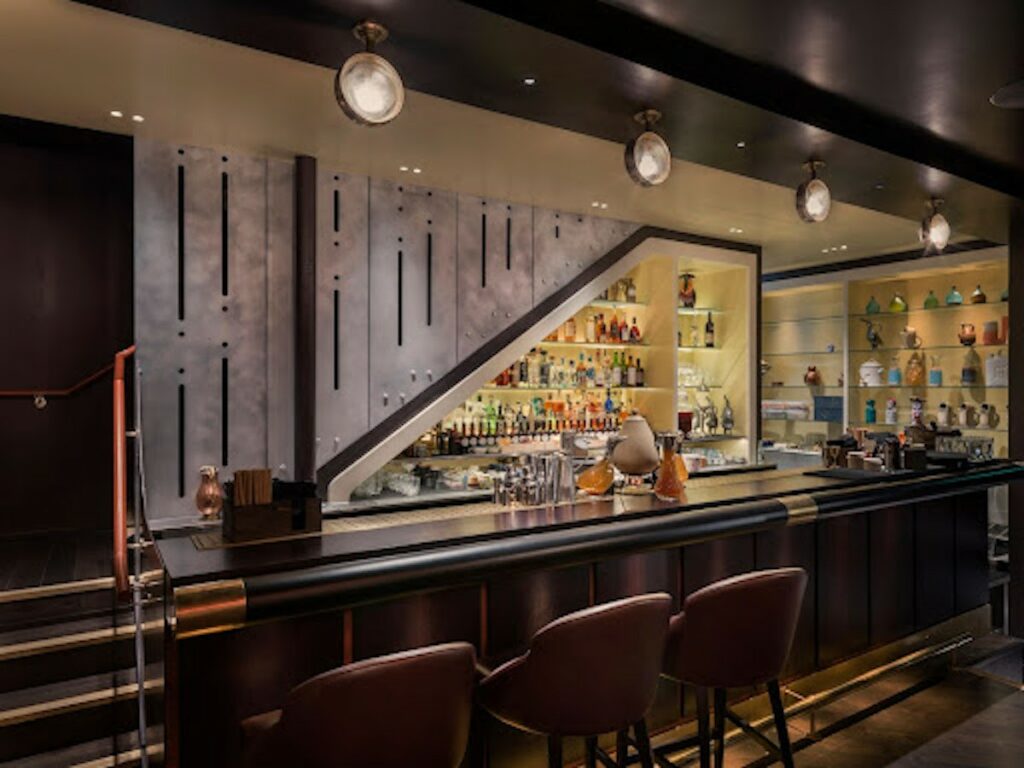 Nightjar is a subterranean bar on City Road that has a speakeasy feel to it. To enter Nightjar, you'll need to locate the unmarked wooden door, this can be tricky after a few drinks.
Once inside, the bar is dimly lit with exposed brick walls, a decorative wood ceiling and a fully stocked bar with fabulous cocktails. It's easy to see why this place is intriguing. Nightjar's cocktails get top marks for both presentation and taste.
The best part about this bar is the live music that pays homage to the jazz-age, it gives us a real sense of old-school glamour
Happiness Forgets
££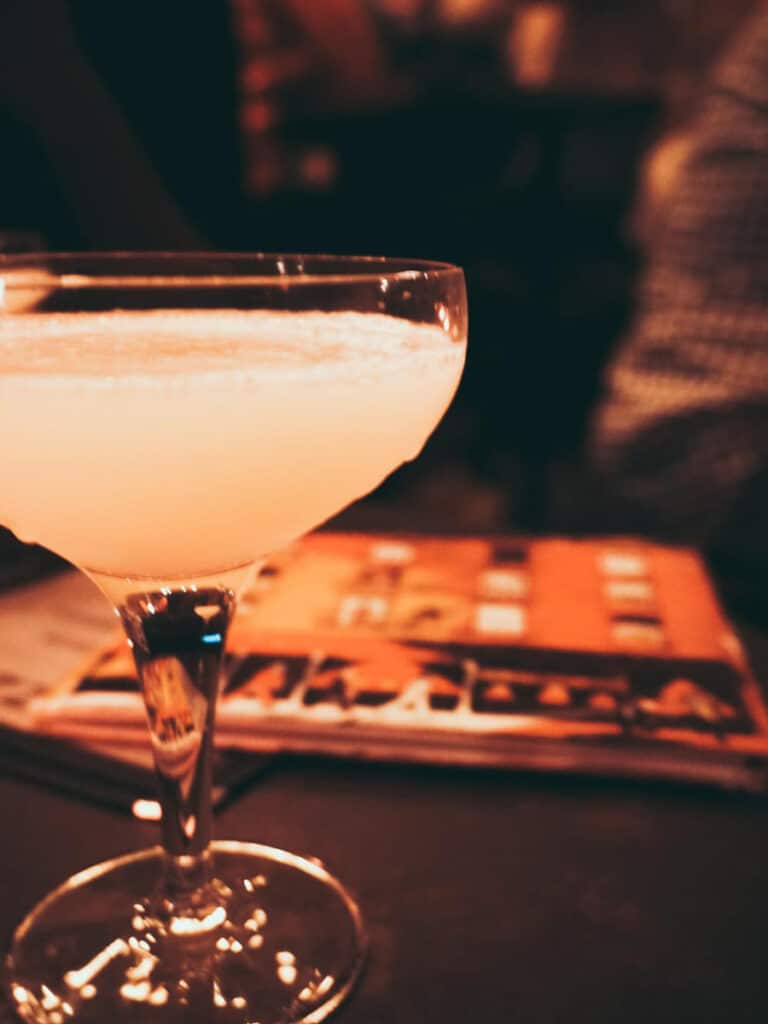 The coolest hangout spot in Old Street is Happiness Forgets. For those in the know, this secret underground basement speakeasy bar has the best cocktails.
Cocktails are shaken by world-class mixologists, and there are certainly no half-measures here. Happiness Forgets takes everything to the extreme, from its decadent cocktails to the red-brick wall interior.
This bougie subterranean bar is situated underneath the French restaurant Petit Pois. Its secret location draws a like-minded crowd and this sets it apart from other Old Street bars.
This place is all about high-end cocktails but in unpretentious surroundings. Happiness Forgets isn't swayed by fleeting trends.
Tayer + Elementary
££
Tayer + Elementary is a two-sided bar; one side is Tayer and the other is Elementary. The masterminds behind this bar, Monica Berg and Alex Kratena, both used to mix up drinks in bars belonging on the World's 50 Best Bars list.
So, you can probably see why this place has been a big hit since its opening in 2019.
Elementary can be seen street-side. The vibe here is fairly relaxed with floor-to-ceiling windows. Cocktails come pre-made and all come on tap. Hidden behind a concrete partition is Tayer, the space is centred around a large square bar and it's a lot moodier.
Here you'll find extravagant cocktails presented in unique glasses and a cool atmosphere to match.
The Gibson
£££
Stepping inside The Gibson is like entering another world. One where you're instantly transported into the prohibition era.
This cocktail joint's Parisian-style seating and brass bar really stand out in this small space. Partly because the bar takes up nearly the entire room. In the PM, The Gibson truly comes alive with live jazz music – and you should absolutely wear your dancing shoes.
Cocktails here are nothing short of inventive. And that might be down to Marian Beke, who used to be a mixologist at Nightjar, being the proud owner of this underground bar.
Shoreditch Balls
£££
Can you think of anything better than cocktails with a side of crazy golf? Shoreditch Balls is a bar with a wild side. Level up your bar experience and challenge your mates to a fun game of crazy golf – loser buys the next round?
This adult playground is filled with the games you loved as a kid… But with alcohol – and that's why this is one of the best bars around Old Street.
Shoreditch Balls is the ultimate party destination on Saturdays. Head here for a live DJ set and non-stop dancing. And, with all that dancing you'll want to grab yourself a dreamy cocktail; they're all beautifully presented with edible flowers.
The Golden Bee
£££
The Golden Bee boasts three floors of fun. This stylish lounge and cocktail bar is right by Old Street Station and should definitely be on your list of best bars in Old Street.
We especially love the rooftop terrace – a large, round bar sits central and seating is spread out surrounding it. There are regular film screenings and bottomless popcorn events up there, too.
Head here Thursday through Saturday and it's a little more vibrant. You'll be treated to a resident DJ and like-minded cocktail lovers. Speaking of cocktails, there are plenty of those. All types of martinis and mojitos are on the menu, as well as other classics.
Bounce
££
There's nothing better than a bar with ping pong, we say. Bounce is more of a hangout spot than just a bar.
Play some ping pong and work up a sweat before ordering one of Bounce's pizzas, we're eyeing up the Chilli Chorizo. This place also has a great cocktail offering too, and you'll be pleased to know they won't break the bank.
Although Bounce is a bar, it kind of feels a little more like a club. Inside, neon lights fill the space and the ping pong tables glow in the dark too. It sort of makes us feel nostalgic.
Cocktails, good food and ping pong – what more could you want?
Swift Shoreditch
££
Fancy drinking at an award-winning cocktail bar? Of course, you do. Swift Shoreditch is an
all-day dining and drinking spot serving everything from coffee to cocktails.
Inside is a very modern European-style bar with bar stools so that you have front-row seats whilst your cocktails are being expertly-mixed.
This is the kind of bar you should head to if you're looking for a classy and sophisticated evening. Sip cocktails and nibble on dips and bread, designed for sharing.
Royal Star
££
Royal Star is one of the cutest Old Street bars and so we definitely think it's worth a visit.
The atmosphere here is a little calmer than the usual Old Street hustle and bustle.
In fact, it's the kind of place you might take a date. Inside its bare brick walls and eclectic decor is warm and inviting. On the menu is a selection of shared plates and pizzas.
All of which will wash down well with your cocktails or craft beers.
Cool Bars in Old Street: Practical Tips
The best way to get to Old Street is via tube on the Northern line.
Once you've exhausted all the very best Old Street bars, head over into Shoreditch for some more booze-fuelled fun.
Old Street Bars: Map
Old Street Bars: Read Next