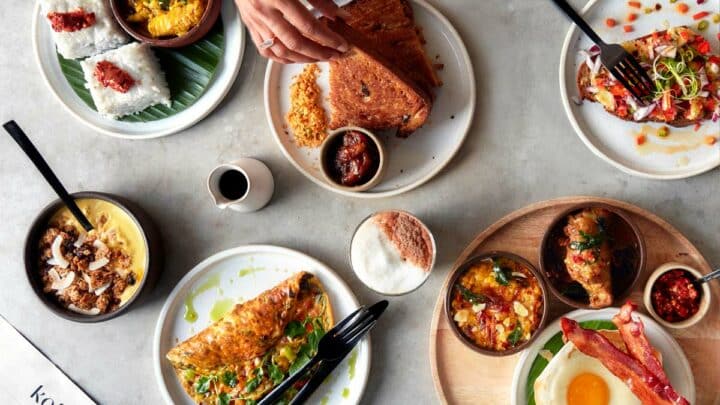 Over the past few years Sri Lankan food has been edging its way into the spotlight of Soho dining. Here's the latest iteration, and why you need to be excited.
Have you heard about the hottest new Sri Lankan brunch menu in Soho? Kolamba spices it right up, and every other meal for that matter.
If you're looking for authentic Sri Lankan food in London, then look no further than Kolamba. Its small sharing plates are perfect if you're a big group, or even just for two.
Kolamba – The Full Review
The Food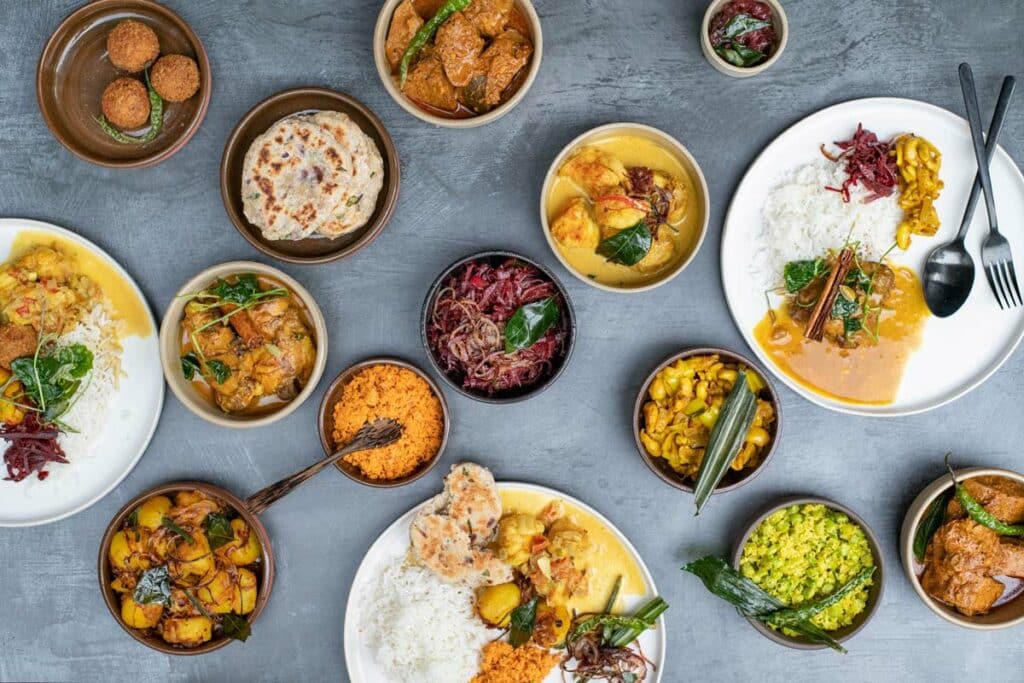 The only problem with the brunch menu at Kolamba is that it's really hard to choose what to have, and you'll want a bit of everything.
If you're not familiar with Sri Lankan food, some items might be hard to get your head around.But the waiters at Kolamba couldn't be more helpful. Make sure you get them to talk you through the menu.
We went for the Cacklebean Egg Hopper, which at just £5.50 is incredibly affordable
Hoppers are famed Sri Lankan bowl-shaped crispy pancakes. This one comes with a perfectly-runny organic egg in the middle and the heat of a fiery lunu miris, a Sri Lankan sambal paste.
We had it with kitchul bacan which, disclaimer, is very sweet. If you like a saltier option then maybe opt for the monkfish or veg.
The bacon you can add is quite thick – that's how we like it, but we understand it's not to everyone's taste.
If you're looking for the best grilled cheese sandwich known to man (aren't we all), then you'd be remiss not to sample the Red Leicester and Seeni Sambol toastie.
Fried indulgently in butter, it's incredibly rich – as in like heart stoppingly rich. There's a date and lime chutney on hand to take the edge off, but even so, we only managed half.
Another incredibly tasty dish, and probably our favourite, is the String hoppers, Egg Hodhi, and Pol Sambal.
These are basically rice noodles with a turmeric-infused coconut gravy with a delicious hard boiled egg and a pretty fiery chilli coconut relish – this is the OG of all Sri Lanken dishes and beware, it is hawt.
The Drink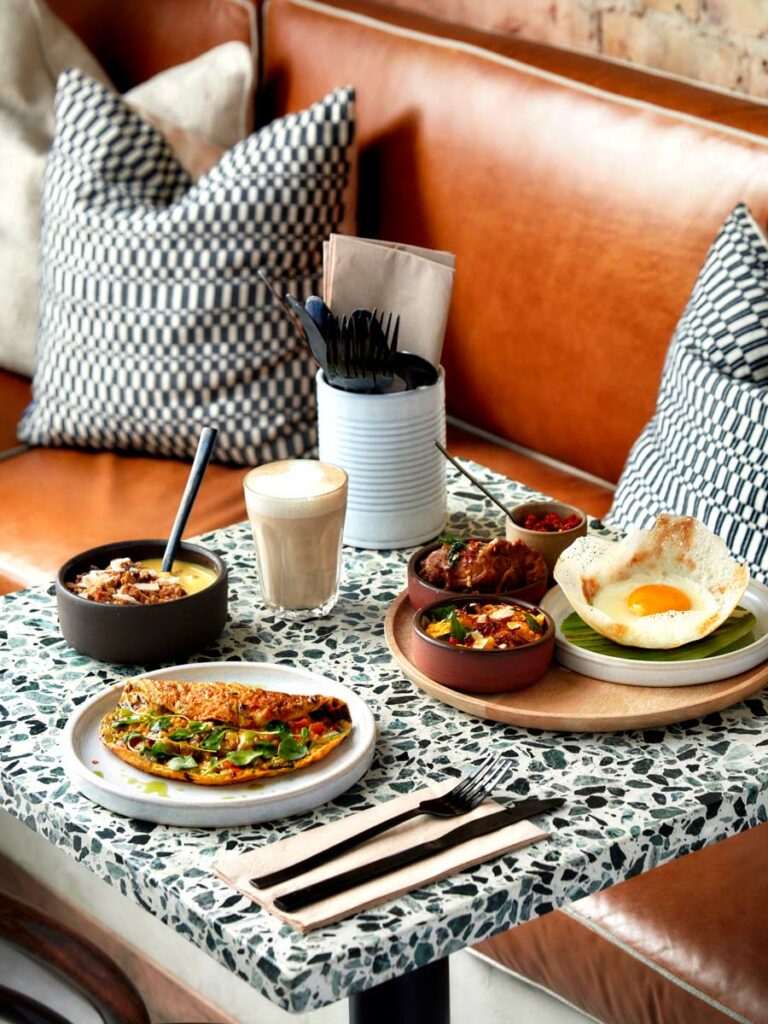 Because it's never too early for a drink right? Firstly, a little shout to their great coffee. We love a restaurant that doesn't cut corners on a good old cup of coffee.
If you're after a cocktail though, you've got plenty of choices.
The Green Tea Sour with Skyy Vodka, green tea, elderflower cordial and lime juice is a personal favourite. It's very refreshing and the green tea makes it feel semi-healthy.
If you want something with a little bit more oumf then go for the Hiri High – a tequila-infused drink with black peppercorns for a bit of spice, lime juice, agave and curry leaves.
It goes well with most of the dishes and will definitely brighten up your day.
The Look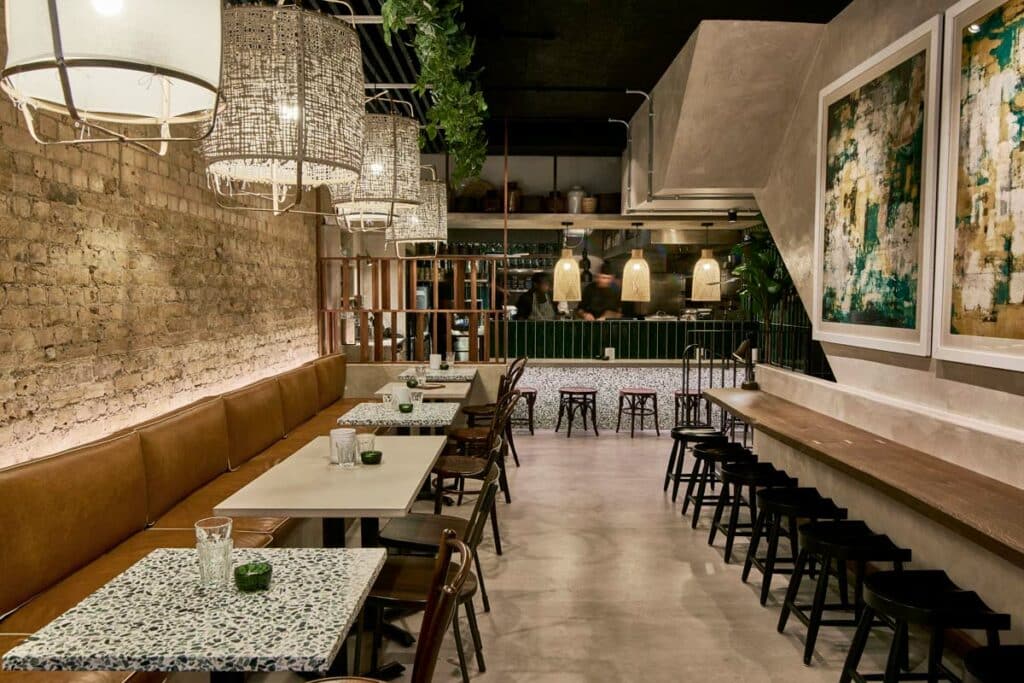 Kolamba is seriously cool and has a lovely feel to it. In spite of the exposed-brick walls and polished marble table tops, it's actually a really cosy restaurant.
If you can, try and get the table in front of the window – it's a perfect spot to watch Soho's shoppers wander past, and welcomes a lot of natural light in.
There's plenty of other seats upstairs as well as a lot of tables downstairs for overflow..
If you go downstairs, it's a slightly different ambiance so we'd recommend trying to sit upstairs.
Final Thoughts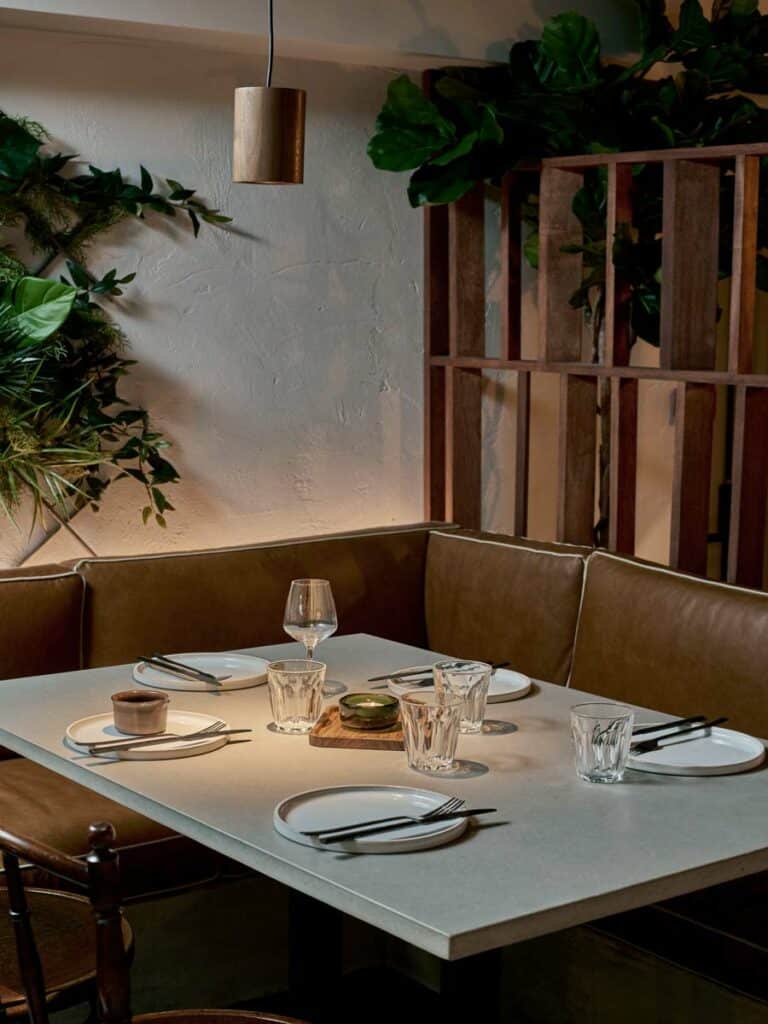 If you're after proper authentic Sri Lankan food then look no further than Kolamba. The cosy restaurant is the perfect bit of comfort we all need, any month of the year.
This is a place for serious foodies, but if you don't like spicy food then this restaurant probably isn't for you, but if you like the heat – you'll love Kolamba.
Kolamba – Practical Information and Map
Price: ££
Address: 21 Kingly St, Carnaby, London W1B 5QA
Map
Review 4/5