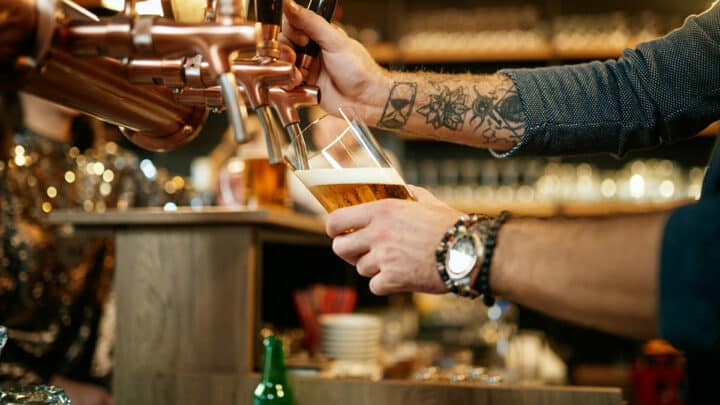 Hunting out the best pubs in Finsbury Park? Look no further than these brilliant boozers.
Words by Sam Jean
Finsbury Park in leafy North London is the perfect spot for a pint away from the relative chaos of central.
In fact, the area's reputation has changed massively in recent years, and locals might attest that this part of north London has a pretty chilled vibe – perfect if you're in the market for a pint and some comforting pub food.
You'll be glad to hear that these pubs in Finsbury Park have got everything, with quality food, drink, indoor and outdoor seating areas, live music, comedy and more.
What are you waiting for? A cold pint calls.
The Best Pubs in Finsbury Park
The Faltering Fullback
££
The front of this wonderful Irish pub is sprawling with ivy, and its bric-a-brac interior offers a warm, old-school vibe.
There's ample seating inside and out, including an awesome multi-tier beer garden with lots of small staircases and seating areas – perhaps a little tricky to navigate when you're a few drinks deep, but that's part of the fun of this busy pub.
Among the many Finsbury Park pubs with gardens, The Faltering Fullback delivers a unique experience.
Food at The Faltering Fullback is handled by a tasty Thai menu stacked with mouth-watering dishes at reasonable prices.
Better yet, there are live sports on big screens, live music and open mic nights, and of course, a weekly pub quiz on Mondays at 8:45 pm.
The Finsbury
££
On the east side of the park, you'll find The Finsbury, a spacious pub and bar with a modern menu, gigs and live comedy.
This small music venue has an excellent reputation for supporting live acts from across London and further afield, and they always have a packed schedule of events, so be sure to check their Facebook page. There's loads of space to eat and drink, too, with generous indoor and outdoor seating.
The menu features pub food like burgers with a tasty pizza menu that has proved a smash hit with regulars. The perfect Finsbury Park pub for a pint, pizza and live music.
The Twelve Pins
££
If you like football – preferably Arsenal because this is their stomping ground – then you'll love The Twelve Pins. With fairly priced drinks and a straightforward menu of comforting pub food, there's nothing not to like here if you're looking for booze and food.
Virtually all pub classics are represented, including gammon and chips, lasagna, fish and chips, scampi, steak, chilli, burgers, etc.
There are plenty of big screens, and the atmosphere is cracking. You'll find craft beer like Adnams Mosaic and Punk IPA to sip in the cosy outdoor seating area. It's also seconds from Finsbury Park station.
The Naturalist
££
A stunning new pub in Woodberry Down, The Naturalist has an enviable menu packed with seasonal British food.
You'll find lighter lunch bites like jacket potatoes, hearty evening meals like fish and chips, and an interesting selection of starters and desserts. Among other Finsbury Park pubs, The Naturalist has a food-oriented gastropub vibe.
The drinks menu is also pretty impressive with wine, craft beers, ciders and cocktails – and we know not every pub does cocktails, so that's definitely a bonus.
The Sunday roast menu is superb with thyme roast chicken, lamb shoulder, sirloin and toothsome butternut, beetroot and pumpkin seed nut roast for vegans and veggies.
The WB Yeats
££
Another quality Irish pub Finsbury Park boasts is the WB Yeats.
A modern gastropub with a condensed, simple but beautiful menu, The WB Yeats has some of the old Irish charm of the famous poet it's named after. It's a pretty big pub with a decent outside seating area, but the headline act here is the roasts.
With pork, lamb, beef, chicken and a veggie option, WB Yeats is offering the full house of roasts.
The entire menu is thoughtfully sourced from suppliers across the UK, which are indicated on the menu. Drinks are priced modestly and they have a solid wine list and cocktails.
White Lion
££
A little further west, in Stroud Green, is the White Lion, a modern pub perfect for food and drink with mates or families.
This pub is super-friendly and perfect for families, with a large menu of pub classics and slightly more extroverted options, including more-than-average veggie and vegan dishes.
The wine list is huge and there are cocktails too. Huge ticks from us.
While there are plenty of big screens for sports, this perhaps isn't as booze and footie-centric as other pubs in the area – something to keep in mind.
The World's End
££
A busy, thriving pub with a massive live sports screen in its own room and live music multiple times a week, The World's End is definitely one of the most popular pubs in the Finsbury Park area.
This superb pub regularly updates its menu with specials like the Veganuary menu, and there are always loads of guest ales and craft beers to choose from.

The standard menu is great, with both small and big plates to ponder over. With a chilled atmosphere and plenty of seating, The World's End is a big pub that does it all – and it's racked up thousands of good reviews to prove it.
One more thing – if you're looking for a pub quiz, Finsbury Park has loads of choices, including The World's End (Thursdays), White Lion (Sundays) and The Faltering Fullback (Mondays).
The BlackStock
££
If you're looking for sports bars and pubs, Finsbury Park delivers a fair few options, including The BlackStock.
This local boozer benefits from top-quality pizza from Yard Sale Pizza. It's definitely a drink-oriented pub located at the heart of Finsbury Park, just minutes from the Tube station.
Beers, wine, dancing: that sums up The BlackStock pretty well. It's not trying to be something it's not.
It's one of many pubs in the area that gets extremely lively on big match days – especially when Arsenal are playing.
Finsbury Park Pubs: Map
Read More Finsbury Park Guides