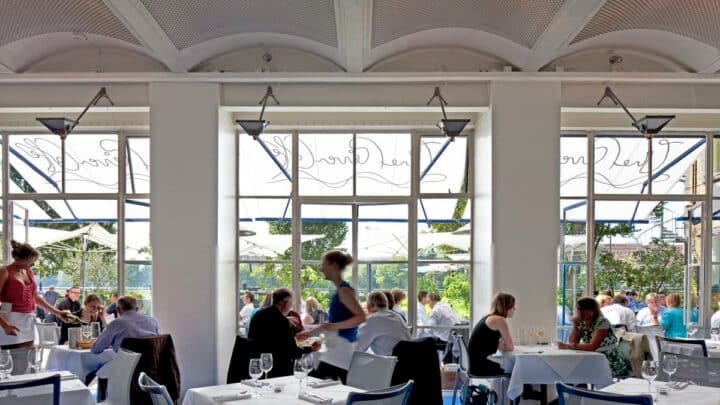 Ready to discover the best restaurants in Putney? From fabulous Thai restaurants to the River Cafe, these are the places to eat you shouldn't miss.
It may be relatively unassuming but Putney really delivers when it comes to being foodie's hub in London – in fact, this leafy Thameside area is home to some of the best restaurants in London.
From Michelin-starred restaurants to family-run hidden gems, we've got you covered on all the best restaurants in Putney.
Best Restaurants in Putney
River Café
£££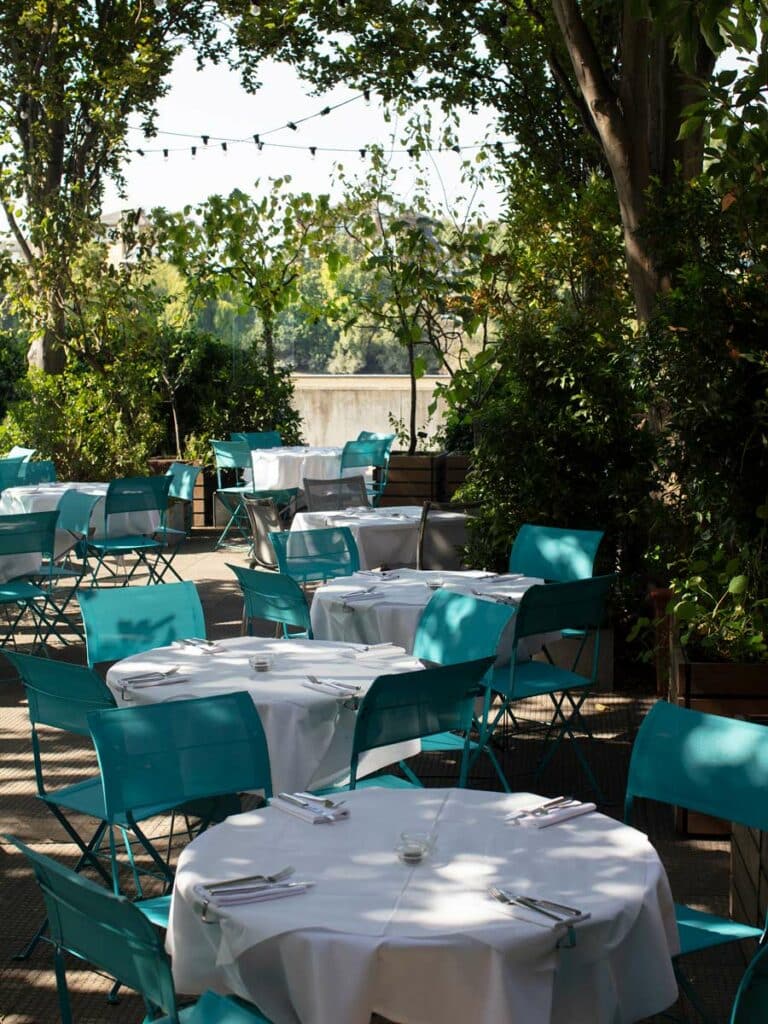 The River Café is probably London's most famous restaurant and definitely the best Italian restaurant in London.
The food is exquisite and although quite expensive, it's the sort of place you'd go for a very special occasion. It first earned its Michelin star in 1997 – one it still retains today – and we can see why.
You absolutely have to book this restaurant and the waitlist can be up to 3 months, so it's worth getting in there early.
Signature dishes include the wild mushroom risotto, dover sole and John Dory smoked in the restaurant's own wood stove, and rich italian desserts including lemon almond cake and the chocolate 'nemesis' cake. Delish.
Putney Pies
££
Putney Pies has the finest pies in the land – fact. No wonder the clientele are all so jolly – one taste the pies and you can understand why.
We recommend going for the traditional pie, chicken, mushroom and leeks which is incredible and exactly how a pie should be. It's slightly on the expensive side, but you're paying for the best pie in London so…
Want to go full classic? Putney Pies is known for its shepherd's pie with chunky pieces of lamb instead of minced meat, exactly how it should be.
Tomoe
££
Formerly Chosan, Tomoe is an amazing Japanese restaurant in Putney has been taken over by a team which used to run Tomoe on Marylebone Lane.
Always praised for its very friendly (albeit a little slow) service, you'll find lots of Japanese customers enjoying the food which of course, is the best sign a restaurant can have.
The food is amazing and ranges from bowls of ramen noodles to salmon teriyaki, seafood pancakes and sushi – all praised for being as authentic as they come. Tomoe's is a bit of a hidden gem in the Putney food scene, and we couldn't recommend it enough.
Yum Sa
££
Yum Sa is Putney's best Thai restaurant with some choice of amazing Thai food in a cool and trendy restaurant, it's a local's favourite.
It's the sort of restaurant that we would give 6 stars if we could. They have proper happy hour cocktails made with love (not the ones with too much ice or sugar), amazing service and just a great atmosphere and music.
The decor is very funky and it makes you feel relaxed as soon as you settle down there. Great location and great place for dinner on the weekend.
Blades
££
One of the best Italian restaurants situated right on the Thames featuring a traditional grill with live cooking, an outdoor terrace and a cosy private room.
The menu offers a variety of classic italian and mediterranean dishes whilst the wine list covers most of the italian regions with some international choices.
Blades is the inanimate Italian we always crave when we're looking for a good Italian restaurant, with fantastic service and delicious food. Also, a great option if you're gluten free because almost all the items on the menu can be prepared gluten free and they even have gluten free pasta and bread.
Gazette Putney
£££
Putney's best French restaurant has to be Gazette. It's by far London's most authentic French brasserie which is committed to fantastic seasonal food, wine and very unique private dining.
They serve wonderful traditional french dishes like the cassoulet. The risotto is amazing too, a perfect inbetween of not too creamy and not too rich. Obviously, you should also go for the soufflé because there's no better place to order it than at a French restaurant.
We also love their oysters. Basically, everything on the menu is amazing so it's tough to order but you won't be disappointed. It's not the cheapest place, but it's worth it.
Tried & True
££
Tried & True has to be the most social café in Putney along with having the best award winning innovative breakfasts, light lunches and known for serious espresso's.
The vibe is great, the art is amazing and the staff are the friendliest of them all, with the bonus that the food is always good and isn't too busy.
Tried & True is a hidden gem in Putney and its beauty is in the fact that it's totally unassuming from the front – but incredible when you get in.
Other Places to Eat in Putney
Pata Negra
££
Pata Negra is a gorgeous family owned and run Spanish restaurant located on the Upper Richmond road (right round the corner from the tube station).
It's a gorgeous place where all the food is made with a lot of love and care, serving only the best produce. The owner Pepe has 50 years experience in the restaurant business and is totally passionate about serving delicious food from the freshest ingredients.
The menu is always evolving depending on the season and what's fresh on that day. Famous for being Putney's best tapas restaurant.
Bosa Lebanese Kitchen Putney
££
Bosa is a bit of a local landmark in Putney, situated just over the river right by lots of greenery.
From mezze platters to Beiruti hummus, our favourite stuffed baby aubergines and homemade spicy sausages as well as koftas straight from the grill. This is an incredibly good Lebanese restaurant in Putney.
Bosa knows what it's and serves up the most delicious comfort food with great tastes and always a good ambiance.
Practical Tips for Exploring The Best Putney Restaurants
Putney is such a beautiful place to walk along the river so make sure you stop along some local pubs and parks whilst you're in the area before eating.
Always book, a lot of these restaurants are quite popular and need early bookings.
Putney Restaurants: Map
Where to Eat in Putney: Read Next