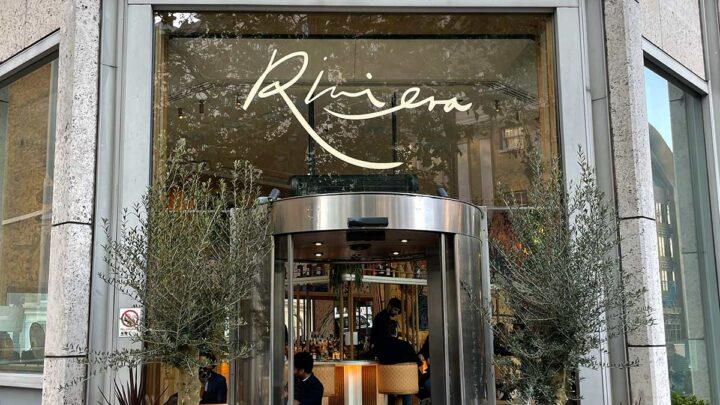 Craving Côte d'Azur dining? We've got just the place for you. Enter Riviera.
After the closing of Sake no Hana, there's been a fair bit of industry head scratching as to who might fill the two-floor St. James's dining space they left behind. That question was recently settled.
The answer is a new concept called Riviera that's bringing food from the French Riviera to London, adding a touch of up-market-modern to the traditional cooking for good measure.
As lovers of French food in general and southern French cooking specifically, we went down to check out if this place cuts the dijon.
Riviera – The Full Review
The Food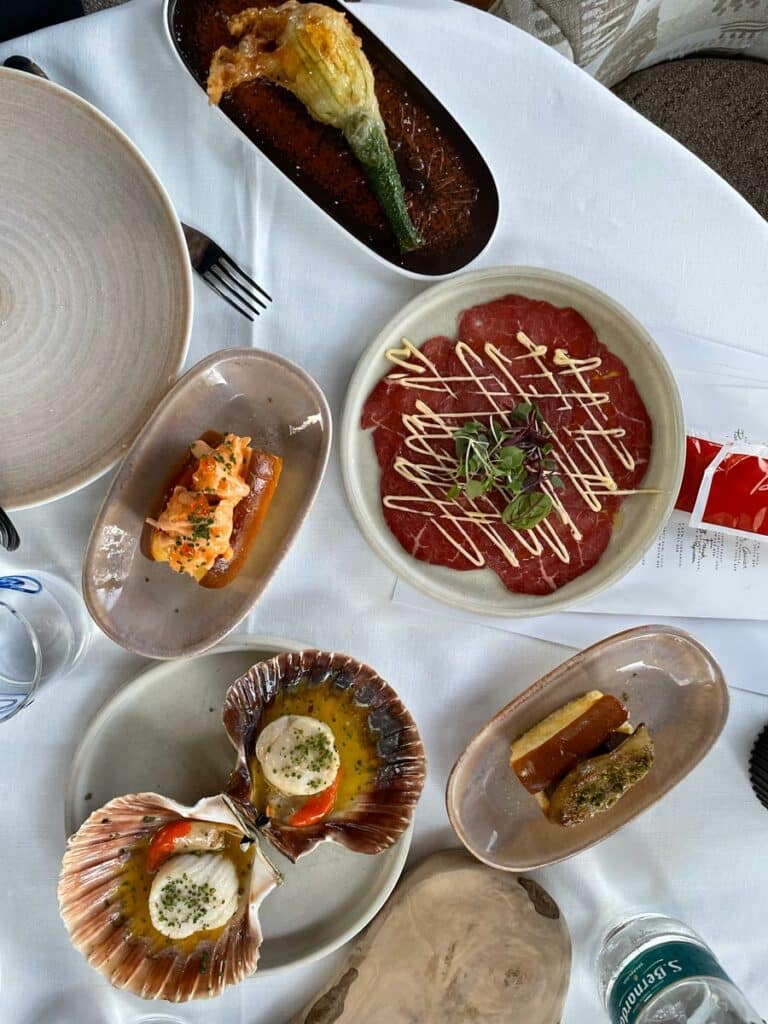 When we sat down to eat at Riviera on a summer's evening the sun was still way up. No one expected we'd be getting into a four-hour feast that would take us right into the night…
In hindsight, we probably should have known by how long it took us to sort through which starters we couldn't miss and which ones had to be dropped so that we'd have enough space to keep eating into the second course and beyond.
Which carpaccio do you choose from beef, hamachi or sea bass? Lobster or foie gras brioche buns? Our answer to the former was a classic beef, and to the latter – both.
The carpaccio was a great rendition of the classic dish. Nothing was done to make it fancy, or look attractive for your instagram. It was simply an honest plate of very tasty raw beef.
The brioche buns had been cleaved down the middle and spilled bits of foie and lobster as we failed to get them to our mouths without making a mess of the tabletop. We'd say these probably aren't must-order dishes. They're nice, but one of each might have been overkill.
While we're on the subject of must-order dishes, let's talk about Riviera's stuffed courgette flowers. London exerts a bit of up-market influence on this one with the introduction of truffle and tempura batter to a simple Mediterranean dish – one that's hard to find in the capital, making something very delicious all the more special.
Sides splitting after a pair of chunky scallops we also agreed should be at your table finished the first course. The sky began to turn a gentle orange as we waded into mains of veal steak and turbot, dishes of mash – more like a potato puree – and grilled asparagus on the side.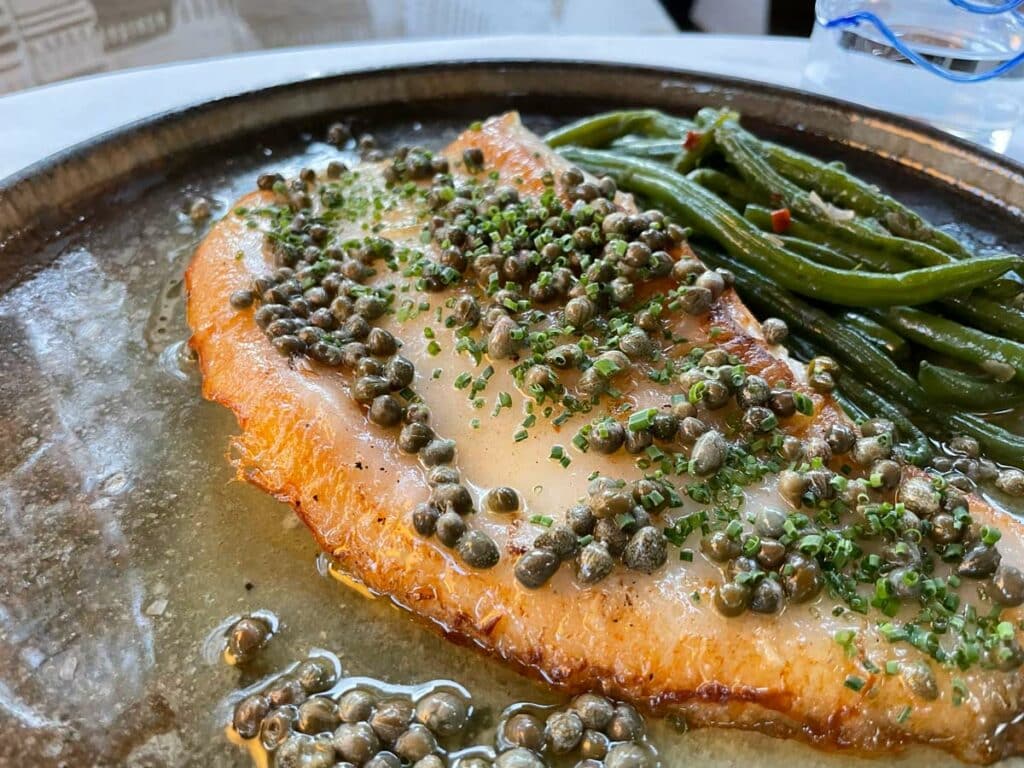 We want to say the fish – buttery and flaking with M&S-advert perfection – was the star of the show, but then we'd feel bad for the veal which, if we're honest, probably didn't even need its honey dijon glaze.
Your meal at Riviera will no doubt leave you stuffed. All French cooking usually does. Portions are large and the food is done to a standard that just makes you want to indulge. By the time we'd cleaned up the mains we were ready for bed.
Portions of Tarte Tatin and a Creme Brulee with a side of lavender shortbread biscuits (where can we buy these in London?) then, were just the thing we didn't need: desserts you can't help but clean the plate of.
Getting on for midnight lumbered from our seats, just about made it home, and collapsed.
The Drink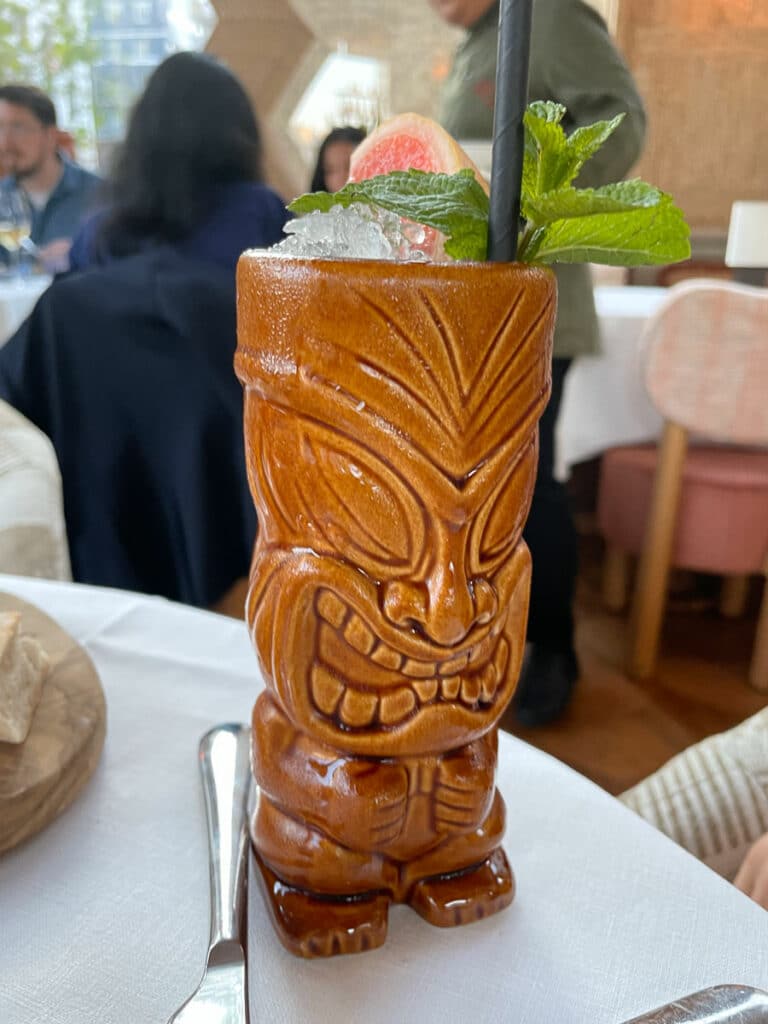 We had two cocktails along with our many plates of starters. One – the L'heure Vente, an absinthe based cocktail with lime guava and grapefruit juice – surprised us by arriving in a tiki cup, probably the result of having a separate bar branching out a bit downstairs.
Along with it came a more classic-looking cocktail of spiced rum, cognac, milk (classic only in looks, then), apricot puree and cinnamon called a Riviera Elixir that turned heads at other tables.
We're not ashamed to admit a slight bit of pride in our choice when we saw one of the turned heads pointing at our table to order a glass of the Elixir too.
Both drinks were really good, and we could have probably gone on drinking from the cocktail menu all night if we weren't aware of the wines they had on offer. A recommendation of the Loire Valley La Cabriole was a good way to solve the question of how to accompany mains of both meat and fish.
The Look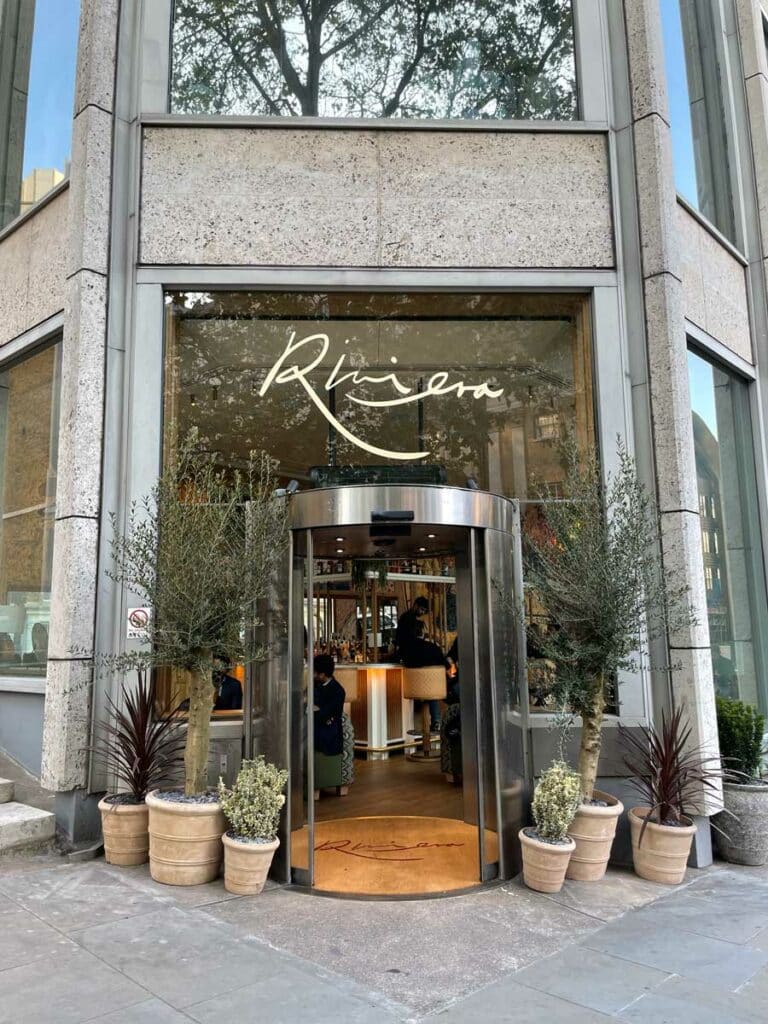 Sheet-glass windows running pretty much a whole story up make St. James' look like the backdrop of a millionaire's fish tank. It's really something to look at, especially as the evening light changes with the sun set.
Inside the place is decorated with a strange mix of rustic tastes and ultra-sleek designs. Seen in daylight it struck us as a little odd, but as night set in it really seemed to come together.
Final Thoughts
Riviera is an excellent place to eat. If you're going to come here, make sure you clear up your evening schedule, you're going to want to savour this food.
While some of the cooking lacks that special something Riviera needs to get a five-star review from us, we'll say they do come very close. This is one of the most enjoyable dining experiences we've had in a long time.