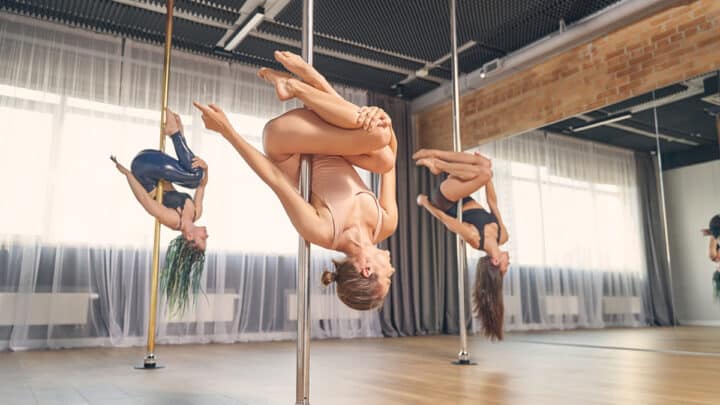 Our guide to all the best pole dancing classes London has to offer.
Pole dancing has really taken off in London lately. People swear by it as the key to building a strong core, keeping your body toned while maintaining a healthy weight and at the same time, boosting your self confidence skyward.
As such London's got more than its fair share of pole dancing studios where you can give it a go for yourself, whether total beginner or consummate pro. Naturally you'll want to find the right one for you so we've put together a guide to the best options in the city.
Read on for the best pole dancing classes in London…
Best Pole Dancing Classes in London
Pole People
Multiple locations
As you'll see from their website, Pole People are proud to be the UK's first pole dancing fitness studio. They were founded in 2003 by their lead dancer, Alison, who has since taken them on to superstardom, gaining coverage in the country's national media and even a spot on The Graham Norton Show.
They offer classes for all levels of dancer, from plain beginners to seasoned pros. If you are one of those beginners they also organise taster classes so that you can try before you buy. Once decided, packages are offered as six-week courses or drop in classes that are sometimes even taught by guest pole dancing professionals.
Akila Pole Studio
Brixton
One of the best pole dance classes London can boast comes from Akila Pole Studio. Everything they do leans hard on elements of inclusivity and empowerment, so that learning to pole dance at Akila isn't just about fitness, but also about growing in confidence.
They run classes seven days a week at all levels from absolute beginners to advanced. They also run special clinics on things such as 'Floorwork & Low Pole Flow' and 'Spinning Pole in Heels' so you can improve in specific aspects of your dance too.
Some of these classes do require that you join a waiting list as they are, understandably, in quite high demand.
Contours Pole
Archway
With heaps of reviews basically saying Contours Pole offers some of the best pole dancing classes north London has to offer, we're sure you can't go wrong with this option.
It's a bit of a smaller studio than some of the others in our guide but that means you've got more opportunity for interaction with the teachers. If that's something you really value, Contours also offers one on one classes at a slightly higher price.
Perhaps their best feature though, is the option for pole-dancing parties – group sessions for you and your friends looking for a unique way to celebrate a special occasion. They even provide prosecco…
Pole Precision
Peckham
At Pole Precision you'll find a very fitness-focussed range of classes for all abilities. They're hot on the health benefits of pole dancing and as such you can expect classes to be a bit tougher on your body than at other places in our guide.
Because they want you to excel you'll also not be asked to share your pole with a bunch of other students (this can be common at beginner level). Instead they ensure you'll have one to yourself or share with only one other person so that you maximise your time exercising.
Iris Pole Dance Studio
Hackney
If you're after a women-only pole dancing class London's best choice will be Iris Pole Dance Studio. They're very into making sure that women have a safe space in which to exercise and so no men can train here.
The studio isn't massive but the staff are very friendly and will welcome any women that want to learn to pole dance, and with any level of experience.
The teachers all have lots of experience on the pole and their founder, Marina Iris, has even won competitions for her dancing.
Ultimate Pole
Kentish Town
Classes at Ultimate Pole are all taught and designed by award-winning dance artists so you can ensure that the education you're getting is going to be top quality.
They also have some lovely studios – big windows mean plenty of natural light during day classes and neon trim means that during the night studios look sensual and moody.
On top of all of that, many of the instructors at Ultimate Pole have competed at high levels in the dance form, some even winning national competitions. You know then, that you're in the company of true pros.
Exotica Pole & Dance School
Bethnal Green
For pole dancing classes east London has a good option. It comes in the form of Exotica, a spacious dance studio with plenty of poles for you to get practising on. They offer classes to everyone regardless of gender ability or age and are a great place to get started with pole dancing.
That's because you can take classes to get you going and then, once you've built up some confidence, take specialised classes in different styles and techniques of the art. The teachers that will take you through this process are all first-aid trained and have many years of instructing under their belts.
The Ealing Pole Studio
Ealing
For some of the best pole dancing classes west London has to offer, check out The Ealing Pole Studio. They run a bunch of classes suitable for all genders and abilities and are one of the most popular schools for pole dancing in the area.
Classes run on four-week course schedules and can be bolstered by additional 'improvers' classes. These can be done as one-on-one lessons too.
One other benefit of the classes at The Ealing Pole Studio is that they have a large studio space, meaning that you'll not have to share your pole with more than one other person.
Hemera Pole Dance School
Hemera Pole Dance School is great for the options they have available. As well as catering for all abilities they also offer classes in different styles of pole dancing.
That means that they have an instructor for anyone who wants to take the fitness element of pole dancing more seriously, and instructors who can work on your performance elements too, training you on how to look your most sensual on the pole.
Private class options are also listed on their timetable so that it's easy to see when you can pick up a little extra one-on-one tuition.
Practical Tips for Exploring theBest Pole Dancing Classes in London
Some pole dancing classes fill up, and as a result you might have to share the pole with other practitioners. If you're not too keen on this you can find several schools in this guide that ensure you'll only share with one other person, or no one at all. The Ealing Pole Studio and Pole Precision are two like this.
If you're a woman and self conscious about pole dancing for the first time, know that all of these studios have a strong commitment to making everyone feel welcome and unjudged. If you don't want men in the class with you, try Iris Pole Dance Studio – it's for women only.
It's said on most studio's websites but it's worth saying here too: don't moisturise or use body/hand lotion before your class. You'll just slide down the pole. You might even hurt yourself.
Best Pole Dancing Classes in London: Map