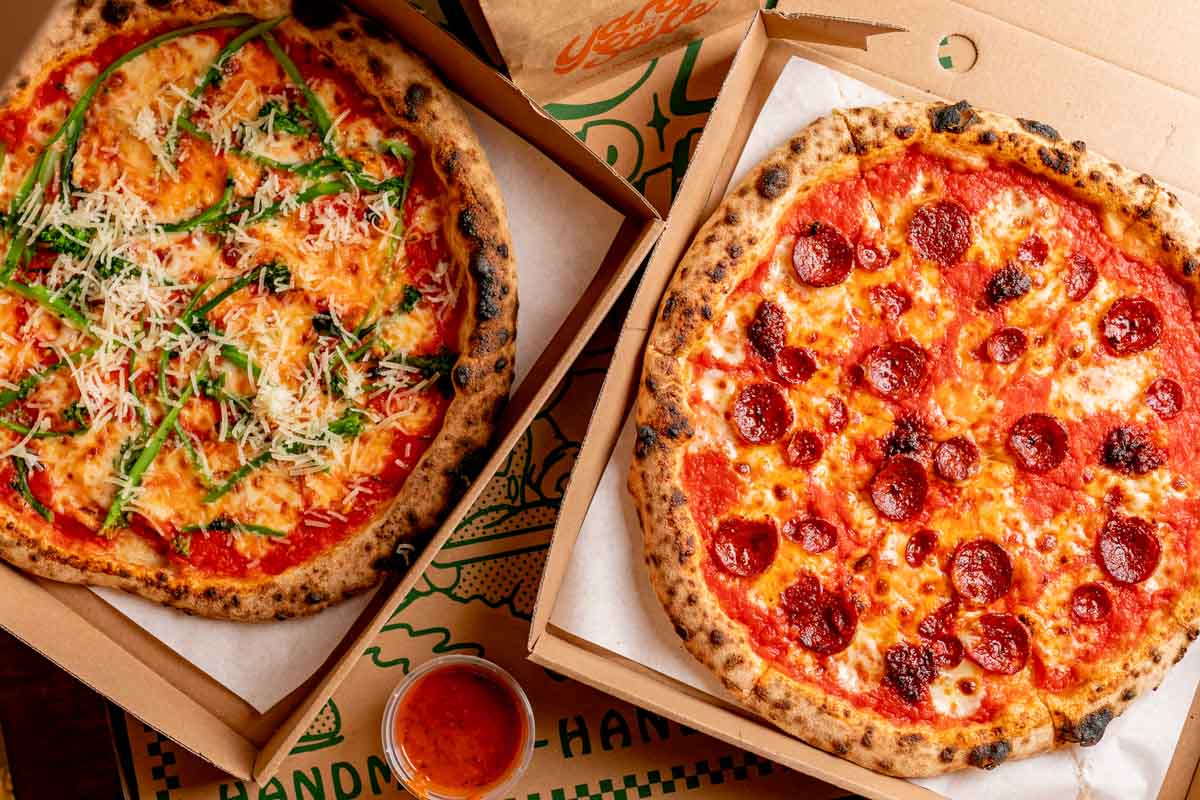 Looking for the best restaurants in Finsbury Park? Look no further as we take you to the top eateries in this thriving North London suburb.
Words by John Rogers
Finsbury Park has recently become one of North London's most desirable areas.
Don't believe us? Combine the park's leafy greenery with all the modern multi-cultural trappings you'd expect from life in the capital – and the result is a cool neighbourhood with plenty to do (and eat).
Speaking of, there are so many brilliant places to dine in Finsbury Park. From East Asian fusion to delightfully dirty burgers, we've got you covered with the best restaurants in Finsbury Park, suiting every taste and budget.
Best Restaurants in Shoreditch
Osteria Tufo
£££
Osteria Tufo is a beautiful Italian restaurant owned by Paola, who describes her restaurant as an extension of her home dining room. Which we think is adorable AF.
Diners are met and greeted at the door by none other than Paola herself, as her specially handpicked staff cater to your every need.
The Neapolitan-influenced menu provides an authentic taste of Italy and this culinary hotspot. Better yet, there are plenty of vegan options alongside the rich choice of pasta, meat and fish dishes – cooked with all the passion and love you'd expect from a bonafide genuine Italian hotspot.
Dotori
££
Dotori is a stunning Japanese-Korean hybrid spot and is a real throwback to the days when you didn't need to book days in advance or carry cards with you to pay your bill (are we showing our age?).
With tables catering for walk-ins and cash-only payment, diners can gorge themselves silly on the astonishing range of Korean and Japanese dishes.
Want ramen? No problem. Bento or teriyaki? As you wish. Sashimi and hand rolls? Coming right up.
Each dish is lovingly prepared on-site, with their bibimbap dishes even coming with complimentary miso soup. We dare you to try their authentic chilli fried chicken wings – spicy but so full of taste, and all for less than a tenner!
Max's Sandwich Shop
£
The eponymous proprietor of Max's Sandwich Shop is always on hand to guide you through the incredible and unique menu, which is quite unlike any other sandwich shop in London.
Max changes his menu regularly to keep things fresh and in-season while cramming as much as possible in between a couple of slices of the freshest bread you could possibly dream of.
Current menu options include Tikk Another Piece of my Heart which contains goat tikka masala, pickled onions, coriander, mint, pommy molasses, Bombay mix, lime pickle and gravy mayo. All in the same sandwich.
Add a side of loaded fried potatoes and you get change from £20 and one heck of a taste sensation to accompany your lunchtime or dinner time catch-up with mates.
Pasta Remoli
££
Pasta Remoli is situated next door to Finsbury Park Station as part of the thriving new development bringing some of the best new food to this part of North London.
Their team of chefs craft all their pasta and sauces freshly on-site every day, ensuring diners receive the finest and most authentic Italian tastes imaginable. With toothsome freshly baked crusty bread available to mop up said scraps of sauce, this informal but beautiful pasta bar gives excellent Italian at excellent prices.
Best of all, they love to cater to dietary requirements, offering wholemeal, egg-free and gluten-free pasta. An all-round winner.
Yard Sale Pizza
£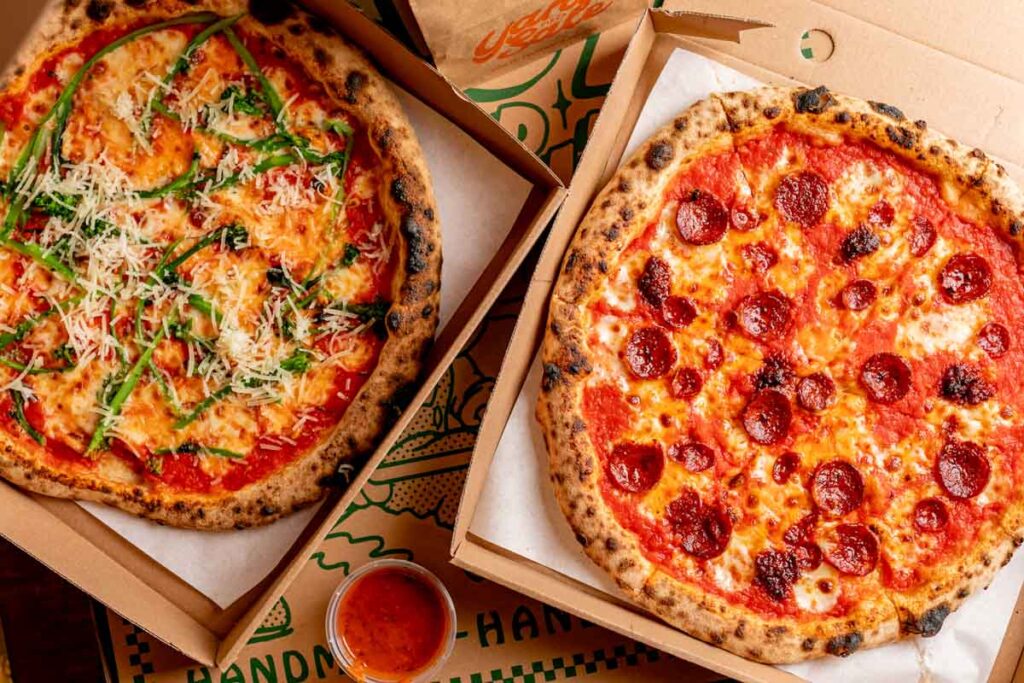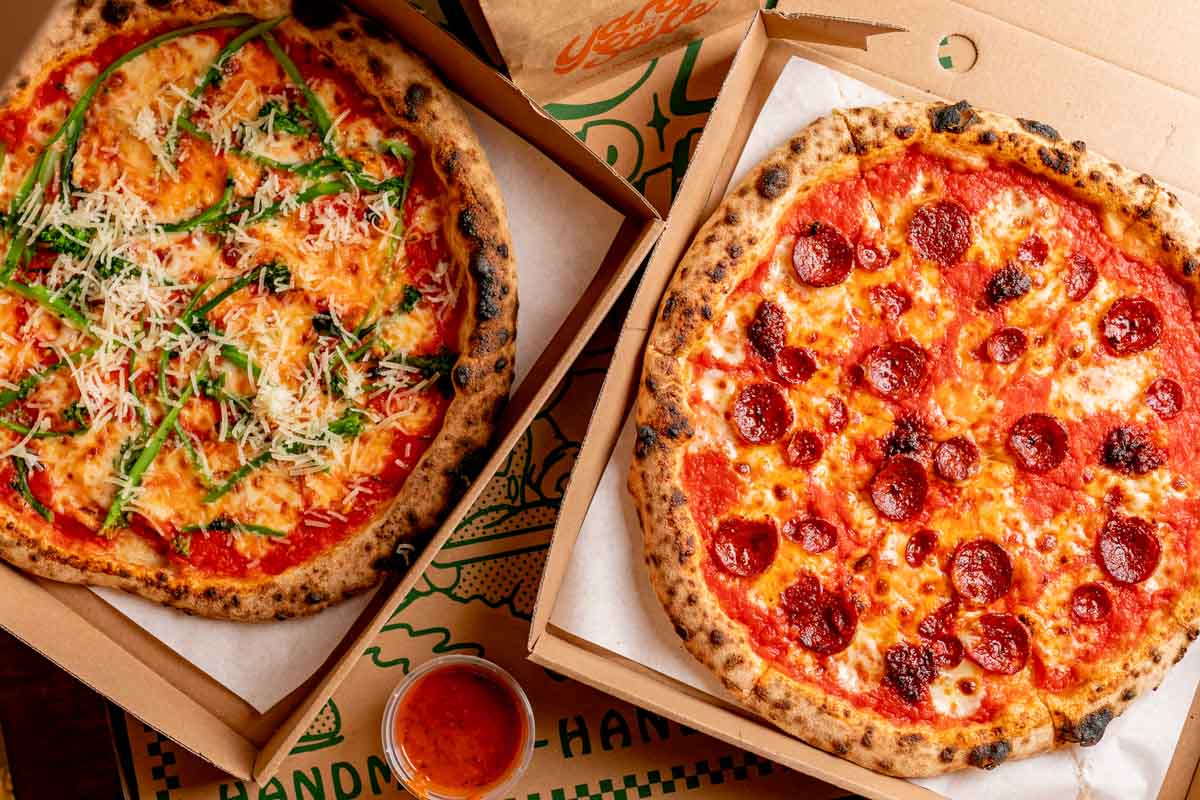 Yard Sale Pizza is part of a London chain of pizza restaurants. The Finsbury Park branch combines the aesthetic and feel of the classic American diner with some of the best pizza you're likely to find in the capital.
All of your favourite toppings, from pepperoni to chilli and onion, are available in 12-inch or 18-inch sizes. Those looking for something less authentic will love the tender stem broccoli and pine nuts TSB, the garlic-roasted aubergine and fresh basil, and the sausage-heavy New Porker.
Perfect for a catch-up with mates or an informal first date, Yard Sale Pizza's award-winning offering will have you clamouring for more.
Someday
£
Someday is a margarita and spritz bar in the heart of Finsbury Park's station quarter that offers the best Tex-Mex food in the area. All in a super-comfortable setting with excellent music, cocktails and drinks.
Food options include pizzas by the slice and sensational tacos, mouthwatering burgers, incredible crispy halloumi and black bean bowls.
In short, no matter which dishes you go for, be ready for a taste explosion in your mouth. This is the ideal spot for anyone looking to get down and dirty with their food.
Common Ground
££
Common Ground is a chilled boutique cafe/restaurant perfect for anyone seeking a relaxed breakfast, brunch or lunch date with friends, family or loved ones.
Expect a range of pastries, granola, and warm but healthy breakfasts on offer, along with some of the best middle-eastern lunch dishes in the area.
Sit back, relax with a cuppa, brunch cocktail or locally sourced craft ale alongside your Potato Latke with rich yolk eggs or Aubergine Fatteh Salad, and just let the world pass you by for a couple of hours.
AUN
£££
Offering arguably the most authentic and best Japanese dining experience in North London, AUN is a beautiful boutique restaurant that has brought the Japanese concept of "wakon yosai" to Finsbury Park.
Fusing Japanese spirit with western techniques provides a series of stunning, imaginative dishes that create traditional Japanese flavours with European ingredients. Indulge in their five-course set dinner menus that display their unique take on Japanese cuisine.
The Plimsoll
££
The Plimsoll has become the permanent home for Four Legs, previously an extremely popular pop-up in Islington. Launched with the help of a Kickstarter campaign, this pub on St Thomas' Road has become a thriving and extremely popular jaunt with locals and visitors to the area.
If, like us, you're a slave to a burger, grab one of their famed Dexter burgers. Crisp buns overflow with juicy beef and are topped with cheese oozing over the side. Yum!
Those wanting something a little more subtle will marvel at the oysters, range of tortillas and chicken parmigiana on offer.
Word of warning: Booking at this popular culinary hotspot is essential to secure yourself a table.
Yildiz
£
Yildiz brings more than 40 years of authentic Turkish culinary experience to Finsbury Park in this intimate restaurant that opened in 2006. Their wide range of kebabs are prepared daily using original Turkish methods, culminating in a genuinely outstanding taste experience.
Their menu is as extensive as you would hope, bringing you a choice of salads, kebabs, grilled meats and vegan options with some of the tenderest and best-seasoned rice in North London.
Make no mistake, this is no drunken kebab experience, but one to cherish.
Other Places to Eat Near Finsbury Park
Palmyra's Kitchen
££
Palmyra's Kitchen is a new Middle Eastern Restaurant in the heart of Finsbury Park, bringing some of the best Syrian and Lebanese dishes to the area. Owned by the team at My Cottage Cafe, we've fallen in love with their Fattoush Salad, while the Kafta Meshwi is highly recommended.
As well as the usual mix of starters and mains, diners can choose a combination of hot and cold Mezza and Meze dishes, perfect for friends dining together or perhaps trying one of the stuffed menus. A must-try for any fan of middle-eastern cuisine.
Rosa's Thai
£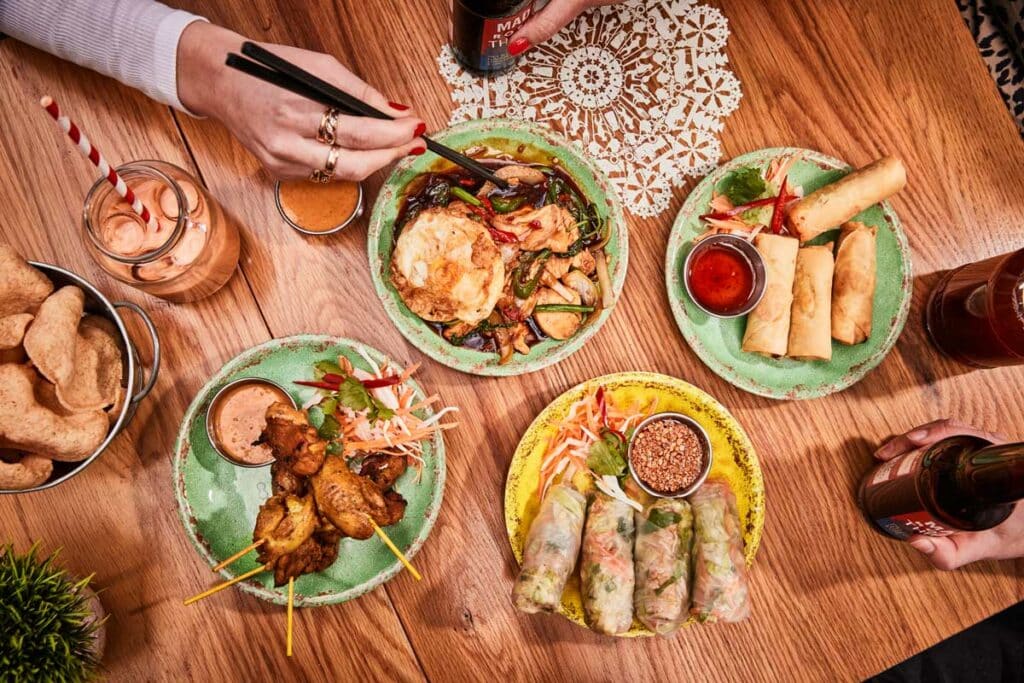 There's plenty of scope in North London for fans of outstanding Thai food, but the £10 deal for any curry and rice makes Rosa's Thai stand out from the competition.
Their beautifully cooked food contains all the punchy flavour you'd expect from an authentic Thai restaurant, with their curry and rice deal providing serious bang for your buck. However, we couldn't resist having a bite of their award-winning spring rolls (recipe for all you brave home chefs on their website!).
Top Cuvée
£££
Top Cuvée is a boutique-brasserie restaurant attached to the wine merchants Shop Cuvée, offering a range of dishers from their two and three-course set menus and a la carte menu.
Standout dishes include Beef Tartare, the sweet and spicy Lemon, Radicchio and Orange Salad, and mouthwatering Skate Wings with Lemon, Brown Butter and Parsley.
And stick around to add a delicious cheese plate to your glass(es) of wine – a delightful evening is guaranteed.
Practical Tips for Exploring The Best Finsbury Park Restaurants
Finsbury Park's location on the Victoria and Piccadilly Lines, London Overground and East Coast Mainline out of King's Cross make it the ideal meeting point for friends in North London.
It might be worth checking the football fixture list, as the area becomes extremely busy when Arsenal are playing at home at Ashburnham Grove. While you may love the boisterousness of a matchday atmosphere, this may not work for those seeking something quieter and more intimate.
Finsbury Park Restaurants: Map
Finsbury Park Restaurants: Read Next