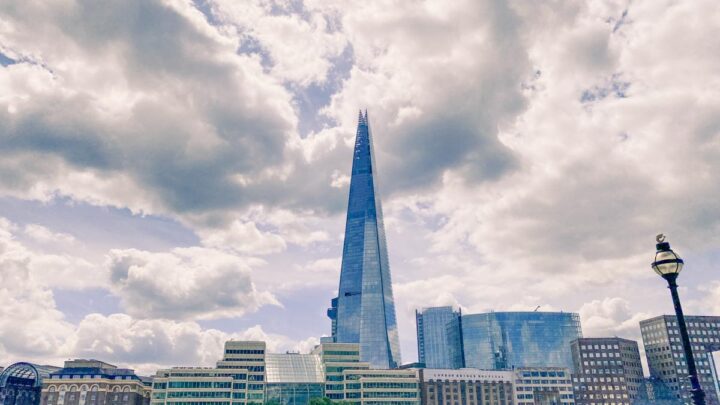 Looking for an epic London TV show? These brilliant shows are set in the capital and are must-watches.
London makes a great location, not just for good living and a slice of the high life, but also for film and television. Countless shows over the years have chosen London as the setting for their story. Some good, some bad, some excellent.
We've put together a list of the best so you don't have to do the hard work of picking through the rest. We're aware that in the age of the internet, you probably feel like you've seen it all already, so we've tried to throw a couple of old classics in there too.
Read on for our guide to the best TV shows set in London.
Best London TV Shows
Fleabag
Amazon Prime, BBC iPlayer
Phoebe Waller-Bridge's outrageous tell-all comedy Fleabag is a hilarious look at the life of a sardonic single woman who's trying to keep her chaotic life on the rails. All while navigating the murky waters of London's dating scene, dealing with the death of a friend, and a highly dysfunctional family.
Our protagonist pretty much has no filter and is constantly finding herself on the wrong side of everybody in her life, but on the right side of the viewer.
A Fleabag binge will likely have you grabbing your sides with laughter, and thanking the heavens that your life in London isn't as tragic as hers, if only by a small margin.
Top Boy
Netflix, Amazon Prime
When two rappers from the old-school grime scene announced they'd be teaming up to make a TV show based around a pair of London gangsters, we knew it would be good.
Four seasons later – and a planned fifth – and Top Boy is regularly regarded as one of the best British TV shows of its time.
Kano and Asher D's story of inner-city poverty and crime is less flash than it is a gritty look at the types of problems that afflict families and young people in deprived urban areas. It's also an edge-of-your-seat story of brotherhood, betrayal and the ascent to become Top Boy.
It's a Sin
Channel 4
Russell T. Davies writes a genius script for It's a Sin, a story about a group of young men that leave their quiet homes to kick life off in the big city, London.
Part of their dream is to explore their sexuality on the gay scene, but they quickly become outcasts from society after being struck down with a virus that will change their lives.
It's a Sin is a heartfelt look at life for gay men in the midst of the AIDs crisis. The story is all the more powerful as it draws on real events that Davies and other gay men experienced during the 80s as a result of the AIDs epidemic.
On a lighter note, it's a great portrayal of our fair city throughout that decade.
Peep Show
Channel 4
This classic comedy might just be one of the funniest shows British TV has produced. You'll have to like your comedy cringe though. Peep Show follows the lives of two roommates in a dingy flat somewhere in the capital as seen through the eyes of the protagonists.
Mark (David Mitchell) and Jez (Robert Webb) are as unlikely a duo as you'd find. Mark is a corporate suckup with a nose for history and an ever-tragic romantic life. Jez is a wannabe DJ who's way too over the hill to still be sticking it to the man.
The only thing that unites them is the fact they're both basically losers.
Gangs of London
Amazon Prime
If you're a crime fan, you'll get a kick out of Gangs of London – but can you guess what it's about? The story follows the criminal enterprises and power struggles of the international crime families that run London's underworld.
It begins with the assassination of London's most powerful gangster and follows the story of the people fighting to fill the power vacuum that follows. Queue heaps of violence and power play set against the backdrop of the capital in all its seamy glory.
Only Fools and Horses
Amazon Prime
You couldn't write a list of London-based shows and not bring up this absolute gem of a comedy. Only Fools and Horses is about as classic as it gets. The story follows a pair of Peckham brothers who'd buy and sell just about anything they can get their hands on, with the dream of one day making it filthy rich.
Not only does the show capture a certain character of a London wheeler-dealer, it does it with such loveable charm that it's gone down in the history of British TV as one of the nation's most treasured classics.
It's also been made into a West End musical if you fancy something a little less screen-based.
Bodyguard
Netflix
The BBC's Bodyguard caught the attention of the city and the nation when it stormed in with a six-episode storm. The thriller of a series follows an ex-soldier now working for the Met, who's assigned as protection to the Home Secretary.
Our protagonist's political views conflict with that of the person who he's been assigned to protect and things get complicated (and very exciting) when the Home Secretary turns out to be more than meets the eye.
The show is a hell of a thriller that is sure to have you on the edge of your seat, that is when you're not upping each other to see who can clock the most London landmarks.
Luther
BBC iPlayer
We promise that Britain does produce some shows that aren't gritty stories about murder in London, though some of the best ones are. Luther is no exception.
The show follows a detective of the same name, played by Idris Elba as he stalks the streets of London solving murder cases.
Elba's Luther is a study of the psychological strains of the job. His character is as much broken by his work as he is consumed by it. What we get to see is how Luther handles – or rather, fails to handle – the mounting pressure to keep it together.
Absolutely Fabulous
BBC iPlayer
The last TV show on our list is another timeless classic.
Joanna Lumley and Jennifer Saunders teaming up in Ab Fab was a match made in heaven, even though for their character's behaviour, we doubt either one of them would be making it past the pearly gates.
Saunders plays a high-achieving mum who works in PR and has an insatiable desire to remain hip. Her relationship with her daughter reaches laughable breaking points when Lumley's character, a drug-abusing, highly promiscuous best friend moves in with them, and her misbehaviour ensues in full. Pass the Bolly dahling!