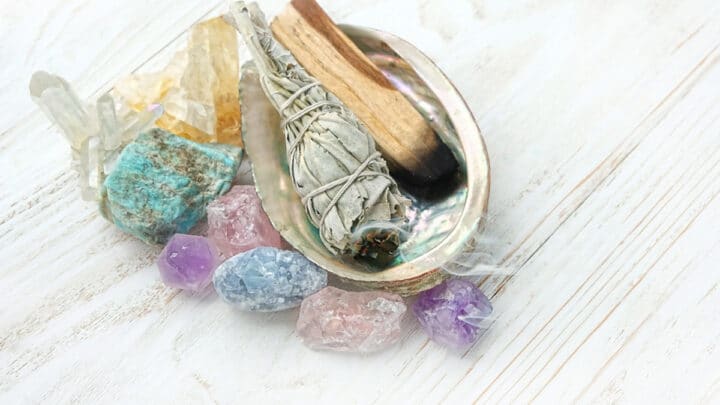 Looking for the best spiritual shops in London? These are the top places to buy crystals, incense, herbs and more.
What's a spiritual shop you may ask? A spiritual shop is a meditation-lover's candy store, stocked with everything from crystals and minerals to unique gifts, incense, books, energy-clearing herbs and even angel cards.
Whether you're at the start of your spiritual development or a bit of a guru, London is a fantastic place for spiritual gifts and trinkets.
For the best crystal shops in London, keep reading.
Spiritual Shops in London
Urban Buddha
Urban Buddha is a sanctuary where if you're not already spiritual, you'll feel spiritual as soon as you walk in. With a no phones rule, you'll be immersed into the beautiful energy of the shop and amazing collection of crystals.
The owner is very specific about the crystals and jewellery she sells, which all have stories behind them. Better yet, the jewellery is all handmade and each piece is a one-off, so it's a great place to pick up a special gift.
Urban Buddha also has amazing handmade candles with different essential oils, cards and plenty of one-off homeware pieces. This is the best place to shop in London for crystals or anything spiritual.
Mysteries
Mysteries is a bit of a legendary shop when it comes to spiritual shops in London, stocked with plenty of new age books, gifts, artefacts and even has psychic readings available.
They have a brilliant selection of crystals and, with its central location, it's a great place to pop into if you're shopping in Covent Garden. It's got anything and everything for people who love the magical spiritual realms.
The staff are also very knowledgeable and will be sure to help you out if you need any direction.
The Astrology Shop
The Astrology Shop is one of the most famous spiritual shops and is definitely a must-visit for anyone even slightly curious about the cosmic forces that affect all of our lives.
They stock a huge selection of crystals and gemstones, dozens of different Tarot packs as well as Feng-Shui accessories so you can really create a zen space at home.
We love the dark blue shop and the way it stands out in the area, it's the perfect place to purchase spiritual presents or if you're just looking for something a little bit special.
Wilde Ones
Wilde Ones is a King's Roads spiritual shop that is notorious amongst locals and visitors for its card readings and tribal jewellery for sale. It's a great place for snapping up turquoise and silver jewellery that's quite "out there", as well as one off belts or Tibetan inspired pieces.
They also have authentic aztec-style rugs as well as energy tools like crystal gongs, crystal bowls, and an abundance of healing tools.
Wilde Ones is also one of the best spiritual book shops in London – they have an amazing array of different books for self-development, crystal dictionaries and chakra explanations.
If you want to delve deeper, you can book in for a palm reading or tarot card reading, but be sure to find out who is doing the reading before and do your own research.
Energy To Seek
Energy To Seek is one of those eclectic spiritual shops that really sells a bit of everything. There's the obvious spiritual gifts and crystals, but there's so much more too – the freshwater pearl necklaces and Banyan necklaces make dreamy gifts we would very much like to recieve.
There's also beautiful collectable pieces of art and, being right next to Portobello Market, this shop is often buzzing with people – which matches the vibe perfectly. They also stock some incredible rugs and there's also room for haggling with their prices.
If you're after mini Buddha's, figurines, or rare wooden necklaces then this is the place for you.
Venusrox
Notting Hill
Venusrox isn't your standard spiritual shop, it's the best crystal shop in London.
Don't believe us? They have some of the most exquisite natural crystals and bespoke jewellery in the capital. Every piece has been hand-selected by the owners during their extensive travels and they mostly look for unusual specimens.
Crystals have been chosen for their energy clarity and their ability to enhance people's lives – as well as for their aesthetic qualities.
Venusrox is also home to Venus jewellery, a line created and designed by the owner herself. All her pieces are handmade from the finest quality natural crystals and gemstone beads picked exclusively for their beauty and abundant energy.
You can buy both their jewellery and crystals on their website or in their beautiful shop in Notting Hill on All Saints Road – a hotspot for independent businesses that we love.
Spiritual Wellbeing by Wise Man Products Ltd
Spiritual Wellbeing is a stunning spiritual gift shop specialising in handmade candles, incense, crystals, 7 chakra presents, spiritual oils and spiritual bath bombs. There's plenty of products for clearing your aura – and clearing your home's aura too, for that matter.
They've got an amazing selection of small stones and crystals – we love this as you can test out which ones you get on well with, without dropping a whole lot of cash.
We also love the prayer books at the back of the shop; they make a lovely present for yourself if you're feeling a little lost and want some guidance.
Buddha on a Bicycle
Covent Garden
Buddha on a Bicycle is one of the best mystical hubs of Covent Garden. It's literally a shop filled with the most beautiful Buddhas, along with incredible rare crystals and fair trade gifts.
There's a lovely sense of community in this shop and it's worth checking out their website to see what events and workshops they're putting on downstairs. Even if you don't believe in the power of crystal energy, you'll still be able to find something beautiful in this shop.
She's Lost Control
Broadway Market
She's Lost Control is a must-visit for anyone looking to expand their spiritual realm. They have countless magic tools, aura readings, private sessions and events.
The shop is the real go to here though, the amount of astrological presents and crystals they have is unlike any other spirituality shops in London. Highlights from this shop include a wide array of relaxing herbal tea blends and handmade jewellery.
Practical Tips for Exploring London's Spiritual Shops
Crystals are not all equal – some of the larger crystals can be very expensive. It's also worth researching into what you feel like you could benefit from, or have a chat with the shop assistants.
There are plenty of spiritual shops in Covent Garden (and we love them), however, spiritual shops tend to be cheaper outside of central London.
Spiritual Shops in London: Map
Spiritual Shops in London: Read Next