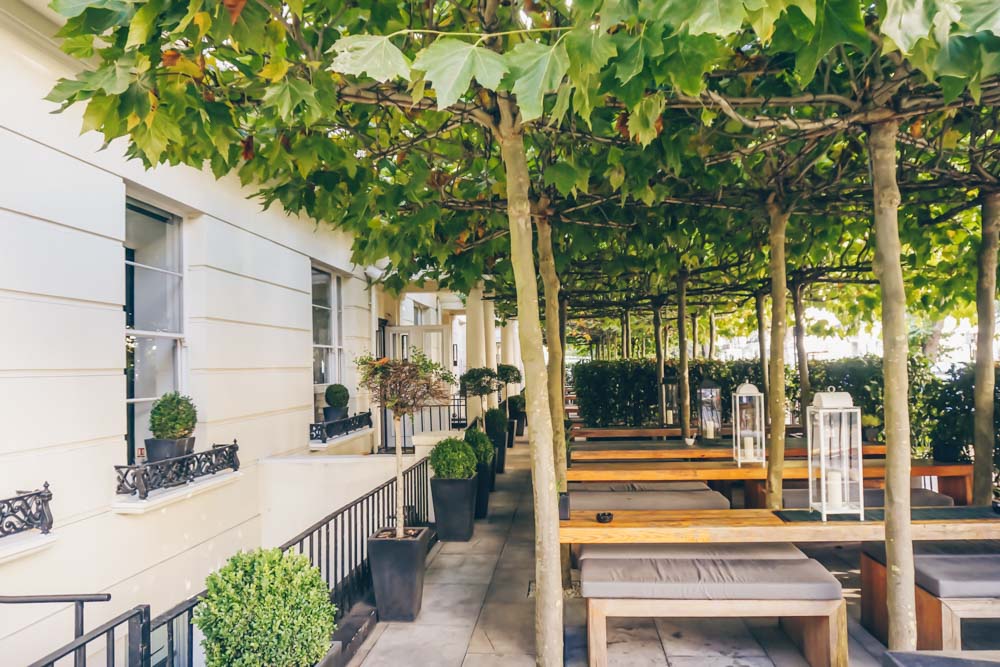 Tucked away on a quiet corner of Bayswater, and a short walk from Hyde Park, La Suite West offers a design-led bolthole for guests looking to stay somewhere a little different in London.
La Suite West is the perfect British boutique getaway in London. A health and wellness destination in West London, it offers guests a slightly different take than the standard cookie-cutter chain hotels you can often find in the city.
La Suite West: The Review
First Impressions
Set in a grand terrace of four stately Victorian London townhouses, walking into La Suite West, you can't help but be struck by the contrast between the traditional architecture of the buildings outside and the contemporary aesthetic within.
Designed by the award-winning interior designer Anouska Hempel (who also designed the well-known Blake's Hotel) the effect is akin to staying in the home of a very well-heeled friend with impeccable taste.
Comfortable and Chic
As should be the case in a hotel of this calibre, check-in was a breeze – I was settling into my room within a matter of moments.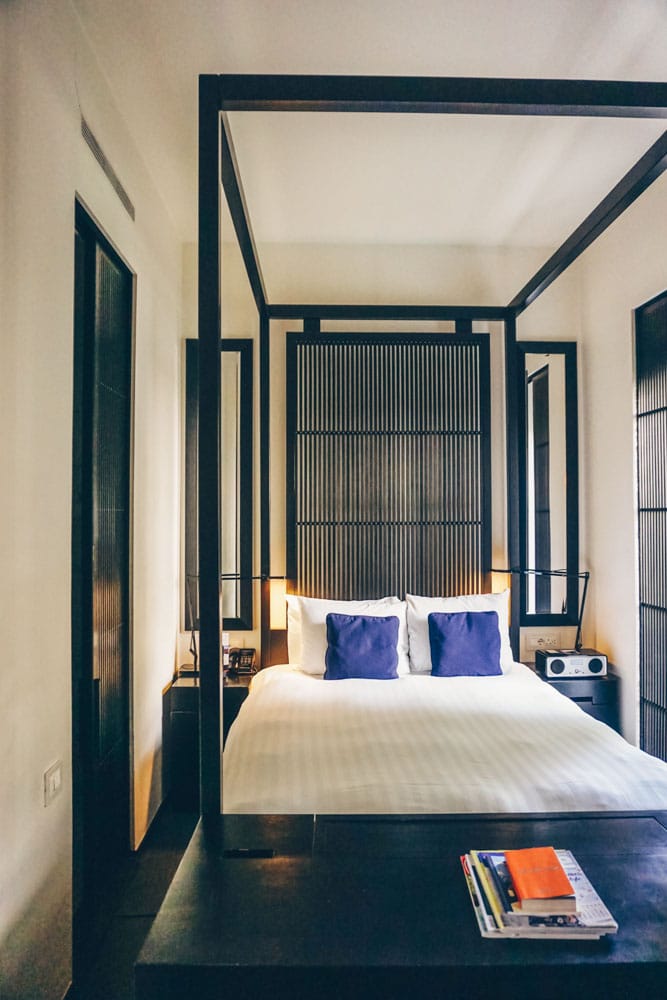 The room itself was compact, but thoughtfully designed: large louvre windows let in plenty of light, the stark lines of the black four-poster bed standing out against the white walls and bedlinen. Cleverly slotted panels on the bedhead and window shutters introduced texture into what could have easily veered into being slightly too minimalist a look.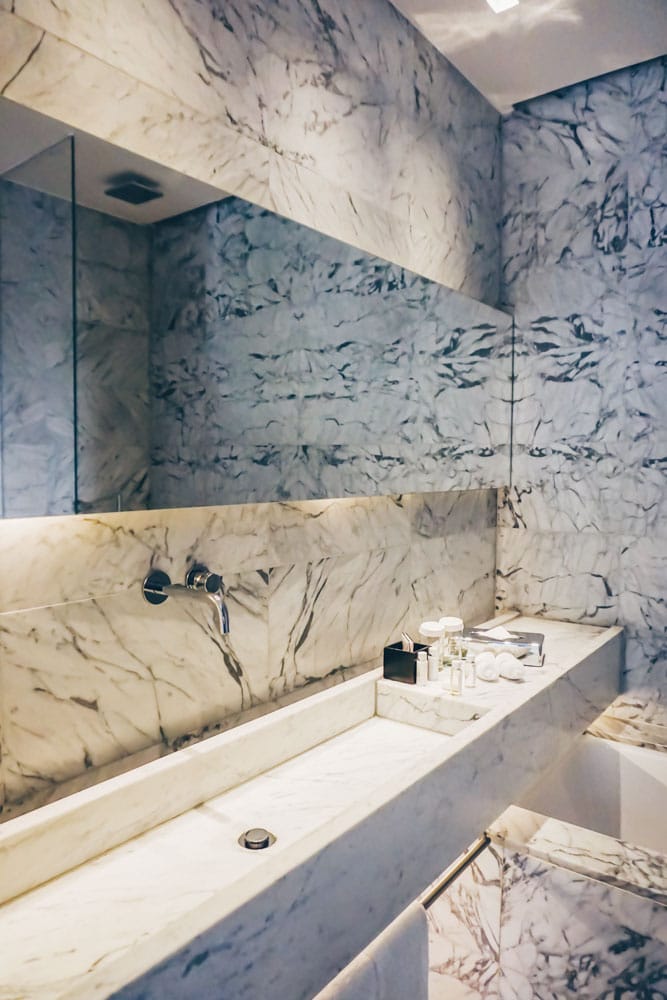 The bathroom carried on the minimalist-luxe theme: with light grey marble and mirrors, punctuated with cannily-placed lighting and a few decadent toiletries to finish it off.
Now I don't know about you, but I am a total sucker for a hotel room with a bath – and it had been a long, grimy day of travelling across London. As a result, pretty much the first thing I did was run a bath and spend a short while relaxing whilst staring at the view of the blooming trees outside the room's window.
Vegan Afternoon Tea at Nosh Garden Kitchen
Carrying on the afternoon's decadence, I was booked in for La Suite West's vegan afternoon tea in their recently renovated restaurant, run by the celebrated Nosh Garden Kitchen.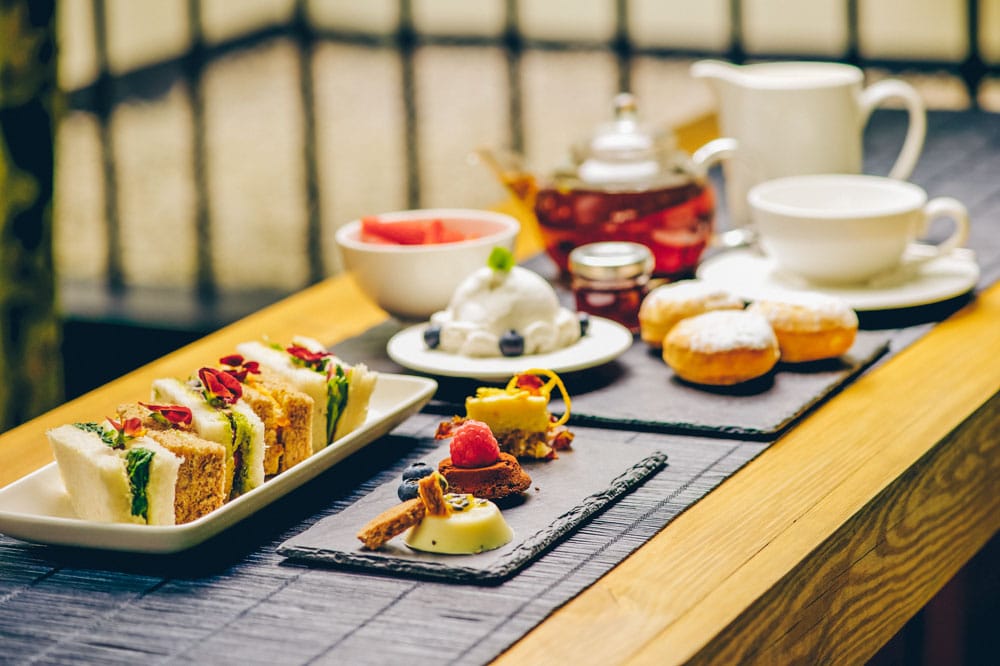 I've traditionally been of the view that any afternoon tea worth its salt should come with piping hot, mildly crumbly and buttery scones piled high with lashings of clotted cream and jam.
I can now say that I was wrong – the vegan afternoon tea offered a different take on some of the traditional components of the afternoon tea – dairy-free scones came with coconut cream and real strawberries. It was an eye-opener.
My mum had joined me just in time for the tea: "this looks beautiful" were pretty much the first words out of her mouth when she arrived. Whether she was talking about the platter set in front of us or the surroundings was hard to tell. Both could have been equally true.
The large terrace on which we were seated was the perfect setting for a relaxed afternoon tea – framed with vines and perfect for a spot of people watching as we gossiped our way through the afternoon.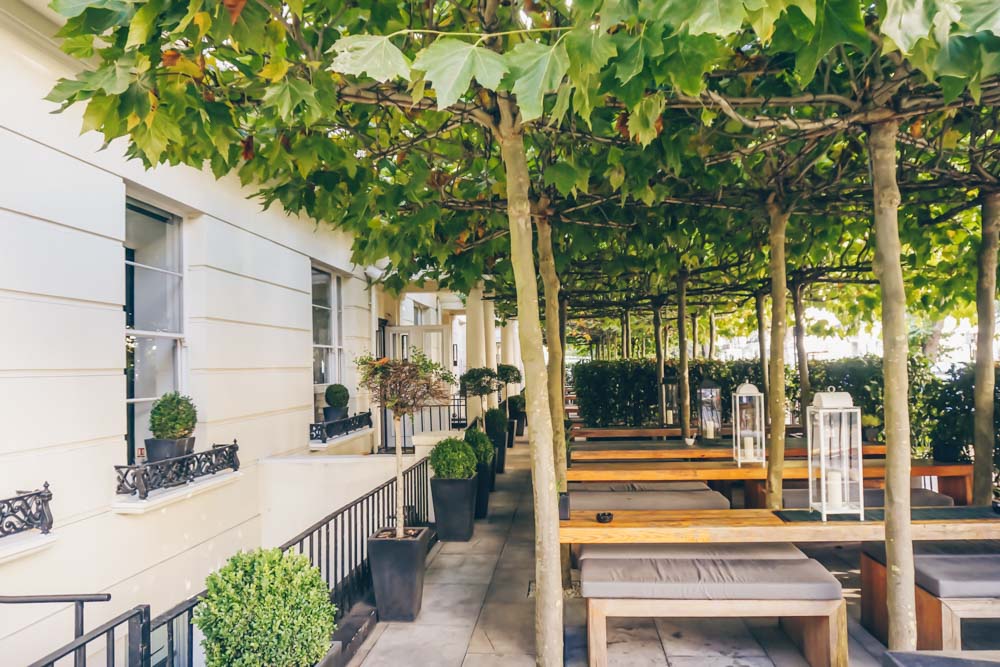 ---
See why I named the Nosh Garden Kitchen vegan afternoon tea as one of the best afternoon teas in London.
---
Out and About
Of course, we couldn't stay in this area of London without nipping into neighbouring Hyde Park for a stroll. It was the quintessential London experience – but felt so much more pleasant than staying in busier and more crowded areas such as The City or Mayfair.
Back in the suite, I made myself some tea, sat at the table and reflected that it had been a long time I'd had such a thoroughly nice day in London. That's the true appeal of La Suite West – it's an urban bolthole that somehow manages to position itself as an escape from the city – an escape that was very, very welcome.
La Suite West, Hyde Park. Rooms start from £110 per night.
Nearest underground station: Bayswater.